The Republican-led Senate on Tuesday voted to kill two Democratic amendments to legislation approving the Keystone pipeline bill, the first of what GOP leaders say will be several amendment votes this year.
For the last several years, Democrats prevented members of both parties from getting votes on numerous amendments to legislation — in all of 2014, the Senate held just 15 roll call votes on amendments.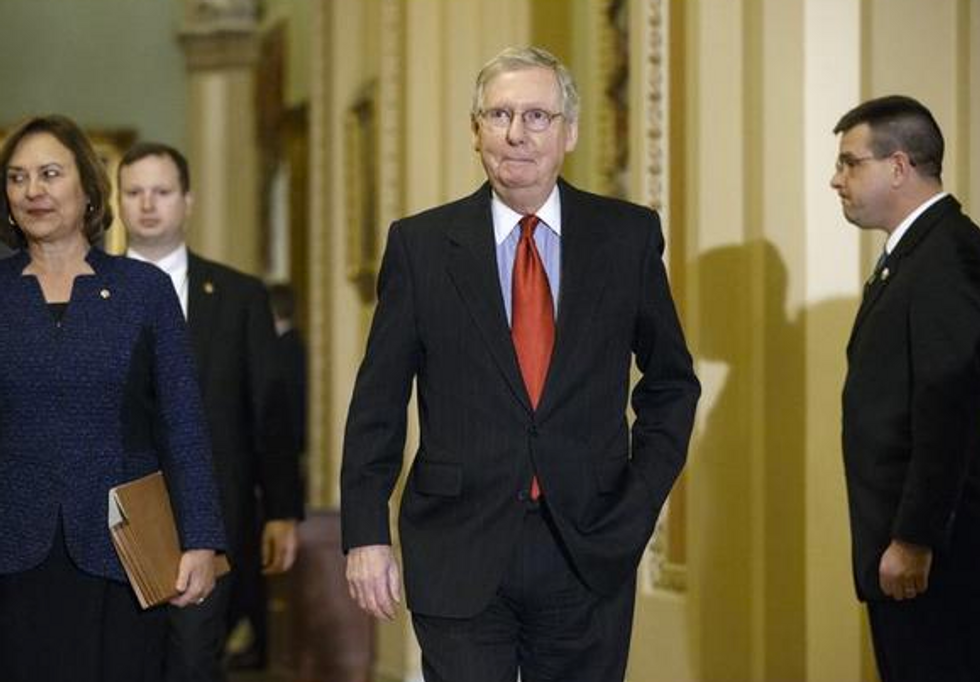 Senate Majority Leader Mitch McConnell (R-Ky.) promised amendment votes, and three votes were taken on Tuesday afternoon. The Senate killed two Democratic amendments, and easily passed a bipartisan proposal.
Image: AP Photo/J. Scott Applewhite
Under new Republican leadership, the Senate did one fifth of that work in just one day, and more votes were planned later this week.
Democrats have said they welcome the GOP's return to giving senators a shot at amendment legislation that the Senate considers, a practice that used to be routine. But Democrats didn't particularly welcome the outcome of today's votes.
In the first vote, the Senate voted to kill language from Sen. Ed Markey (D-Mass.) that would require any oil that moves through the pipeline to be refined and consumed in the United States, to help reduce U.S. dependence on foreign oil. That proposal was "tabled," or killed, in a 57-42 vote.
Markey has said for several months that the Keystone project should only be approved with his language to stop the export of oil that moves from Canada to the Gulf Coast. He tweeted that the Senate vote means the U.S. would continue to rely on foreign oil.
#GOP opposes my amendment to #KeystoneXL that wld keep oil for US consumers & reduce our dependence on foreign oil pic.twitter.com/i7jtsU9zd0

— Ed Markey (@MarkeyMemo) January 20, 2015
The Senate also voted 53-46 to kill a proposal from Sen. Al Franken (D-Minn.) that would have required only U.S. iron, steel and other goods to be used in the production of the pipeline.
But another amendment fared much better. A bipartisan proposal from Sen. Rob Portman (R-Ohio) to promote energy efficiency was passed 94-5, a vote that obviously picked up substantial support from dozens of Democrats.