The Obama administration's State Department is pushing to re-establish full diplomatic relations with Cuba "in the coming months," and is hoping Secretary John Kerry can cement the relationship with a visit to Cuba at some point in the future.
But a senior State Department official acknowledged Monday that there are several unknowns out there, including what demands Cuba might make in the talks.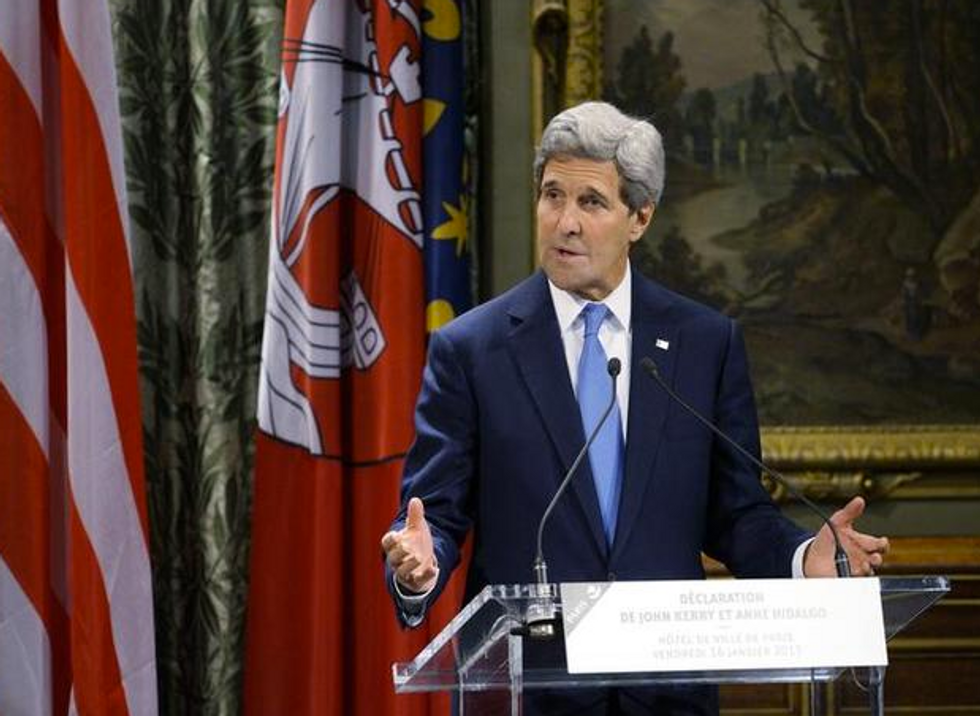 The State Department, led by Secretary John Kerry, is hoping to restore full diplomatic relations with Cuba in a matter of months.
Image: AP Photo/Rick Wilking
That official also said Cuba so far has refused to return U.S. fugitives from justice, and has failed to undertake any other significant reforms that some have demanded as a price for normalized relations. Those facts are likely to lead to ongoing criticism that the Obama administration is moving too quickly to reward Cuba without getting anything in return.
The U.S. and Cuba will launch historic talks in Cuba on Thursday to normalize their diplomatic relations. According to a senior State Department official, assistant secretary of State Roberta Jacobson will lead the U.S. delegation, and will start by asking Cuba to recognize U.S. diplomats, lift restrictions on their travel in Cuba, and lift the cap on the number of diplomats the U.S. can have in the country.
The U.S. also wants unimpeded shipments that can be received by the U.S. mission, and free access to the U.S. mission by all Cubans.
It's not clear that Cuba can agree to those requests. If it can, the U.S. is hoping to quickly move to talks about turning the U.S. Interests Section into an embassy.
"There will be progress, hopefully, in this forum in that conversation that I hope will result in elevation of the Interests Sections to embassies in the relatively short term in the coming months," the official said.
One possible hurdle to these initial talks is that the Obama administration has no idea what initial demands Cuba might make.
"What I don't know is what the Cubans may be bringing to the table," the official said of this week's meeting. "I don't know yet, obviously, what the Cuban government may put on the table from their side."
Some of Cuba's demands will likely be similar to U.S. demands for its own diplomats. Currently, Cuban officials are restricted to certain areas of the country, primarily in and around Washington DC and New York City, and the normalization process would most likely allow them to travel more freely.
Assuming diplomatic relations can be restored in some fashion, one of the next steps would likely be a visit from Kerry. But the official said it's not yet clear whether or when this can happen.
"We don't know exactly when, but that would depend entirely on how things go after this first visit, where we have to see how things play out and how the conversation goes and how things go on the ground," the official said.
The Obama administration's plan to quickly restore relations with Cuba has faced heavy criticism from both Republicans and Democrats. Several members of Congress have said that policy shift would essentially reward Cuba without making any demands for change on the island.
The most frequently cited changes are improvements in Cuba's human rights regime, some move toward democratic reforms, the return of U.S. fugitives and some resolution of the U.S. claims against property that the Cuban government expropriated decades ago. The State Department official indicated that so far, there are few signs of progress on any of these issues.
On the issue of fugitives, for example, the official said talks about Cuba's possible return of Joanne Chesimard have taken place under the separate migration talks between the two countries. Chesimard killed a New Jersey state trooper years ago and fled to Cuba, and Cuba so far has not indicated any plans to return her.
"We would still like her returned, and that's a high priority for us," the official said. "But that has not been, unfortunately, something that the Cuban Government has been willing to entertain.
On the issue of property claims, the official said those claims are "surely not going to be resolved immediately but they have to be part of normalization."
The lack of movement by Cuba on these issues could make it difficult for the Obama administration to get its nomination for ambassador to Cuba through the Senate. Over the weekend, it was reported that Rep. Barbara Lee (D-Calif.) wants to be nominated, but her nomination would likely be held up by both Republicans and also key Democrats in the Senate.