Glenn Beck and his radio co-hosts, Pat Gray and Stu Burguiere, responded to the State of the Union in real time on Tuesday, saying the only way they could tolerate watching the entire speech was by "addressing all the lies" as President Barack Obama spoke them.
There were a few parts of the speech that stuck out to Beck, and he discussed them on his radio program Wednesday. One of the most memorable moments, Beck said, was when the president "just snapped and got all dark and ugly," just after encouraging the nation to come together.
The president said: "That's a better politics. That's how we start rebuilding trust. That's how we move this country forward. That's what the American people want. That's what they deserve. I have no more campaigns to run--"
Then, as people began to applaud, the president went off his prepared remarks and added: "I know, because I won both of them."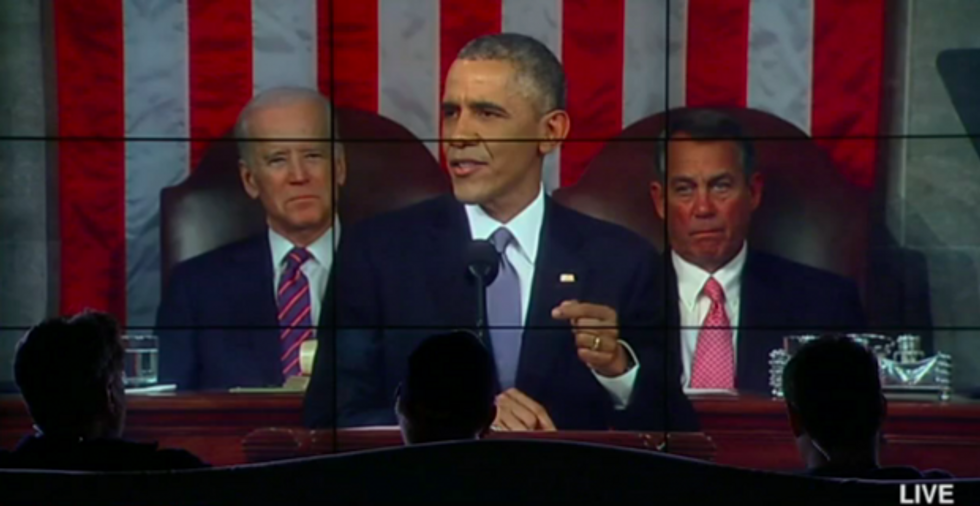 Glenn Beck, Pat Gray and Stu Burguiere watch the State of the Union on Jan. 20, 2015. (Photo: TheBlaze TV)
"Right in the middle of him saying, 'You know what, I just love everybody and we all have to work together,' he takes a shiv," Beck said. "[And] all he's doing is just raising money for the campaign. That's all this guy has done!"
"What I love is the conciliatory tone in part of the speech, and then of course ... he turns on the Republicans instantly," Gray added. "This is the guy who during the last six years of his presidency, he's been saying these kind of things."
Gray played a montage of Obama saying things like, "We're going to punish our enemies and we're going to reward our friends," calling his political opponents "members of the flat earth society," and calling members of the Tea Party "tea baggers."
"There is nothing more uniting than calling Tea Party members 'tea baggers,' which is a really derogatory sexual term," Gray mused. "Remember all that? Get in their faces, all of that. The guy has never been a uniter."
[mlbvideo content_id=37155899]
You can see more of Beck's real-time reaction to the State of the Union address, below.
[mlbvideo content_id=37154325]
The full episode of The Glenn Beck Program, along with many other live-streaming shows and thousands of hours of on-demand content, is available on just about any digital device. Click here to watch every Glenn Beck episode from the past 30 days for just $1!