President Obama made a plethora of proposals at Tuesday's State of the Union address. Many of his ideas were met with the usual and highly anticipated Republican opposition while others received sharply aimed criticism from the Left.
The environmental advocacy group Friends of the Earth was one of the liberal groups to contest the president's proposals, challenging Obama on sought-after trade authority as it relates to Trans Pacific and Transatlantic trade deals.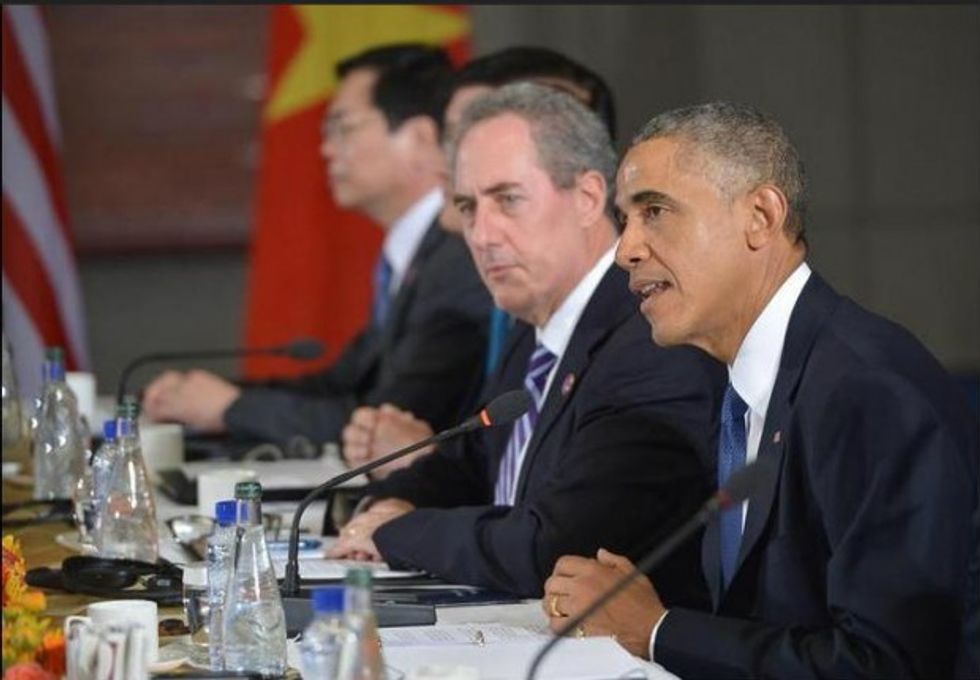 U.S. President Barack Obama (R) speaks during a meeting with leaders from the Trans-Pacific Partnership at the US Embassy in Beijing on November 10, 2014 in Beijing. At left is US Trade Representative Mike Froman. Top leaders and ministers of the 21-member APEC grouping are meeting in Beijing from November 7 to 11. (AFP PHOTO/Mandel NGAN)
"Unfortunately, the rhetorical flare of the President is undermined by his own call for Congress to fast track his trade negotiations in the Pacific. As currently negotiated, the Trans Pacific Partnership would undermine President Obama's commitments to empower the middle class, regulate greenhouse emissions and make the financial and banking industries pay for their past sins," the group said in a press release.
"Additionally, while the President is rightfully calling on Americans to 'forcefully' address global warming, by using the Environmental Protection Agency's authority to reduce greenhouse gas emissions, his claim of climate change leadership is weakened by his administration's continued pursuit of fracking and fossil fuel exploration and export," the release said.
Thus, Obama's "fast track" trade proposals managed to ignite his own base in opposition seemingly as much as his climate change proposals, as mentioned by Friends of the Earth in its press release, infuriated those on the Right.
"Today, our businesses export more than ever, and exporters tend to pay their workers higher wages. But as we speak, China wants to write the rules for the world's fastest-growing region. That would put our workers and businesses at a disadvantage," Obama said.
"That's why I'm asking both parties to give me trade promotion authority to protect American workers, with strong new trade deals from Asia to Europe that aren't just free, but fair," the president added.
There were a number of positions with which the environmental base on the Left said it disagreed with Obama's ideas and each is its own issue. But the source of their disagreement stems from so-called "fast track" legislation as it would pertain to two specific trade deals: the Trans Pacific Partnership and the Transatlantic Trade and Investment Partnership.
Such deals would delegate the powers of trade away from Congress to the U.S. Trade Representative's office and allow for greater influence on trade interests from Wall Street and international corporations, Friends of the Earth argued.
It would also eliminate Congress' ability to propose amendments to existing trade deals. But what is "especially dangerous," FOE further argued, is fast track deals would be negotiated "behind closed doors" noting that the text of such negotiations would be considered "state secrets" to which neither the press nor the public would have access.
The proposal isn't new under the Obama administration. It began with the Trade Act of 1974. However, Obama has been seeking renewal of the authority since 2012.
Despite being nothing new, several congressional Democrats are also challenging "fast track" authority, including former Speaker of the House Nancy Pelosi: "We can find a path to yes if there's transparency and we know what's in this bill. If there's consultation," Pelosi said Wednesday, POLITICO reported.
A number of other congressional Democrats have vowed to rally their base against the proposed trade measure in hopes of blocking its passage through Congress, Reuters reported.
–
Follow Jon Street (@JonStreet) on Twitter