A key anti-abortion Republican said late Wednesday night that GOP leaders have not given up on legislation to ban abortions after 20 weeks of pregnancy, and that the bill would be up on the House floor after a short delay.
House Republicans had planned to vote Thursday on the Pain-Capable Unborn Child Protection Act, a bill that cites studies showing that unborn children are capable of feeling pain after 20 weeks.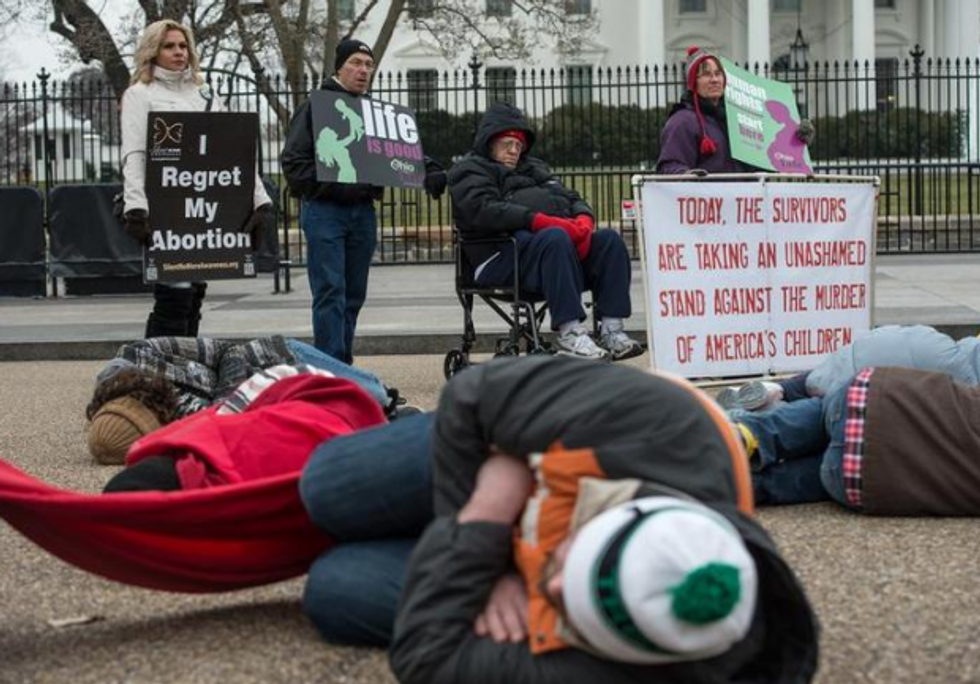 Anti-abortion activists stage a 'die-in' in front of the White House in Washington,DC on Wednesday on the eve of the 42rd anniversary of the Supreme Court's decision on Roe v Wade to legalize abortion. House Republicans were hoping to pass a bill banning abortion after 20 weeks, but had to pull it due to GOP opposition.
Image: NICHOLAS KAMM/AFP/Getty Images
GOP leaders pulled the bill from the floor this week, after several Republican women said they should be careful about considering legislation that may not appeal to younger voters. But Rep. Chris Smith (R-N.J.) said Wednesday night that the legislation is not dead, and will soon be tweaked and brought back up for a vote.
"I would just briefly mention that the pain-capable legislation is only delayed," Smith said in the House Rules Committee. "It'll be up on the floor, it'll be up on the floor soon."
"That bill, I promise you, will be back on the floor very, very shortly," he said.
The last-minute decision to pull the bill was something of an embarrassment for Republicans, who were hoping to pass it just as anti-abortion protesters gather in Washington for Thursday's March for Life. It's also something of a surprise because the House passed similar legislation in 2013 with a 32-vote margin that saw six Democrats vote for the bill.
Members such as Renee Ellmers (N.C.) warned that the GOP should move more slowly this time around. Roughly 25 Republicans would have had to vote against the bill to kill it in the House, and while it's not clear there were that many, GOP leadership decided to delay the vote anyway to avoid what may have been a close vote.
Rep. Trent Franks (R-Ariz.) sponsored the bill, and said on the House floor Wednesday that it's needed to stop the more than 18,000 late-term abortions that happen in the United States every year.
"Almost every other major civilized nation on earth protects pain-capable babies at this age, and every credible poll of the American people shows that they are overwhelmingly in favor of protecting them," he said. "And yet, we have given these little babies less legal protection from unnecessary, painful cruelty than the protection we have given farm animals under the Federal Humane Slaughter Act."
Franks' bill would prohibit abortions after 20 weeks except in cases of rape or incest, or when the life of the mother is threatened. But the bill only lets people use the rape or incest exception if those crimes have been reported to authorities — that's the language that seemed to be causing concern among some GOP women.
Smith didn't specify how the bill might be changed, but did say Republicans were "working through a few bits of text."
"There's a short delay," he added when asked by a Democrat what the holdup was. "Just like in your caucus when you have closed conferences, sometimes you want to work out some text, and that's all we're doing."
Smith and others were at the Rules Committee late Wednesday to set up a vote on another abortion bill, a bill from Smith that reaffirms the ban on funding abortions with taxpayer money. The House was expected to debate the rule for this bill and pass it by the middle of the day Thursday.
Smith introduced that bill Wednesday, but the bill is familiar to most in the House, as a similar version was passed in the last Congress.