LAS VEGAS — Former Alaska Gov. Sarah Palin declined to speculate on a potential 2016 run Thursday at the 2015 SHOT Show in Las Vegas, but she did offer the GOP some free political advice. We caught up with Palin as she was promoting the second season of her show, "Amazing America," which airs on the Sportsman Channel Thursdays at 9 p.m. ET.
"I'm not going to talk politics except to say the GOP had better go on offense. Man, they are not going to win any game on defense," she told TheBlaze. "Being in the majority there in D.C. -- we're blowing it if we just bend our back."
She added, "That GOP leadership, that establishment, they've got to get their stuff together. I love what they believe in, I believe in it too. But they've got to get tough, man. You know what? It's not just the New England Patriots who are dealing with deflated balls right now."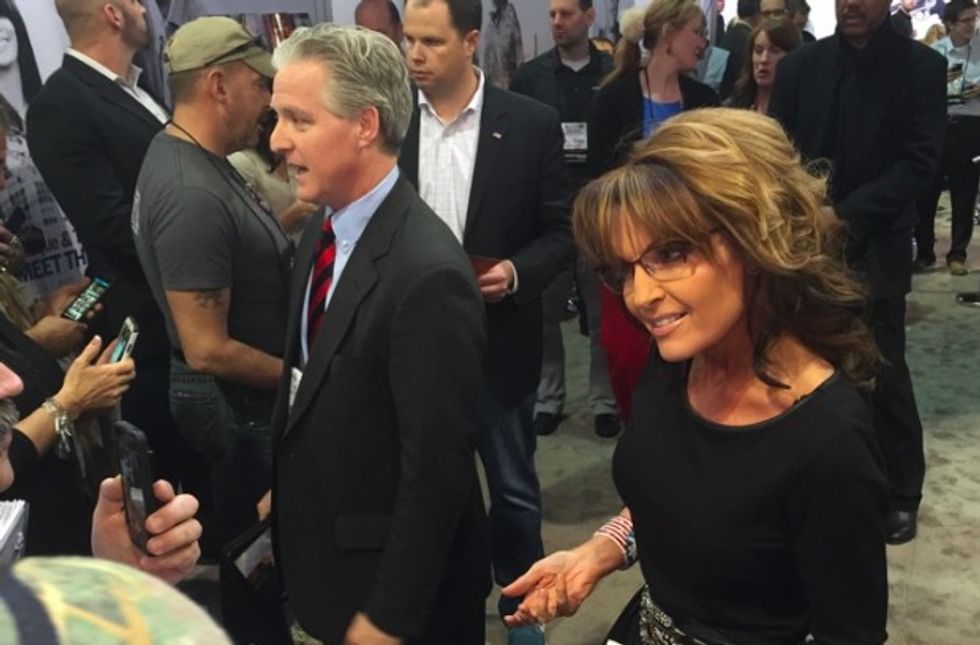 Former Alaska Gov. Sarah Palin (Credit: TheBlaze/Mike Opelka)
The discussion then shifted to "Amazing America," which she said has received an extremely positive response from American viewers. Next week's Jan. 29 episode has been dubbed the "Ted Nugent Special" as she visits the rock star's massive Texas ranch.
The former Alaska governor said the show is really about connecting with the beauty of the outdoors. And she's not letting the outrage mobs that get angry over hunting affect her in the slightest.
"Wherever you go in America, there is beauty, there are resources, there are wonderful people out there living life vibrantly — and we can all kind of unify around that, being inspired by what the great outdoors has to offer," she said. "And our show highlights [that]."
Watch a preview of the episode here:
While in Vegas for the SHOT Show, Palin said she will also feed the homeless Thursday night with "organic" and "healthy" wild game.
---