On Thursday, hundreds of thousands of anti-abortion protesters with the March for Life will descend on Washington, D.C., to decry the 42nd anniversary of the Supreme Court's 1973 decision to enshrine abortion as a "constitutional right."
How many protesters will be there, exactly?
Don't expect to find out.
Anti-abortion protesters attend the March for Life on January 25, 2013 in Washington, DC. The pro-life gathering is held each year around the anniversary of the Roe v. Wade Supreme Court decision. Credit: Getty Images
The National Park Service used to offer official estimates of crowds on the National Mall — where the March for Life gathers each year and where other high-profile rallies, including the 1963 civil rights march and Glenn Beck's 2010 Restoring Honor rally, have also congregated — but the agency stopped gauging crowd sizes in 1995 under threat of a lawsuit.
The man responsible: Nation of Islam leader Louis Farrakhan.
Farrakhan's Million Man March in October 1995 brought hundreds of thousands to Washington, but the National Park Service's crowd estimate pegged attendance at 400,000 — far below the touted 1 million.
Farrakhan threatened to sue the agency, and Congress soon thereafter ordered the Park Service to stop estimating crowds altogether to avoid future politicized troubles.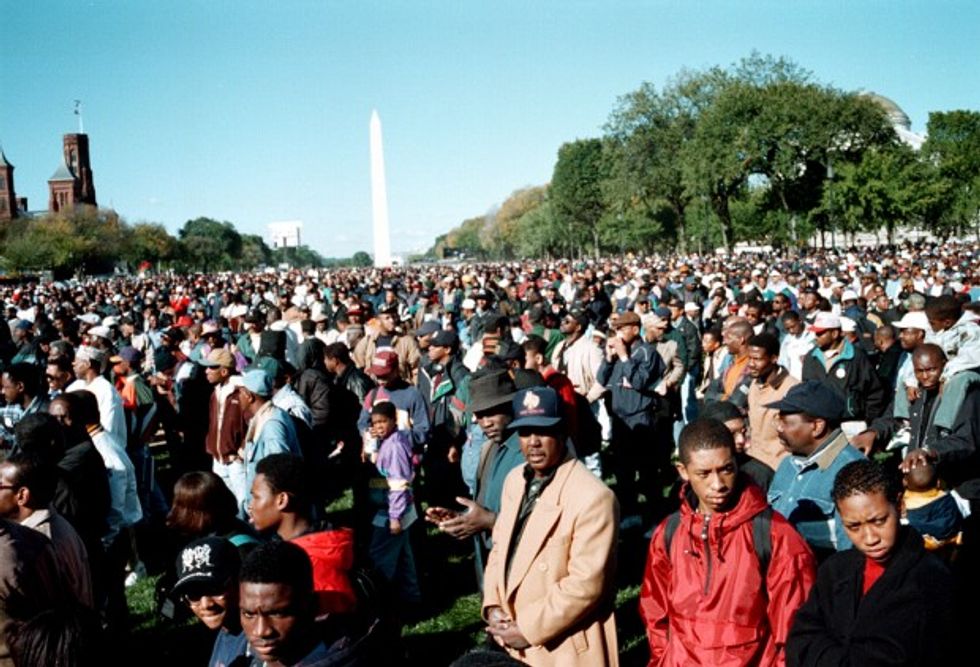 The Million Man March in October 1995. (Image via Wikimedia Commons)
''It just got to be so controversial,"  then-Park Police spokesman Maj. Robert H. Hines said at the time. "We get a bunch of people who call us names and say we lie about how many people were there. We decided it serves no benefit for us...it is not in our own best interest'' to make a count.
The lack of official estimates has opened the doors for wildly varying estimates of crowd sizes.
When it comes to the March for Life, news outlets including the New York Times will generally keep numbers vague and low, referring to "tens of thousands" of protesters.
March organizers, on the other hand, generally refer to "hundreds of thousands" of attendees, and some estimates regularly top 500,000 — which would make the March for Life one of the biggest political rallies in American history.
March organizers told TheBlaze on Tuesday that it was uncertain whether they would release a numerical estimate of attendance at Thursday's march, or whether they would stick with the "hundreds of thousands" ballpark estimate.
The last official estimate of March for Life attendance was from 1995, when the National Park Service estimated that 45,000 marchers came to Washington — 10,000 more than came in 1994.
—
Follow Zach Noble (@thezachnoble) on Twitter