The first time Kathy Beitz ever saw a baby, it was her own.
Beitz is blind, but using specially designed eyewear, she was able to see her newborn son.
"Oh my God," she breathed in a YouTube video that captured the moment.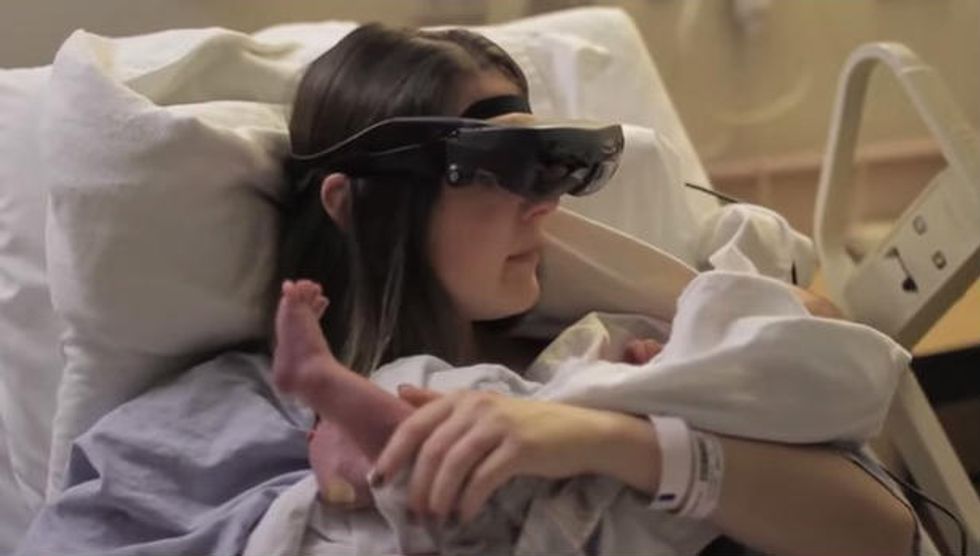 Kathy Beitz, who is blind, looks at her baby for the first time. (Image source: YouTube)
Beitz was wearing eSight Glasses, which are essentially a huge pair of goggles fitted with a camera and video screens. For the wearer, they enhance images to the eye by delivering more information to the cells.
"We're then able to enhance it in certain ways that make an image that someone who is legally blind is better able to see," eSight representative Taylor West told Canada's CTV News.
Beitz has Stargardt disease and can't see clearly.
"I don't get to see people's expressions," she said. "Definition is a big part of my disease."
Because of the glasses, Beitz was able to see more than just the expressions on her baby's face. She could even point out his "long toes."
"Even to look at my husband looking at him was such a good feeling," she said. "I got to fall in love with him."
The glasses are the only ones of their kind that allow legally blind people to see, according to eSight. But they don't come cheap: according to CTV, they cost $15,000 and only about 140 people in all of North America own them.
There is a place on the company's website where visitors can donate money to help more people see.
–
Follow Jon Street (@JonStreet) on Twitter