A conservative legal firm has filed an official complaint with the U.S. Equal Employment Opportunity Commission on behalf of former Atlanta fire chief Kelvin Cochran, alleging that he was discriminated against when Atlanta Mayor Kasim Reed fired him earlier this month.
As TheBlaze previously reported, debate has surrounded Cochran's dismissal following controversy over a book that he self-published in which he called homosexuality "sexual perversion" and compared it to "bestiality," among other critiques.
Now, Cochran is fighting back against his termination, with the EEOC filing serving as the first official step in that process.
"Allied attorney Jonathan Crumly filed an EEOC complaint on behalf of Chief Cochran yesterday based on the City's clear religious discrimination against the Chief," read a statement issued to TheBlaze by Alliance Defending Freedom senior counsel Jeremy Tedesco. "Americans are guaranteed the freedom to live without fear of losing their jobs because of their beliefs and thoughts."
Tedesco said that the law firm is still exploring all of the available legal avenues to fighting back against what he called an "unjust termination."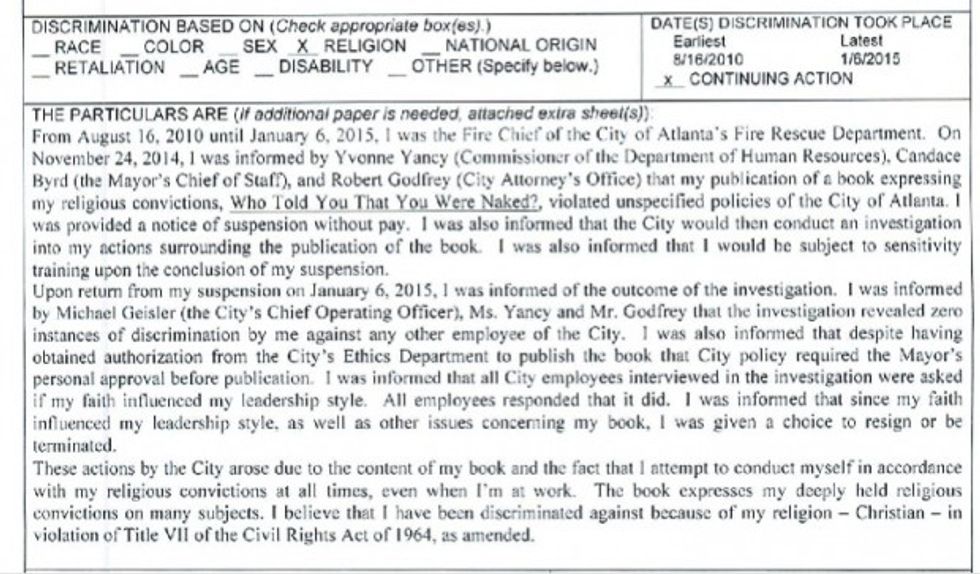 A portion of ex-Atlanta fire chief Kelvin Cochran's EEOC complaint
A copy of the complaint provided to TheBlaze is dated January 19 and lists "religion" as the reason for its filing. In the brief, one-page document, Cochran recounts his version of events, noting that he served as fire chief for nearly five years and that his problems with city officials began on Nov. 24, 2014, when he was suspended without pay following controversy over the book.
Cochran said that he was later informed that an investigation the government conducted while he was out of work found zero instances in which he had discriminated against other staff members, but he alleges that his faith became a factor in the dismissal process.
"I was informed that all City employees interviewed in the investigation were asked if my faith influenced my leadership style. All employees responded that it did," he wrote in the complaint. "I was informed that since my faith influenced my leadership style, as well as other issues concerning my book, I was given a choice to resign or be terminated."
Cochran charges that his dismissal was rooted in the contents of his book, titled, "Who Told You That You Are Naked?" and his decision to live his life — even in the workplace — according to his Christian faith.
"The book expresses my deeply held religious convictions on many subjects," he concluded. "I believe that I have been discriminated against because of my religion — Christian — in violation of Title Vll of the Civil Rights Act of 1964, as amended."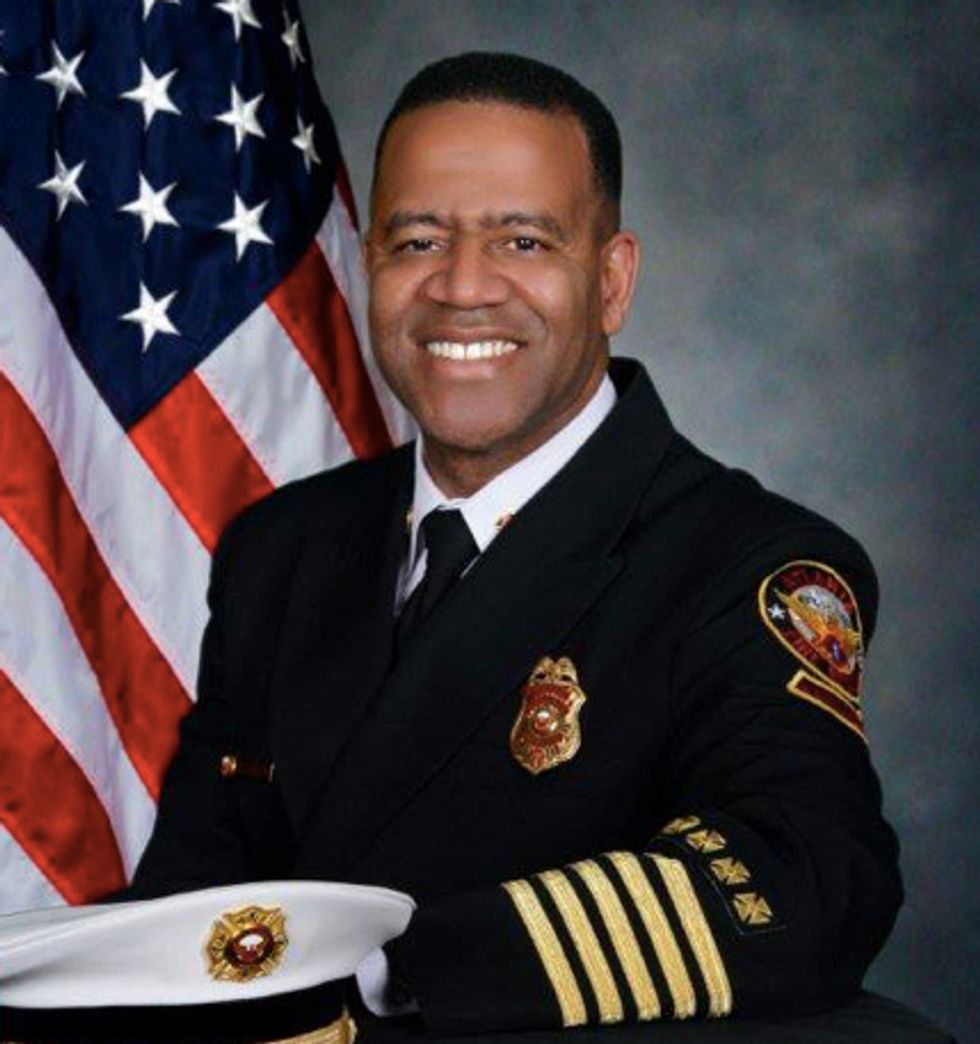 Former fire chief Kelvin Cochran (Facebook)
Reed has countered the narrative that the firing was about the religious views expressed in the book, claiming at a press conference earlier this month that Cochran's judgement was at the center of his firing.
The mayor said he wasn't consulted before the book was written and that Cochran, who spoke out about his battle with the city to religious groups when he was reportedly told not to, violated policies by not having the book cleared by an ethics panel, as required by the city.
That said, Cochran claims Atlanta ethics officer Nina Hickson gave him verbal permission to write the book and that he had given a copy to Reed's office last January, the Atlanta Journal-Constitution reported.
In an interview with conservative commentator Todd Starnes, Cochran said that he did "not single out homosexuality" in his book.
"I simply spoke to sex being created by God for pro-creation and He intended it to be between a man and a woman in holy matrimony – and that any other sex outside of that is sin," Cochransaid.