Alaska's all-Republican delegation to Congress is accusing President Barack Obama of attacking the economic health of their state by recommending that 12 million acres of land be designated as wilderness area, a move that would make the land off-limits for energy development.
The Department of the Interior and the White House on Sunday announced its proposal to protect a huge chunk of the Arctic National Wildlife Refuge, an area about as big as South Carolina that sits in the northeastern region of the state. The administration said only a portion of ANWR is protected, and that officially designating 12.28 million more acres would help protect it for future generations.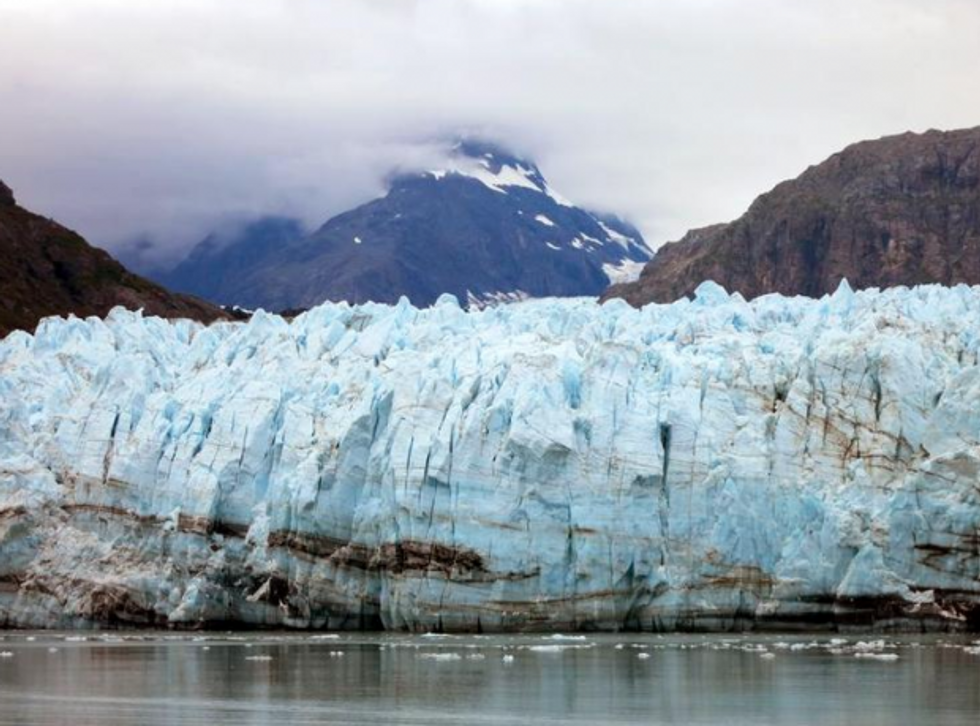 This photo shows Margerie Glacier, one of many glaciers that make up Alaska's Glacier Bay National Park. President Obama has plans to protect more of the Arctic National Wildlife Refuge, but the state's Republicans are calling it an attack on the state. Image: AP Photo/Kathy Matheson
But Republicans, who have said it's possible to drill for oil in ANWR in an environmentally sound way, said the move would be a crushing blow to the state's economy. They also said it was announced without any significant consultation with Alaska's representatives.
"What's coming is a stunning attack on our sovereignty and our ability to develop a strong economy that allows us, our children and our grandchildren to thrive," said Sen. Lisa Murkowski (R). "It's clear this administration does not care about us, and sees us as nothing but a territory. The promises made to us at statehood, and since then, mean absolutely nothing to them."
"I cannot understand why this administration is willing to negotiate with Iran, but not Alaska," she added.
Newly elected Sen. Dan Sullivan (R) agreed. "This outrageous action confirms what most Alaskans have feared – that the Obama administration's war against Alaska families and the middle class would only intensify under the final two years of President Obama's tenure," he said.
"This callously planned and politically motivated attack on Alaska by the Obama administration is akin to spitting in our faces and telling us it's raining outside," said Rep. Don Young (R). "As if on command from the most extreme environmentalist elements, this president and his team of D.C. bureaucrats believe they alone know what's best for Alaska, but this brazen assault on our state and our people will do the complete opposite."
Only Congress can designate wilderness area, but the Obama administration's decision will offer some immediate protection for the land, and will may force Congress to act on the decision. Given the current makeup of Congress, Obama's request for a formal designation is likely to go unheeded, and may even prompt legislation aimed at reversing the decision.
In the meantime, Republicans said the Department of the Interior will immediately start managing 1.5 million acres of the coastal plain as wilderness, and said this would stop motorized access to the plain.
"Designation as wilderness would protect and preserve the refuge, ensuring the land and water would remain unimpaired for use and enjoyment by future generations," the department said Sunday. "Only Congress has the authority to designate wilderness areas and wild and scenic rivers."
John Podesta, a counselor to Obama, said that while Republicans have "clamored" to drill for oil in the coastal plain, that move "could irreparably damage this ecological treasure."
Gov. Bill Walker (I) reacted to the decision by saying it would likely force the state to step up efforts to explore for energy resources on land that's still left under the state's jurisdiction. Walker said his state's finances would benefit from more oil production, and said Obama's announcement is a "major setback toward reaching that goal."
"Therefore, I will consider accelerating the options available to us to increase oil exploration and production on state-owned lands," he said.