Manuel Oliveira, 80, was suffering from the early stages of dementia when he went missing in Toronto Thursday.
As many local media do in cases of missing persons, CP24 sent out reporter Cam Woolley along with his cameraman Kyle Surowicz to cover the story. Little did the news crew know that they were about to become a part of the news they were assigned to cover.
Pictures of the missing man had been circulating since around 5:30 a.m. Thursday and by 9:00 a.m., police said they'd received a tip that the man might be near a certain neighborhood. Woolley and Surowicz walked in a separate direction than that of police to file video back to the newsroom and when they did, they noticed a man with a walker inside a doorway, CP24 reported.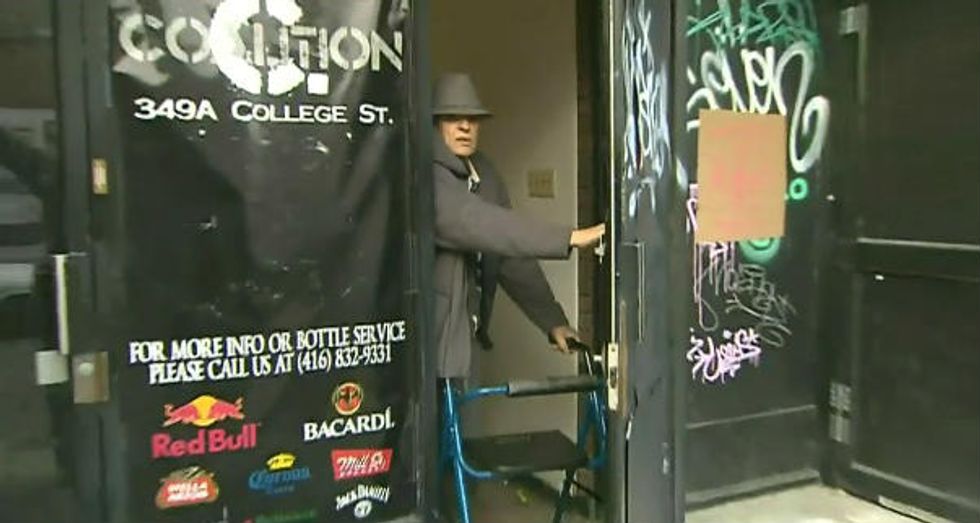 Manuel Oliveira, 80, is spotted by a Canadian news reporter after being reported missing. (Image source: CP24)
"Cam, that's him!" Surowicz said.
Woolley approached the man.
"Are you Manuel Oliveira? Everyone has been looking for you," Woolley said.
Once Oliveira, who had been missing since around 4 p.m. Thursday, had been found, Woolley notified police who gave him a muffin and some hot coffee. Oliveira was also examined by medical staff but the 80-year-old appeared to be in good health besides being a little disoriented, according to CP24.
Oliveira was reportedly let into the building overnight after he told a woman inside he lived on the second floor. But after not being able to unlock any of the apartments once he was inside the building, he lie down on the floor where he apparently slept all night.
See the moment when Woolley and Surowicz spotted the missing 80-year-old as he made his way out of the building Friday afternoon:
(H/T: CP24)
–
Follow Jon Street (@JonStreet) on Twitter