The Obama administration's refusal to acknowledge radical Islam is a "real problem" for the country, Rep. Tulsi Gabbard (D-Hawaii) told Greta Van Susteren on Tuesday night.
When she was asked why the White House will not say "Islamic extremism," Gabbard, an Iraq War veteran, replied:
"This is not just about words. It's not about semantics. It's really about having a real, true understanding of who our enemy is and how important that is, that we have to understand what their motivation is and what their ideology is — the radical Islamic ideology that is fueling them."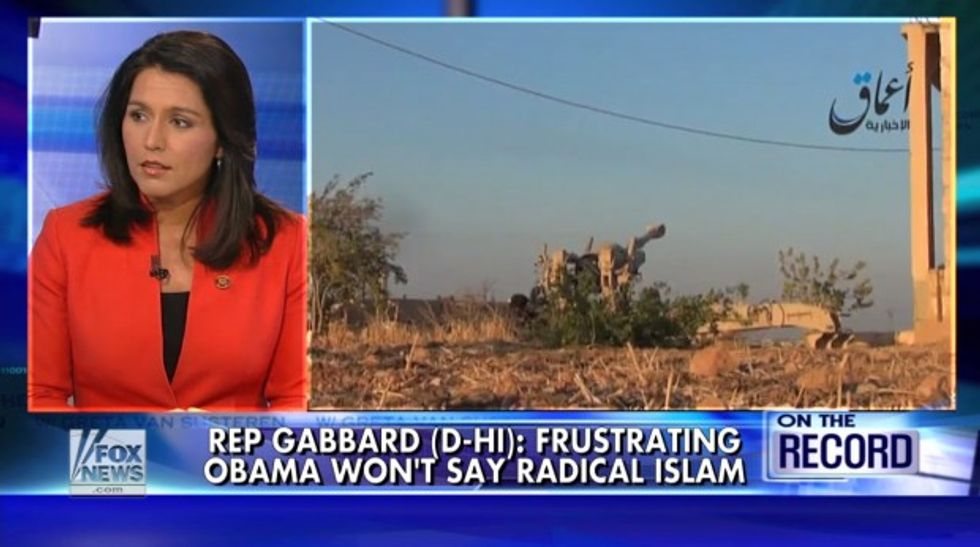 (Fox News)
Gabbard noted that Secretary of State John Kerry recently claimed that Islamic State and Al Qaeda terrorists were engaging in "criminal conduct rooted in alienation, poverty, thrill-seeking and other factors," which she said is just wrong.
"If that's really the cause, then the solution would be just to give them a trophy, give them a hug, give them a good-paying job, $10,000, and a skateboard so they can go and get their thrills and say, 'OK, great, they are going to be happy and they won't be fighting anymore.' That's not the case," the congresswoman said.
"So, we've got to look at what their ideology is and how that's fueling these tragic attacks that keep on occurring," she added.
Gabbard acknowledged that her strong views on radical Islam stem from her military service as she's seen the terrorist culture up close in Iraq. She also accused the Obama administration of failing to truly recognize the enemy the U.S. is fighting by ignoring the radical Islamic ideology.
"It's a real problem because of a very simple reason, actually," Gabbard said. "And that is something that I learned that is military 101, but something that's easy for everyone to understand, and that is if you are at war, which we are, you have to know who your enemy is to defeat them."
Watch the segment via Fox News below: