Former Cuban President Fidel Castro and the U.S. State Department have each confessed within the last 24 hours that they don't trust each other.
But that isn't stopping both countries from trying to formalize diplomatic relations for the first time in years. The U.S. and Cuba met just last week in Havana, and Cuban officials will likely come to the U.S. in the coming weeks to continue those meetings.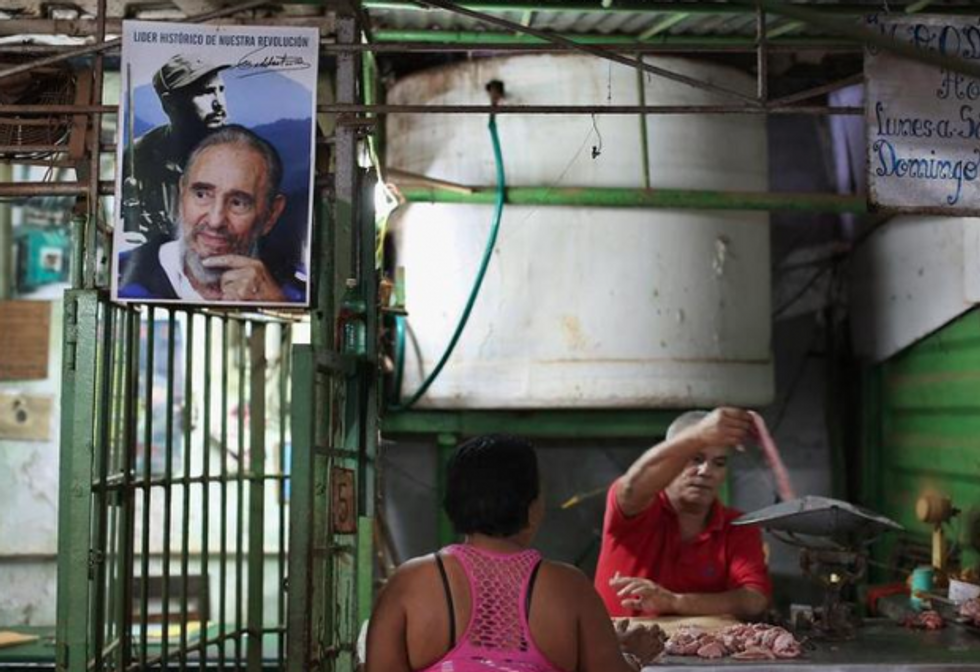 A woman buys pork in an open air market in the Jesus Maria neighborhood of Habana Vieja, under a poster of Cuba's former leader Fidel Castro. Castro says he doesn't trust the U.S., and the State Department said Tuesday it doesn't much trust Cuba. The two are trying to rebuild their relationship. Image: Chip Somodevilla/Getty Images
Late Monday, Castro reportedly said, "I don't trust the policy of the United States." While Castro is no longer Cuba's official leader, he is still thought to play an indirect role in Cuba's government through his brother, President Raul Castro.
On Tuesday, a State Department spokeswoman admitted the U.S. doesn't much trust Cuba either. Spokeswoman Jen Psaki was asked directly if there's a lack of trust in Cuba, and replied, "There are places where we have a lack of trust, but there are diplomatic reasons and strategic reasons to pursue a different path forward."
"I think it's fair to say there's a lack of trust, but we're working to build that trust," she added.
When asked if State was disappointed in Castro's remarks, Psaki indicated that mutual trust may not matter.
"It's not about trust," she said. "It's about what's in the interest of the people of Cuba, what's in the interest of our own national security interests, our economic interests, and that's why we're pursuing this new path forward."
But for opponents of Obama's effort to reach out to Cuba, the lack of trust is a major problem. Many Republicans and Democrats say Obama is rewarding Cuba by easing trade and travel rules, without asking Cuba to take any steps toward democratic reform, or to be more tolerant of political prisoners, or to compensation property owners for confiscations that took place half a century ago.
The one move Cuba has made is already being questioned. Cuba agreed to release 53 political prisoners, but many have pointed out that Cuba seems to have re-arrested some of them, and in the meantime has been arresting other political dissidents.
Another key question is whether Cuba will return the roughly 70 fugitives from U.S. justice that now live in Cuba. Last week, Senate Republicans asked Attorney General Eric Holder if the return of some or all of these fugitives will be part of an agreement with Cuba.
But so far, State hasn't indicated they will.