It has been called by British officials a "miniature nuclear attack on the streets of London."
That is the cause of death of a former Russian spy-turned-whistleblower, Alexander Litvinenko, whose assassination through the poisoning of a cup of tea with Polonium-210, a highly radioactive substance, allegedly by two Russian officials (one of whom is currently serving as a member of Russia's Duma), became a major international incident now re-surfacing over 8 years after his death.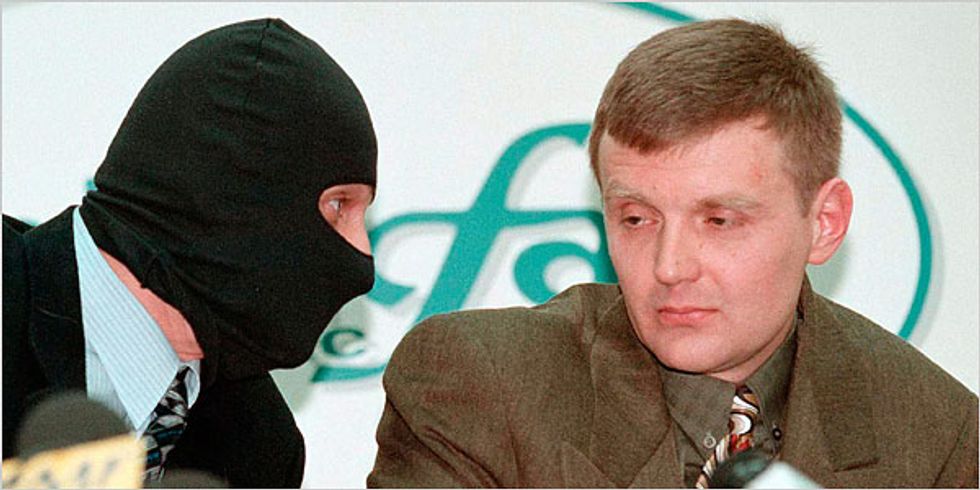 Alexander V. Litvinenko was jailed at one point after he criticized Russia's spy agency publicly in 1998. A fellow dissident officer opted to conceal his face. (Credit: Sergei Kaptilkin/Agence France-Presse — Getty Image)
On January 27th, the long-awaited, politically sensitive British inquiry into Litvinenko's assassination, which will explore all of the details around his death including potential Russian government involvement, finally began.
Litvinenko, who turned on the Russian FSB after refusing to carry out orders to assassinate oligarch Boris Berezovsky, ultimately landed in London, where he spent years blowing the whistle on all matter of criminal actions allegedly perpetrated by the Russian government itself, from terrorism to drug smuggling -- often fingering Vladimir Putin himself as the man behind these activities.
Below are five of Litvinenko's most staggering allegations, which may have ultimately led to his 2006 assassination, as compiled based on his "Allegations: Selected Works by Alexander Litvinenko." You can read much more about the inquiry in its opening statements.
1. Russia planned the bombing of its own citizens in 1999 as a false-flag attack, creating a pretext for the invasion of Chechnya, the wave of popularity of which Vladimir Putin rode to the presidency in 2000
In an article titled "1999 Apartment Explosions: the Case Against FSB," Litvinenko laid out the broad strokes of his investigation into the 1999 apartment bombings that took place in several Russian cities, culminating in the launching of a war in Chechnya theoretically in retaliation for the attacks.
The one bombing attempt that failed occurred at a building in Ryazan, in which the Russian government initially claimed they had thwarted an attack against Chechen terrorists, only for information to leak that the prime suspects were FSB IDs, and the official government line shift -- the thwarted bombing in Ryazan was now actually a training exercise.
As Litvinenko described it:
At 19:00 on 23 September, the 'Vesti' official TV programme broadcasted its regular news report: 'Vladimir Putin, Prime Minister of Russia, announced an air-raid on Grozny airport today'. So, while in Ryazan they were pursuing terrorists, the Russian aircraft bombed Grozny. The people of Ryazan were avenged! The masterminds of that terrorist attack would pay dearly for their spoiled day and sleepless night!

Next day, on 24 September, the terrorists were finally arrested. After being cruelly beaten, the terrorists produced their FSB ID cards.

Immediately after that, at noon of 24 September, the FSB chief Patrushev made an urgent statement to Russian and foreign journalists. He announced that all the events in Ryazan were merely a training exercise of Russian FSB. There was no hexogen, Patrushev said, and the sugar-bags contained just sugar. The detonators were fakes. The test of the substance gave wrong results, because the gas analyser device was defective.

Meanwhile, the bags of explosives, the detonator and the arrested terrorists were urgently moved from Ryazan to Moscow.

The terrorists' actions in all four earlier apartment explosions were identical to those in Ryazan. The manner of crime was the same everywhere. In particular, hexogen packed in sugar bags was used as the explosive in all five cases.

After the fiasco in Ryazan, apartment explosions in Russia stopped.
Litvinenko goes on to document that several of the key witnesses that might have exposed the truth about the various bombings in Russia were either put in jail, assassinated, or died, including two leading State Duma members of the public commission investigating the September 1999 terrorist attacks.
Litvinenko wrote a book on his investigation titled "Blowing Up Russia: The Secret Plot to Bring Back KGB Terror."
In an article titled, "Sorry, I didn't realise that was top secret," published in February 2004, Litvinenko wrote:
Last Tuesday, well-known human rights activist Alexander Podrabinek was summoned to the FSB's Lefortovo Prison for interrogation. FSB suspects him of being involved in the disclosure of State secrets, as he helped distributing the book Blowing Up Russia: Terror From Within by Yuri Felshtinsky and myself. The book accused the FSB of organizing terrorist attacks, namely apartment blocks explosions in Russian cities in September 1999.

Honestly, I had no idea that the FSB involvement in terrorist attacks was a State secret. My former superiors should have told me that in advance...

Jokes aside, now it is clear that the allegation Mr. Felshtinsky and I made is true. Four years after the crime, the FSB began confessing to it. Indeed, in legal terms, only truth can constitute a State secret.

...This July, another criminal case was filed on the disclosure of State secret in Blowing Up Russia. So the FSB involvement in the 1999 apartment explosions is not only fact, but also a State secret, which you cannot disclose without risking imprisonment.

I appreciate the smartness of Senior Lieutenant A.V. Soima, who investigates this case. Indeed, he virtually has Putin and Company, as well as the whole KGB system, by their throats. There is a popular proverb in Lubyanka: presidents come and go, but prison-guards stay. So, Mr. Soima probably knows what he is doing. As soon as Putin's regime is about to fall, the Senior Lieutenant has every opportunity to re-qualify the case from disclosure of State secrets to terrorism by a single scratch of his pen. Putin and his friends will flee from the Kremlin, only to run into the brave detective waiting at the gates with handcuffs.
In the official inquiry, the legal representative for Mr. Litvinenko's family noted during opening testimony: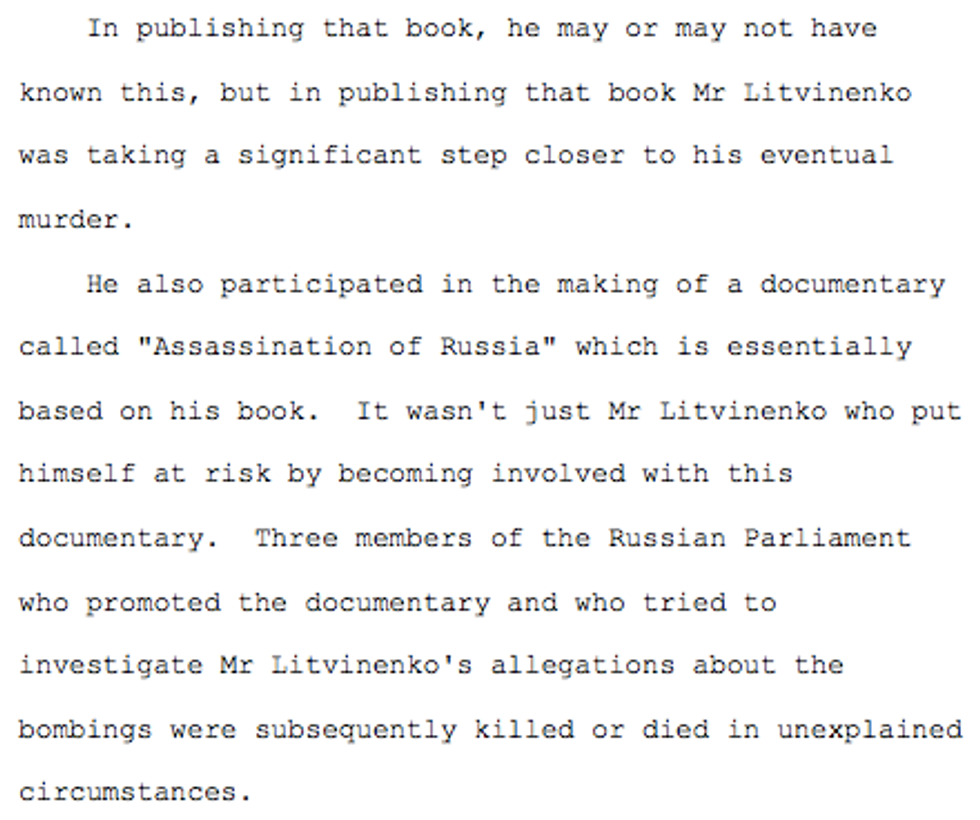 Litvinenko Inquiry page 144. (Credit: Litvinenko Inquiry – www.litvinenkoinquiry.org)
2. Litvinenko cited multiple terrorist attacks carried out by the FSB, and claims that Ayman al-Zawahiri, Al Qaeda's number two after bin Laden, was trained by the FSB
In this television image from Arab satellite station Al-Jazeera, Osama bin Laden, right, listens to his top deputy Ayman al-Zawahri speaking at an undisclosed location. (Photo: AP) 
In an interview conducted in 2004 with the publication Europa-Express, Litvinenko stated:
I have published the evidence that the FSB blew up buildings and organized other terrorist attacks in Russia. For example, their officer capital Shelenkov was killed trying to blow up a railroad bridge across the Yauza River in late 1993.

An FSB agent, Lieutenant-Colonel Vorobyov, was arrested and then convicted for blowing up a bus in Moscow in 1994. Then an FSB General, the chief of a big Lubyanka department, personally asked the judge to soften the sentence for Vorobyov.

There is sufficient evidence of the FSB involvement in the [1999] apartment block explosions in Moscow. The man who rented the basements where the explosives were later placed was FSB agent Vladimir Romanovich. That was proven by lawyer Mikhail Trepashkin. Then a gun was planted on Trepashkin and he was imprisoned.

...There is evidence that Russian special services are connected to Al Queda. One of Al Queda terrorists is Namangani, a tadjik. He undertook a special training from 1989 to 1991 in KGB First Chief Directorate's training camp. That training camp still exists now and belongs to the fSB.

...A closest associate of bin Laden and his number two in Al Queda, Aiman al Zawahiri, undertook an FSB special training in Dagestan in 1998. Before that, he had nothing to do with bin Laden and did not even know him. But after the training he went straight to bin Laden. For some reason, bin Laden accepted him and made him his number two in Al Queda.

...It is possible to destroy the whole international terrorism tomorrow, along with Russian Mafia. All you need to do is disband the Russian special services.
He later spoke of al Zawahiri in a July 9, 2005 interview:
In 1998, sentenced to death in Egypt for terrorism and wanted by the Interpol, Ayman al-Zawahiri stayed in an FSB training centre in Dagestan. He took a half a year special training course there. Then he was sent to Afghanistan, where he had never been before. Immediately after that, under supervision of his FSB bosses, he penetrated Bin Laden's entourage and soon became his deputy in Al Queda...

After Ayman al-Zawahiri's terrorist training and transfer to Afghanistan, I served in one of the FSB's most secret departments. So I saw those officers from the FSB Directorate for Dagestan, who had been training al-Zawahiri shortly before, being re-assigned to Moscow and getting promotions.
3. Litvinenko argues that Putin and the FSB control the Russian drug trade, and that in particular it was his stumbling upon this fact that put the target on Litvinenko's back
Russian President Vladimir Putin meets with Federation Council members in the Novo-Ogaryovo residence outside Moscow, Thursday, March 27, 2014. (AP Photo/RIA-Novosti, Alexei Nikolsky, Presidential Press Service) AP Photo/RIA-Novosti, Alexei Nikolsky, Presidential Press Service 
In an article titled "Why I Believe Putin Wanted Me Dead," published shortly after his death on November 25, 2006, Litvinenko writes about an investigation that led him to a corrupt Colonel Khokholkov, the head of a top-secret unit in the FSB.
Litvinenko found evidence that Khokholkov had enriched himself by extorting money from Moscow's largely Uzbeki drug kingpins, who traded through Afghanistan into Europe. When Litvinenko reported this to a superior, the superior shrugged off the charges, and Litvinenko was then curiously assigned to work directly for Khokholkov himself.
During this time, Litvinenko discovered evidence of "massive involvement by the Moscow Police Organised Crime Unit in criminal activity."
Ultimately, when Vladimir Putin was made head of the FSB, Litvinenko was asked to report this information to Putin.
Later Litvinenko was fired.
He wrote:
Before I left [the FSB], a former boss at the Anti-terrorist Centre went to Putin to put in a word on my behalf. Returning from the meeting, he looked at me, shook his head and said: 'I do not envy you, Alexander. There is common money involved.'

I did not understand then what he meant by 'common money'. Now I do. he was referring to Colonel Khohkolkov and his dealings with the Uzbek drug barons. This understanding came to me many months later. I discovered that Putin's connection with Colonel Khokholkov dated back to the time when Putin was a Deputy for Economic Affairs to the Mayor of St Petersburg.

I had an informer in St. Petersburg's city hall. He kept an eye on the criminal connections of city officials. When the Mayor lost the elections, Putin lost his job. One day my informant had a beer with him. Putin was down and out and could not get hold of money he had stashed away. He was under surveillance by the new Mayor's people. My informant took pity on Putin and gave him $2,000 as an 'open-ended' loan. When Putin became President, he repaid him by appointing him an economic adviser.

As for me, my years of service at the FSB were rewarded by being fired and thrown in jail. It was a year before I was released pending trial. My informant came to see me following my release: 'Putin will squash you,' he said, 'and no one can help you. He has no choice because he was working with the Uzbek group. There is lots of common money there.'

I could not believe he was using the same phrase: common money. He was telling me that Putin had been directly linked with the mob that my investigations into Colonel Khokholkov had led me to. How close had I come to his name?

My informant smiled: 'Remember the smuggling of rare metal in the early Nineties? Putin was in charge of export licensing. You worked on organised crime? Tell me, could anyone export a kilo of metal in those days without the mob? The would blow up the whole train. And he was right at the centre of it all. All his licensees were mob front.'

The two of us were talking in a restaurant. 'Vladimir fell for power very quickly,' confided my informant. 'Look, when Yeltsin drove to the Kremlin, only one traffic line was cleared. But for Vladimir they close down the whole highway. He is not fit for power. He has no political skills and a certain weird way of thinking. He is dangerous.'

My friend got drunk and I took him out to the lobby. 'Are you crazy?' I said. 'All of this will be at the FSB tomorrow morning. Don't you know that I am watched?'

But it was too late. Three weeks after that conversation he was killed by a hit-man from a passing bicycle. A direct hit at close range. I learned about it from TV. A presidential aide has been shot. One of many during the past decade.
In response to the question "Who controls the supplies of heroin in West European countries?" in an October 14, 2004 article, Litvinenko wrote:
While working in the FSB I have learned that my bosses supervised illegal transportation of drugs from Afghanistan to West Europe via Russia. I have published all that in details in my book Lubyanka Crime Syndicate, in chapter 4 which is called 'Uzbek Connection'. Unfortunately, the book is proscribed for being sold in Russia, but it is available on a number of Internet web-sites.

...[M]ore information has become available...particularly on President Putin's connections to Colombian drug cartels. Thus, Nikolai Melnichenko, a former Major of Ukraina's Security Service, has covertly tape-recorded conversations in the office of Ukraine's president, and kindly shared the tapes with me. I also possess the original conclusion from an expert that these tapes are genuine and can be used as evidence in court. It is from those tapes that I learned that Putin is closely connected to one of the Colombian drug cartels through 'Tambov' crime syndicate. Putin, right until he was elected president in 2000, was a consultant to the German SPAG company. That Company laundered the money earned through illegal sales of Colombian-made drugs in Europe.

Undoubtedly, the Chekists also get money from the illegal circulation of drugs in Russia itself. Drug abuse in Russia has now reached the scope of a national catastrophe. It is enough to take the numbers of officially registered drug addicts and multiply them by the dose of drugs each of them needs every day to see that we are talking about tons of drugs being sold. Needless to say, the Chekists would never go past such huge profits.

This year, Putin founded a new special service to fight drug trade, and transferred some former responsibilities of the Fiscal Police to that new service. Its newly appointed chief, Cherkesov [Gen. Viktor Cherkesov, Director of Russian Federal Service for Control of Drug Traffic], is the president's old accomplice in many of his dirty machinations. Thus, in mid-1990s Putin and Cherkesov together racketed St. Petersburg's sea port, which was a major transit route for the supplies of drugs from Afghanistan to Europe. Now Putin has centralised Russia's struggle against the drug dealers in the reliable hands of Cherkesov. Why has he done that? He simply disguised the control over drug trade and subsequent money-laundering as the struggle against these crimes. Now that it is centralised under Cherkesov's supervision, there will be no outsiders intervening in their dirty business.
Of the book Litvinenko cites, in the inquiry his family's legal representative states: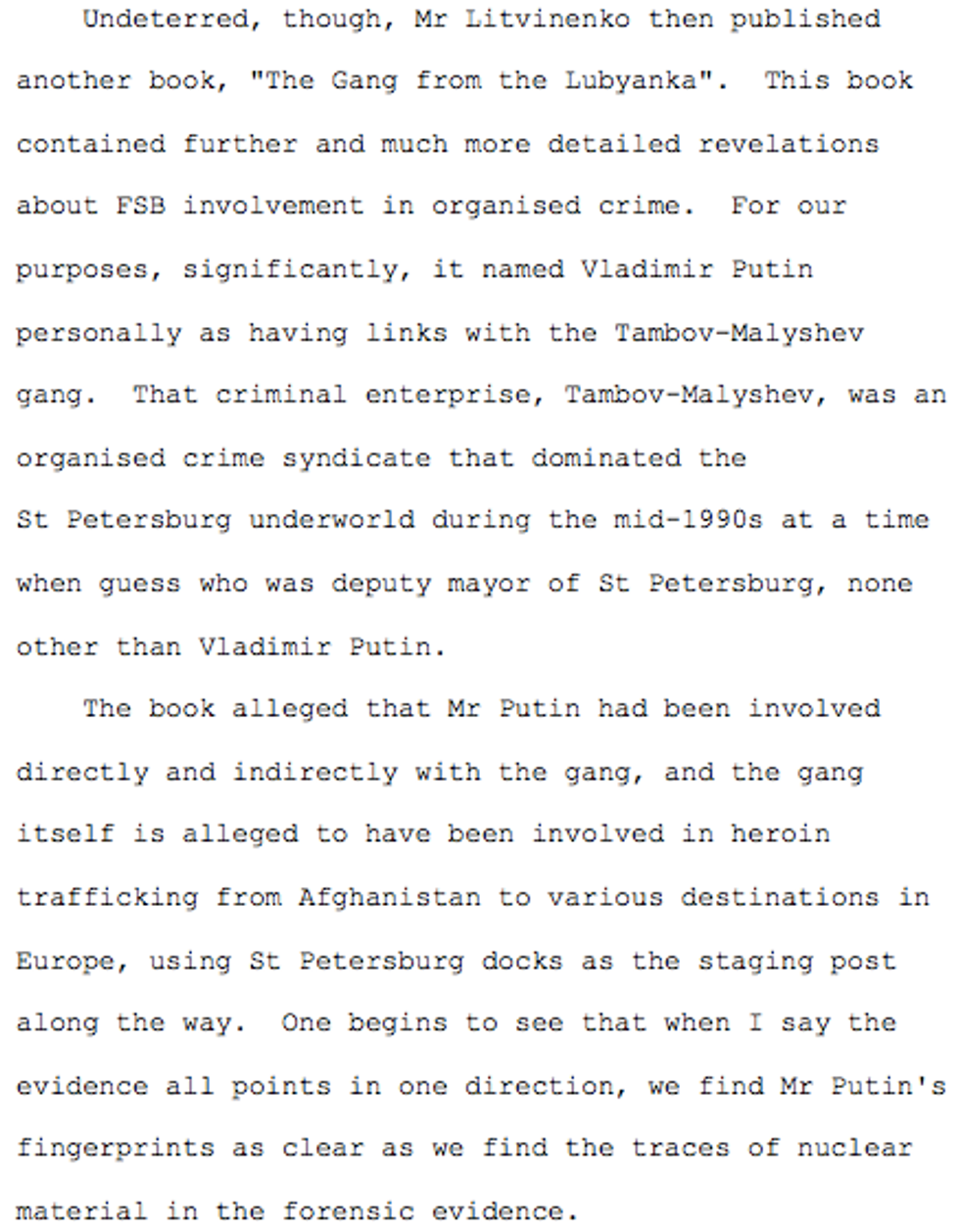 Litvinenko Inquiry page 145. (Credit: Litvinenko Inquiry – www.litvinenkoinquiry.org)
4. Putin arranged a child sex slave ring
In a March 30, 2006 interview, Litvinenko stated:
You remember that scandal with pedophiles which was covered up in Latvia [In the late 1990s a number of top officials in Latvia's government were accused of pedophilia]. These were Putin and [senior Russian official Nikolai] Patrushev who personally organised the supplies of children to Latvia from St. Petersburg's orphanages for sexual abuse. The evidence of that was presented to Katyshev, then deputy Prosecutor-General of Russia, who hushed it up. Two Latvians, who were Putin's and Patrushev's accomplices in this disgusting enterprise and whose job was the trafficking of these poor children, are given political asylum in Russia now.
5. Litvinenko claimed that Putin and his subordinates "turned the Russian military into a gang of murderers, rapists and marauders" in a letter in which he declared he was renouncing his military rank and sending back his State decorations
In a May 4, 2004 article titled "Open Letter to Vladimir Putin," Litvinenko wrote that he was forced to request that Putin divest him of his military rank based in part on the acquittal of several Russian special forces officers who murdered six civilians in Chechnya, including a pregnant woman and mother of seven children:
[Y]ou, Mr. Putin, and your subordinates...have turned the Russian military into a gang of murderers, rapists and marauders.

I have grown up in a family of a military officer, a Second World War veteran. Such phrases as 'defense of the country' and 'military duty' have been holy for me since my childhood. That is why I am appalled and insulted to be counted in the same ranks as the maniacs in uniform who you lead.

An army where rapists and marauders remain unpunished degrades into a crowd and becomes dangerous to those whom it is called to defend...even the generals of German Wehrmacht shot their soldiers for stealing a chicken in occupied territories. And you have publicly called every soldier to 'do them in', thus corrupting and destroying whatever had remained of the old Soviet army.

...Today, when murderers in uniform are at loose and freed from responsibility, you are trying to show you believe in the supremacy of the law and cannot intervene with the so-called independent judiciary. If so, may I ask you, Mr. President: did you not break the law when you declined to fulfill the court decision regarding Colonel Trepashkin? When you proclaimed General Kalugin guilty of high treason before the court sentence? When you replaced the jury members during the trial of scientist Sutyagin? When you commented on the criminal cases against Khodorkovsky and Zakayev, both of which were evidently fabricated on your instructions?
Note: The links to the book in this post will give you an option to elect to donate a percentage of the proceeds from the sale to a charity of your choice. Mercury One, the charity founded by TheBlaze's Glenn Beck, is one of the options. Donations to Mercury One go towards efforts such as disaster relief, support for education, support for Israel and support for veterans and our military. You can read more about Amazon Smile and Mercury One here.
–
Follow Ben Weingarten (@bhweingarten) and TheBlazeBooks on Twitter and Facebook.
You can find all of our Blaze Books interviews on Soundcloud and Stitcher, and subscribe to our podcast automatically via iTunes.