It started with LEGOs and fishing line. Today, it's a technology with the potential to change lives.
At just 14-years-old, Easton LaChappelle set out to create a prosthetic limb that would cost less than $1,000. Having no idea where to begin to achieve his audacious goal, LaChappelle connected pieces of LEGOs as he began to brainstorm. He used fishing wire as the tendons and it wasn't any time before he'd created a moving, makeshift prosthetic arm, Uproxx reported.
His next challenge, though, would be much more difficult. It was time to put the building blocks aside and get serious. Recalling seeing a 7-year-old girl with a prosthetic limb that alone cost $80,000, LaChappelle was determined to find a better, and less expensive, way to give those who've lost their arms or legs a better life.
"I really saw an opportunity to change this industry by creating a prosthetic that was under $1,000," LaChappelle said.
Now 19-years-old, he experimented with 3-D printing to create his own prosthetic. Using nothing more than one's own thoughts, the technology he developed worked. And not only did it work, his dream of creating a prosthetic limb for less than $3,000 had come true.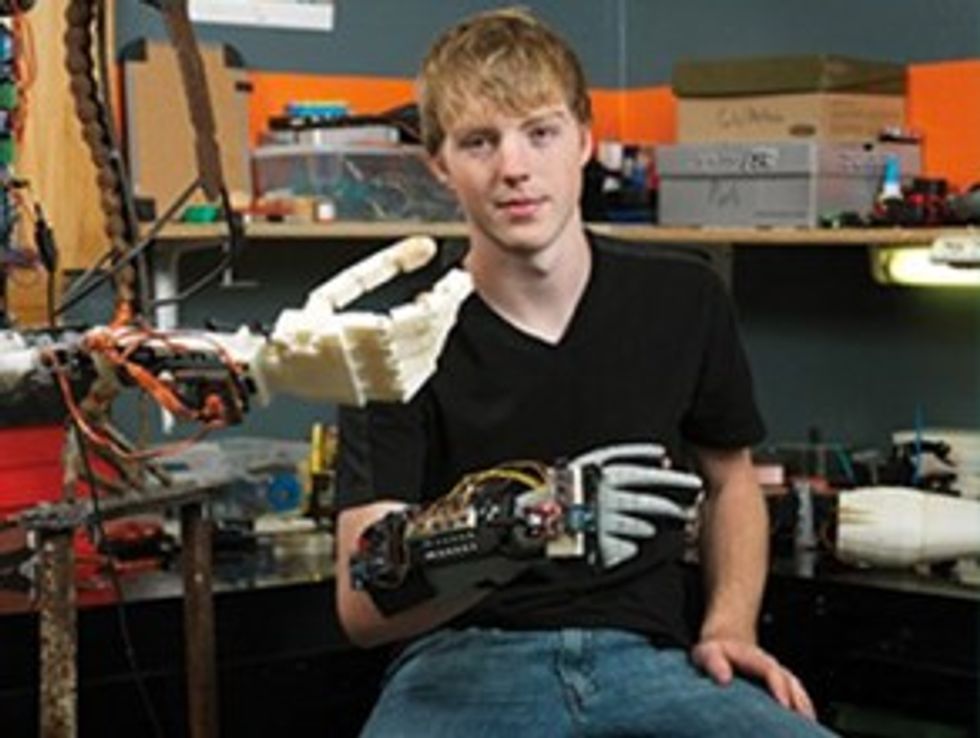 19-year-old Easton LaChappelle sits with the robotic 3-D printed arm he developed. (Image source: Tomorrow Unlimited)
LaChappelle only spent $350 developing his idea. The average cost for a prosthetic limb, meanwhile, was $60,000.
As inexpensive as it was to build, LaChappelle decided to open source his idea, meaning that the design for his prosthetic can be downloaded, for free, from the Internet.
"No one person can change the world. It takes multiple people," LaChappelle said.
"[S]o if I can develop technology in a way so other people can take what I've done and grow from it and do something more with it, someone could take that and keep impacting someone else's life and eventually try and rule out a lot of the bad in the world by giving back to our own kind," he said, the Huffington Post reported.
Today, LaChappelle runs his own robotics startup called Unlimited Tomorrow. According to the website, its mission is to make technology accessible to those who need it most, adding that its products enable humans to perform otherwise impossible tasks which solve today's biggest problems.
Hear more about how LaChappelle is making a difference by watching this video:
(H/T: Uproxx)
–
Follow Jon Street (@JonStreet) on Twitter