Nathan Leach is a singer-songwriter.
Over the past two years, Leach has posted 55 videos of himself singing and playing on his YouTube channel.
Sometimes he plays solo, other clips feature Nathan and his sister, Eva. He has also posted videos featuring the entire Leach family performing together. All of the songs are a mixture of originals and cover versions of hits from other artists.
Yesterday, a friend of Glenn Beck's sent him the video below. He listened and believes "this kid and his sister" are destined to be stars. Many YouTube viewers seem to agree.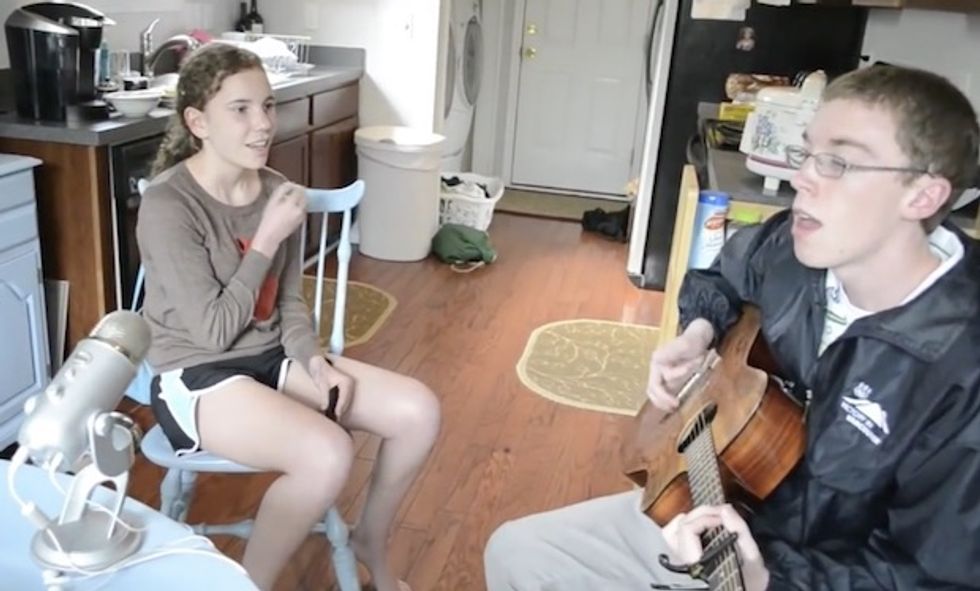 Image source: YouTube
In the two years since this one video was recorded and posted, it's earned more than 2.1 million views. The other 54 clips from Nathan Leach Music average about 10,000 views each.
This particular clip was recorded by their mother in the Leach family kitchen and features Nathan and Eva singing Family of the Year's "Hero."
Beck said, "This is what America is all about," adding,"Putting your all heart in what you do and releasing it without expectations."
"Because of today's technology you just might find that the next day the song of your heart is on the lips of millions."
Watch the video that had Beck and everyone in the New York studios singing this song:
(H/T: wimp.com)
—
Follow Mike Opelka (@Stuntbrain) on Twitter