Former Alaska Gov. Sarah Palin was seemingly disenchanted with Fox News host Bill O'Reilly's recent comment that she, Donald Trump and Chris Christie would collectively constitute a "reality show" should they choose to run for president in 2016 — so much so that she directly responded to his quip during a Tuesday night appearance on "Hannity."
Speaking about the need for unity in defeating Hillary Clinton — pending she captures the Democratic ticket — Palin told host Sean Hannity that "it's going to take more than a village to beat" the former first lady.
Palin said that conservatives will need to recognize the importance of unity, while realizing that they also have a strike against them when it comes to the media, which she believes favor the left. From there, she cited the comment O'Reilly made in a brief promo that aired on Fox News earlier in the day on Tuesday.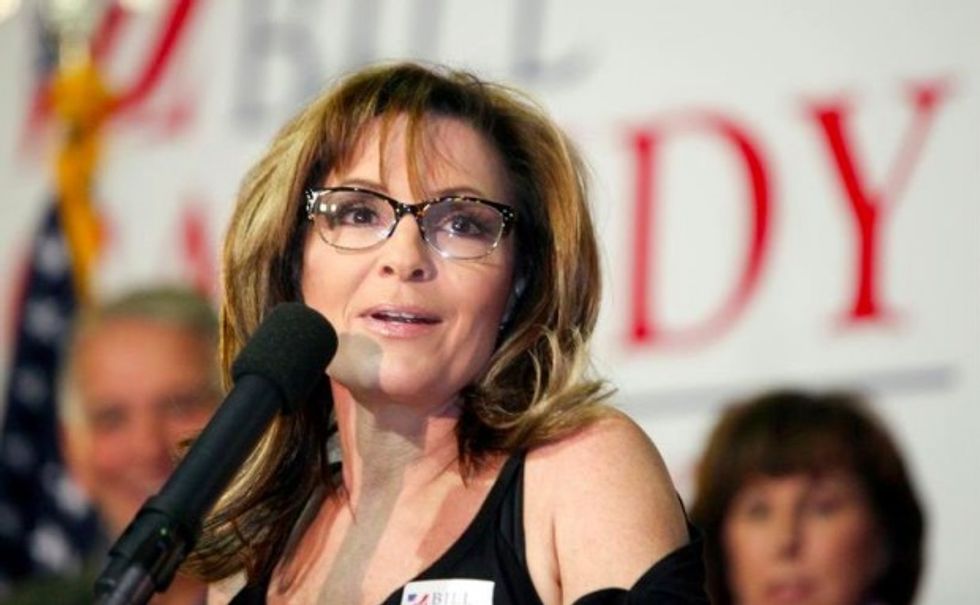 Former Alaska governor and 2008 Republican vice-presidential candidate Sarah Palin campaigns for U.S. Rep. Bill Cassidy, R-Baton Rouge, during a rally Saturday, Nov. 15, 2014, at Hangar 10, located at the Monroe Regional Airport, in Monroe, La. (AP Photo/The News-Star, Dacia Idom)
"On Fox — kind of a quasi or assumed conservative outlet and we have all day listening to the tease of Bill O'Reilly … he's talking about the guests on his show tonight or the commentary on his show," Palin said. "And that would be, 'Oh, all these GOP contenders thinking about running for president – like Donald Trump, Sarah Palin.' And he names 'em off and he says, 'Oh, what a reality show that would be! Yuk, yuk!'"
She continued, "Well, the left doesn't do that, okay, they take this serious, because this is war … and hopefully the media — even the quasi right side of the media — won't be looking at this as some kind of reality show, a joke."
During a promo for Tuesday night's "O'Reilly Factor," O'Reilly said, "Sarah Palin, Donald Trump, Chris Christie all may run for president on the Republican side. Wow, talk about a reality show" — a comment that was seemingly at the root of her response.
Palin also responded to critiques following what many called a rambling and incoherent address at the Freedom Summit in Iowa Saturday, where it is reported that her teleprompter malfunctioned.
"I don't read the praise and I don't read the criticism, because I know how … the media works," she told Hannity, defending the sentiment about hard work and the middle class that she said was present in her speech.
Watch Palin's comments about O'Reilly below:
(H/T: Daily Mail)