The Senate on Thursday took a major step toward passing legislation that would approve the long-stalled Keystone XL pipeline.
After weeks of considering Republican and Democratic amendments to the bill, Republicans finally found enough Democrats to get over a procedural obstacle that required 60 votes. The Senate voted 62-35 in favor of ending debate on the bill, which will allow the Senate to pass the bill later in the day.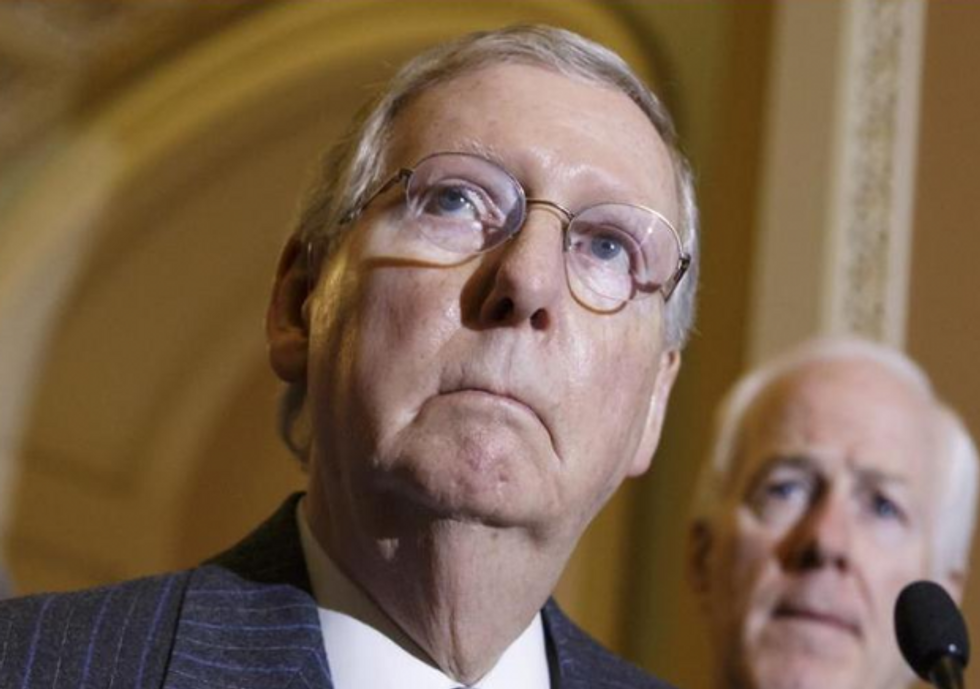 The Senate will pass the Keystone XL pipeline bill Thursday afternoon, delivering a victory to Majority Leader Mitch McConnell (R-Ky.) and Majority Whip John Cornyn (R-Texas.). Image: AP Photo/J. Scott Applewhite
Only a simple majority will be needed to pass the bill Thursday afternoon.
On Monday, Republicans tried the same move, and came up short in a 53-39 vote. They immediately pledged to keep working on amendments to the bill in an effort to finally move it ahead.
Thursday morning, Senate Majority Leader Mitch McConnell (R-Ky.) said it's time to move ahead with the legislation, which has bipartisan support even though President Barack Obama has said he would veto it.
"Constructing Keystone would pump billions into our economy. It would support thousands of good American jobs," McConnell said. "And as the president's own State Department has indicated, it would do this with minimal environmental impact."
"So let's make some progress for the American people by voting to pass the Keystone jobs and infrastructure bill," he added.
McConnell said the Senate's consideration of dozens of amendments is likely what helped move the bill through the Senate. Republicans have made a point of allowing amendments, in contrast to Democrats who barely allowed any when they controlled the Senate.
"We learned that open floor debates and open amendment processes require hard work, they require dedicated members, and they require constructive cooperation from across the aisle," McConnell said of the process.
Senate passage will likely be followed by easy passage in the House. But the challenge will then be how to get around Obama's veto threat.
Technically, the White House has only threatened to veto a House version of the Senate bill, but the White House has continued to indicate it would veto any bill requiring Keystone's approval.
If Obama does veto the bill, Congress could override it with a two-thirds vote in the House and Senate. But that means 67 Senate votes, and today's vote indicates the Senate would not be able to override a veto.