Democrats on Monday night were able to stall legislation that would approve the Keystone XL pipeline, sending Republicans back to the drawing board on a plan to get the bill through the Senate.
The Senate held two votes on whether to end debate on the bill and move it toward passage, but it failed both times, 53-39. Sixty votes were needed to advance the bill.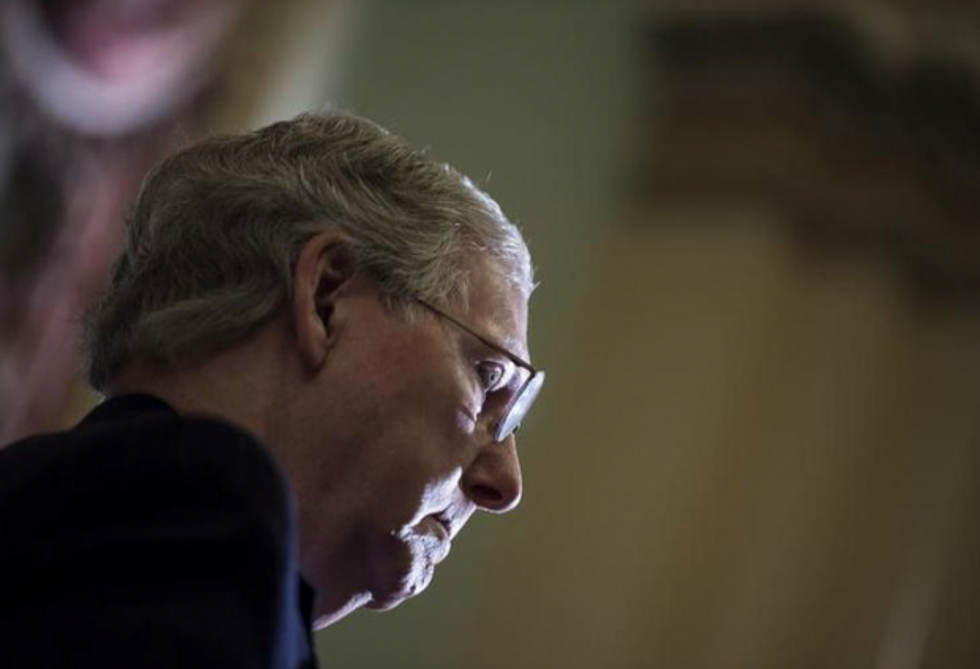 Senate Majority Leader Mitch McConnell (R-Ky.) failed to get the Keystone bill past a critical Senate vote, but Republicans said they would try again in the near future. Image: BRENDAN SMIALOWSKI/AFP/Getty Images
Four Democrats voted with Republicans, but the GOP needed six, and the absence of eight senators due to weather complicated efforts to move the bill Monday night.
To find 60 votes, Republicans will likely need to allow even more amendment votes than they have so far. GOP leaders have already allowed more amendment votes on the Keystone bill than Senate Democrats allowed in all of 2014, but that apparently was not enough to placate Democrats who just found themselves in the minority.
Sen. Lisa Murkowski (R-Alaska) said right after the votes that she would try again to find an agreement that allows more votes to let the bill move ahead.
"As the floor manager, I will be working with my counterpart on the Energy Committee, Sen. [Maria] Cantwell [D-Wash.] to define a list of amendments, kind of define the universe that we're talking about here, so that perhaps we can work toward an agreement," Murkowski said.
"An agreement that will allow for additional amendments to be processed, but ultimately, an agreement that will allow us to get to passage of the Keystone XL pipeline," she added.
Democrats were known to be mad at how Senate Majority Leader Mitch McConnell (R-Ky.) handled amendments late last week. Thursday night, he held a series of votes to kill five Democratic amendments, and prevented them from speaking for even one minute on their proposals.
McConnell said that move was needed to speed up the process for considering the bill, which has already taken up two full weeks in the Senate. But Monday night's result will likely force Republicans to have a longer debate and vote on some of the Democrats' ideas.
Senate Minority Leader Harry Reid (D-Nev.), who just had eye surgery earlier in the day, tweaked McConnell by saying last week's move was worse than anything he ever did as leader — a point Republicans would likely argue after years of getting no amendments under Reid.
...and that's saying something.

— Senator Harry Reid (@SenatorReid) January 26, 2015
Murkowski said she would start working on an amendment deal Monday night and Tuesday morning, but GOP leaders didn't give any further indication of when they might try again to pass the bill.
The four Democrats voting with Republicans Monday night were Sens. Michael Bennet (Colo.), Joe Donnelly (Ind.), Heidi Heitkamp (N.D.) and Joe Manchin (W.Va.).