Sociologists at the University of North Texas are issuing a cautionary warning to Christians noting that, though there isn't widespread "Christianophonia" in the U.S., the small group of those who have a strong aversion to conservative believers are among the influential and elite.
George Yancey and David Williamson shared findings corroborating this notion in their recently released book "So Many Christians, So Few Lions: Is There Christianophobia in the United States?" which promises to offer a "provocative look at anti-Christian sentiments in America."
The sociologists, who define Christianophobia as "unreasonable hatred or fear of Christians," argue that it's worth exploring potential intense bias against Christians, as it helps readers understand the "social dynamics" that exist in the U.S., according to an official book description.
As far as how prevalent the problem truly is, Yancey told the Christian Post that it's really a small group of people that hold strong hostility, though that group is comprised of elite individuals with more societal power than the average person.
Yancey said that he and his co-author were motivated to explore potential Christianophonia after they began collecting qualitative data from interviews with liberal activists and noticed a troubling trend among a certain subset of these respondents.
Photo credit: Shutterstock
That in mind, a few months ago, the sociologist shared a sampling of some of the "unreasonable hatred" he said he encountered through interviews with cultural progressive activists for the purpose of his study. Here are just three of the comments that were made about the Christian right:
"I want them all to die in a fire." (Male, aged 26-35 with Doctorate)
"They should be eradicated without hesitation or remorse. Their only purpose is to damage and inflict their fundamentalist virus onto everyone they come in contact with." (Female, aged 66-75 with Master degree)
"They make me a believer in eugenics….They pollute good air…I would be in favor of establishing a state for them… If not, then sterilize them so they can't breed more." (Male, aged 46-55 with Master degree)
These statements caused Yancey to look deeper at the pool of respondents — individuals who were chosen from unnamed groups that are actively opposed to sentiments held by many conservative Christians.
"We quickly saw some of the unnecessary vitriol and fears within many of our respondents. We also saw the social status of those who exhibited this hatred and many of them would be in positions that allowed them to at least subtly act on their anger and fears," Yancey said. "That motivated us to take a more systematic look at Christianophobia and speculate on how this phenomenon influences certain social aspects in the United States."
He said that there are important distinctions to be made when analyzing the demographics of those who have Christianophonia and who, as a result, see believers as being backward, child-like and barriers to progress, telling the Christian Post that, while there are more people who are hostile toward atheists than Christians, those who oppose the latter group tend to be highly educated.
"I have established that those with animosity towards conservative Christians tend to have more per-capita social power than those with animosity towards other religiously based groups," Yancey wrote in a blog post last year. "They are more likely to be white, educated and wealthy. The education advantage creates a unique dimension in this group as one may contend that highly educated individuals are unlikely to engage in unreasonable level of hatred or anger."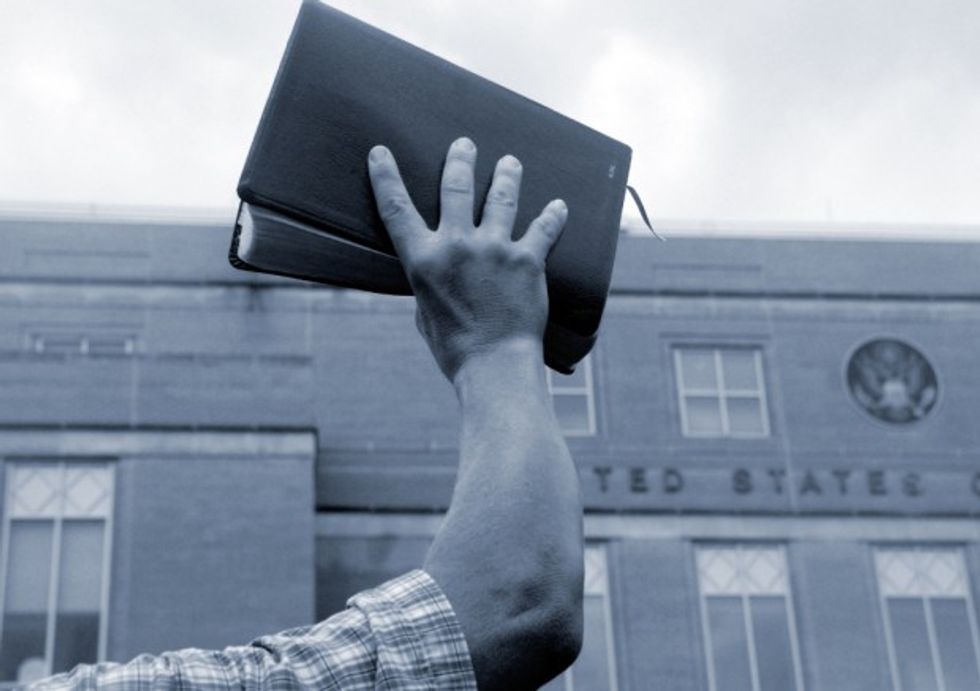 Photo credit: Shutterstock.com
In the end, he said that those who oppose atheism don't "have the level of per-capita power of those who do not like Christians." Considering that atheist activists have argued that they are discriminated against due to their secularism — and past polls have shown, for instance, that citizens are much less likely to even vote for them in elections — an important question emerges.
"So is a group worse off if more people do not like them or if those who do not like them have a lot of social power, but there are fewer of them? Context matters to answer such a question," Yancey told the Christian Post. "If you want to get elected to political office, then atheists are at a disadvantage since more people do not like them. But if you want to get a higher education, then you will run into a lot more people with power who hate Christians than who hate atheists."
Yancey cited as evidence non-discrimination policies enacted in California Christian colleges that have forced some student groups out of official recognition if they refuse to allow atheists and other non-Christiand the opportunity to lead those groups — something that he said seems to show evidence of college administrators exhibiting "some degree of latent Christianophobia with a fiction of promoting equality."
"We documented that some level of Christianophobia is present among certain powerful subcultures in our society," he continued. "This helps us understand some actions in our society."
Read the Christian Post interview in its entirety here and explore an in-depth explanation of Yancey's research and data collection.
(H/T: Christian Post)
--
Front page image via Shutterstock.com