THE HAGUE, Netherlands (TheBlaze/AP) — A 19-year-old student carrying a fake pistol who forced his way into the Dutch national broadcaster and demanded airtime has told detectives he was acting alone and had no links to any terror organization, police said Friday.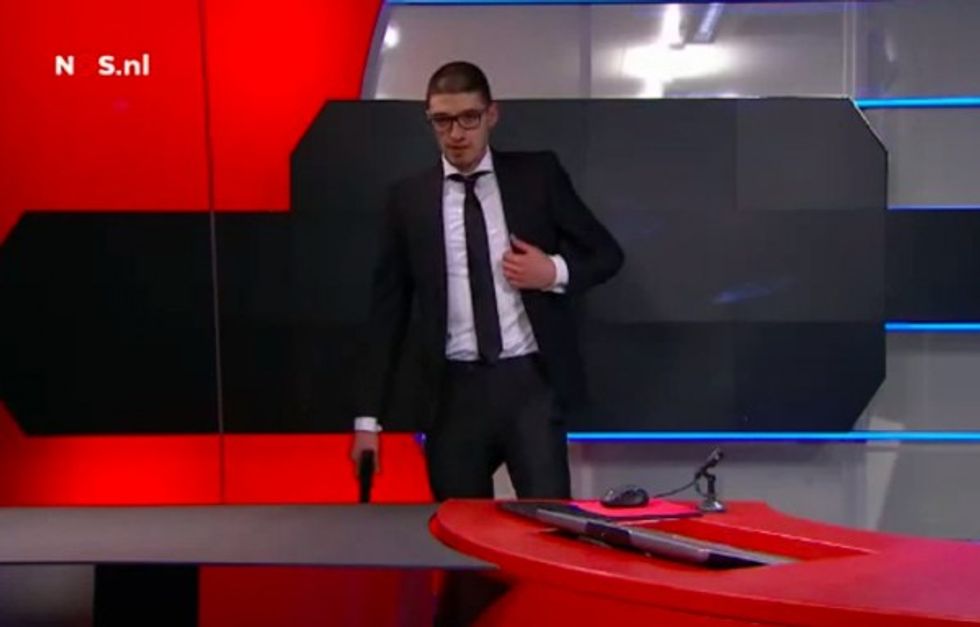 Image source: YouTube
In a statement, police said the student also told them he had not placed explosives around the Netherlands and that no major cyber attack was imminent as he had claimed Thursday. He also told police he made up claims about being part of a hackers' collective, Reuters reported.
"What brought the man to his actions is still being investigated," the police statement said.
The recorded images broadcast later of the man dressed neatly in black suit and tie calmly speaking to a security guard in an otherwise deserted studio at the NOS broadcaster's headquarters set the nation on edge, coming three weeks after the attack on satirical newspaper Charlie Hebdo in Paris that left 12 people dead.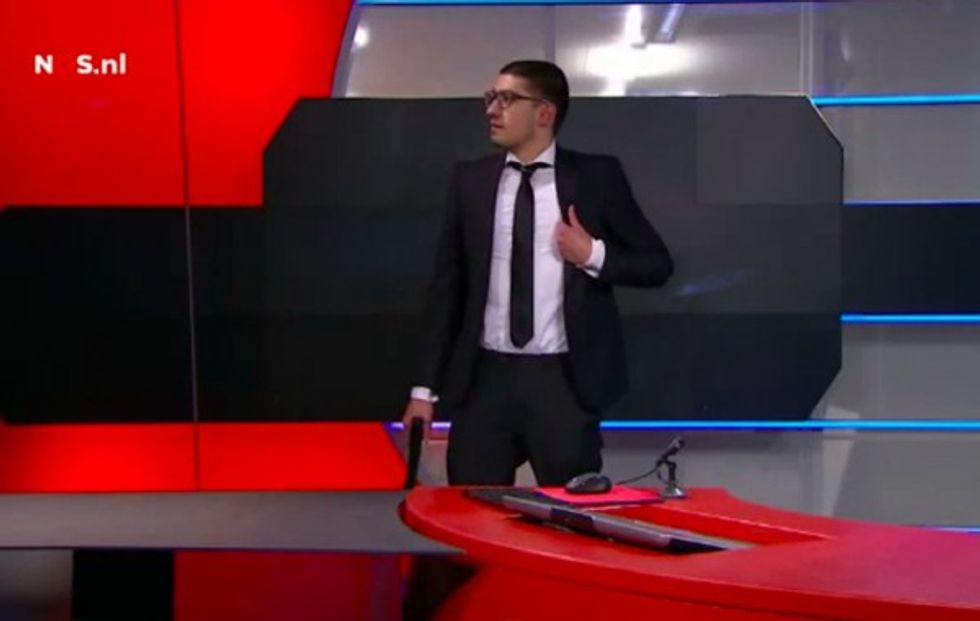 Image source: YouTube
Prosecutors and police have not identified the man who was seen pacing around the studio in the city of Hilversum Thursday night holding what appeared to be a pistol with a silencer. However, Dutch media widely reported his name as Tarik Z., a student at the Delft Technical University.
A former classmate told NOS the student displayed a vivid imagination and was "often in his own world," the Telegraph reported.
"In recent years he was interested in conspiracy theories involving the Free Masons and a 'new world order'," the former classmate added.
While the broadcast was off air, a screen on the NOS1 channel read "Please be patient" in Dutch, the Daily Mail reported, adding that the main news channel's displayed message read, "In connection with circumstances, no broadcast is available at this time."
Staff were evacuated early on and stayed outside nearly two hours as police searched the building. NOS resumed broadcasting from a studio in The Hague, the Daily Mail said, adding that there were no reports of injuries or shots fired.
When police stormed into the studio, guns drawn, the man surrendered without a struggle — immediately dropping his fake gun, putting up his hands, turning around and getting on the floor.
Image source: YouTube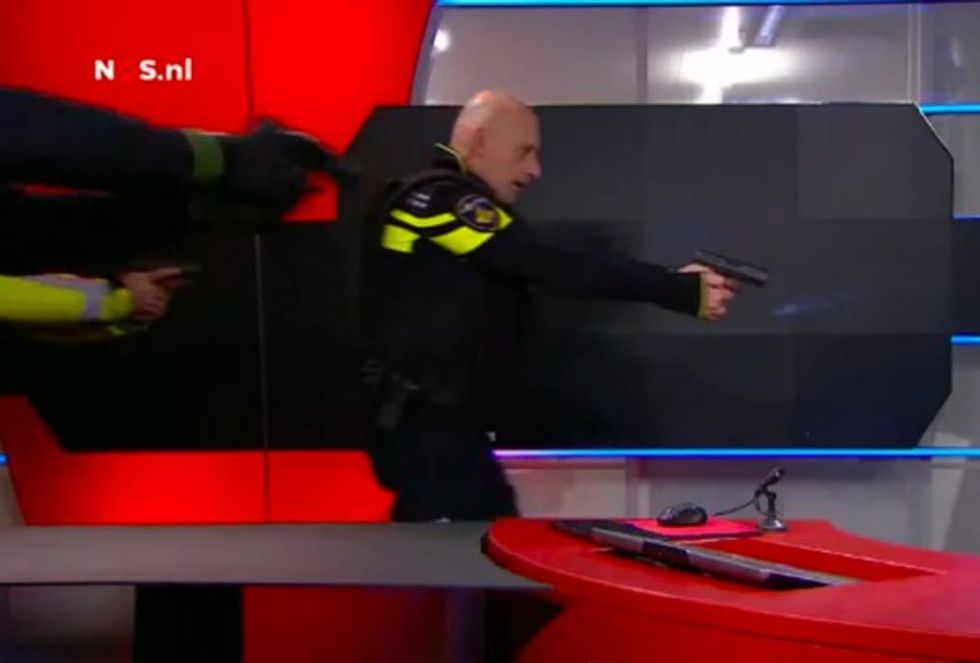 Image source: YouTube
The suspect was to appear before an investigating judge later Friday and prosecutors were to seek his continued detention so that a "personality investigation" could be carried out. Police said he faces charges of kidnapping and making threats of violence, Reuters reported.
NOS director Jan de Jong told his broadcaster's radio network that he would meet police and the local mayor in Hilversum to discuss whether security — already beefed up since the Charlie Hebdo attack — needs to be further strengthened.
De Jong paid tribute to the security guard who led the teenager into an empty TV studio and kept speaking to him throughout the ordeal that forced the 8 p.m. news off the air for the first time in 60 years.
"I was amazed at how unbelievably calm he was," De Jong said.
The NOS is one of many broadcasters to have their headquarters in Hilversum, 12 miles east of Amsterdam. The area, known as the media park, has been tightly guarded since populist Dutch politician Pim Fortuyn was gunned down in a parking lot there in 2002 by an animal rights activist.
—
Follow Dave Urbanski (@DaveVUrbanski) on Twitter