It's a film in which hundreds of Iraqi Muslim insurgents are shot — and many Iraqis apparently love it.
"American Sniper," the story of America's deadliest sniper Chris Kyle, has already become the highest-grossing U.S. war movie of all time at the domestic box office, and it's getting some unexpected love overseas: from Iraqis.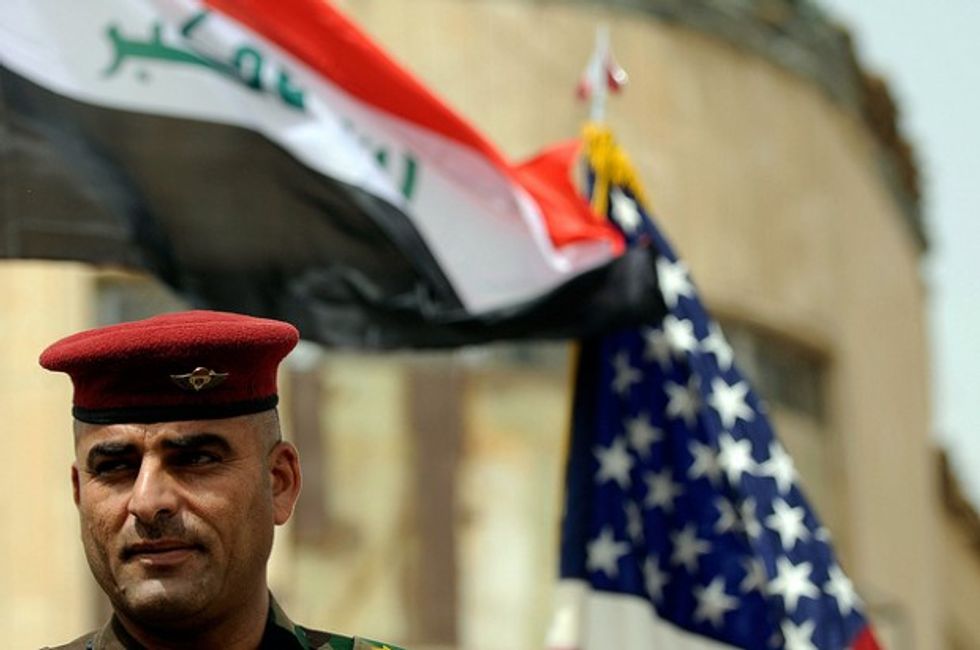 An Iraqi soldier stands in front of the Iraqi and American flags. (Image via United States Forces Iraq/flickr)
According to a Wednesday article in the Global Post, audiences throughout Iraq packed theaters and empathized with Kyle's moral dilemmas — such as when the sniper sees a woman and child with a grenade approaching American troops.
"Some people watching were just concentrating, but others were screaming 'F***, shoot him! He has an IED, don't wait for permission!'" recalled one Iraqi moviegoer, speaking of a packed theater in Baghdad's Mansour Mall.
Watch that scene from the trailer below:
The movie is playing well outside of Baghdad, too.
"The Kurds don't like the Baghdadis that much so they have no big problem seeing them getting shot by an American," a film executive who operates theaters in Iraq told Deadline. "So far, ["American Sniper"] is working well for our screens in Kurdistan [the unofficial name for the region of northern Iraq occupied primarily by Kurds]."
There has been some backlash, and the theater that was showing the movie in Mansour Mall yanked the film a week ago "because the hero of this film boasts of killing more than 160 Muslims," an employee told the Post.
College student Omar Jalal said he's disappointed that the Mansour Mall theater isn't showing the movie any more.
"He was a hero and he went through difficult training," Jalal said of Kyle. "Besides, it's just a movie, and I like war movies. If they are true or not, whatever."
The Iraqi appreciation for "American Sniper" is an interesting counterpoint to those who claim the movie is racist, and fits with the description of Kyle given by an Iraqi Muslim interpreter, who said, "I think the ones calling Chris Kyle racist are racists."
—
Follow Zach Noble (@thezachnoble) on Twitter