Some soldiers are looking for an apology from the U.S. Army after it deleted a tweet that was called out as "racist":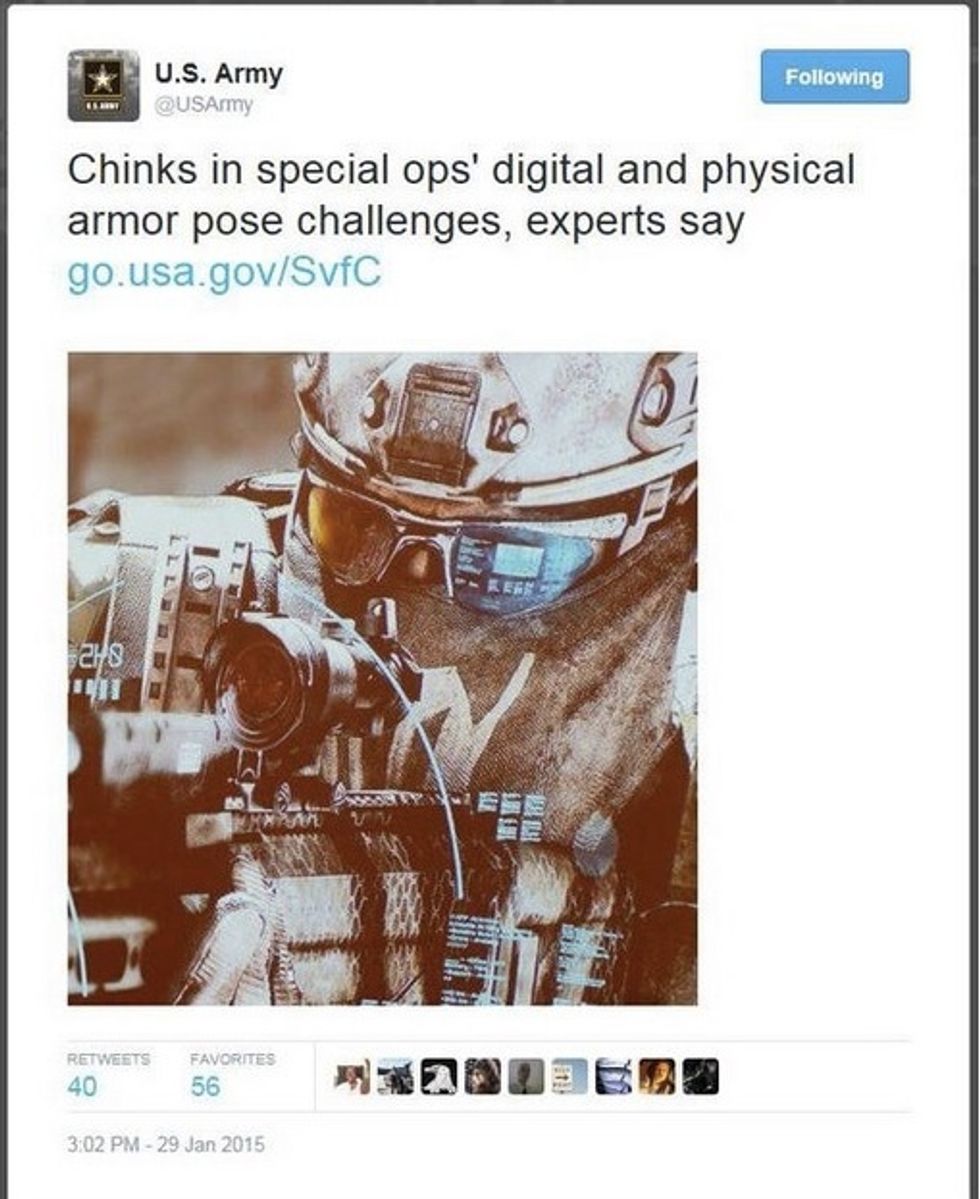 Image source: Washington Post via Twitter
The tweet pointed to an article titled, "Chinks in special ops' digital and physical armor poses challenges, experts say." The tweet was deleted and the title was changed to "Unprecedented technology poses challenges for special ops" after some expressed offense over the first headline.
While the Army said the term "chink" in this case reflected the traditional definition, the word has been used to refer to those of Chinese descent in a derogatory manner. And some soldiers were surprised that the deleted tweet and changed headline didn't come with an apology:
.@USArmy deleted tweet that uses racist term, doesn't issue apology #silenceiskey#ArmyStrong@bjones@ArmyTimesTonypic.twitter.com/Zq3W4KFt0w

— Chanin Nuntavong (@authoriTHAI) January 30, 2015
The @USArmy has decided to take down its racially insensitive tweet from earlier today making reference to "chinks". But, no apology?

— Danny S. Chung (@JarheadPAO) January 30, 2015
An Army public affairs officer told the Washington Post on Friday there was surprise over the negative reaction "since there is nothing even remotely racial" about the initial tweet.
"The phrase and word have been in use for more than 600 years; it is a proper noun, meaning a "crack" or "fissure," as defined by Webster's," Lt. Col. Alayne Conway said in an email to the Post. "It was certainly not our intention to offend anyone."
—
Follow Dave Urbanski (@DaveVUrbanski) on Twitter