Bus routes don't cover the distance between his home and work, so James Robertson treks some 21 miles each day getting to and from work — on foot.
"By the time Friday comes, you're mentally and physically drained," the Detroit resident said, telling the Detroit Free Press that he's "extremely tired" by the grueling commute that leaves him only a couple hours to sleep each week night.
But Robertson's struggle is about to get a little easier.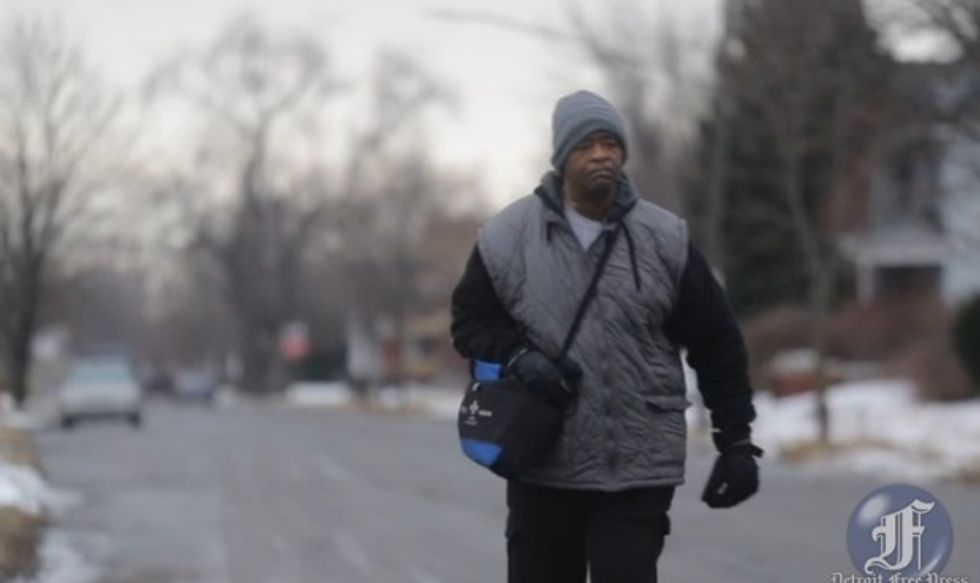 James Robertson walks 21 miles each day getting to and from work in Detroit because bus routes don't cover the distance. Crowdfunding campaigns have raised more than $40,000 towards getting him a car. (Image via Detroit Free Press)

The 56-year-old factory worker told his story to the Free Press, sharing details of his $10.55-per-hour job making plastic parts, how he couldn't afford to replace his car when it broke down ten years ago and how he daily consumes huge amounts of Mountain Dew and Coca-Cola just to stay awake.
After seeing Robertson's story, published Sunday, 19-year-old Evan Leedy took action, setting up a crowdfunding page to help get the man a car.
The donation count as of Monday morning: nearly $43,000.
"I just used my phone," Leedy told the Free Press. "I created the go-funding site and within an hour we had $2,000."
Leedy told the Free Press that the extra cash was great, since it would help pay for a car and additional expenses such as gas and insurance for Robertson — but Robertson might not even need to pay for a car in the first place.
Rodgers Chevrolet in Woodhaven, Michigan, offered to give Robertson a free 2014 Chevrolet Cruz or Sonic after sales manager Darwin Filey came across his story on Facebook.
"When I saw the story I said 'wow,'" Filey said. "Some people said you guys have got to do something. Then I called my owner and she read the story and said put something together."
Roberston will just need to pay the $900 tax on the car — a small fraction of $43,000.
"Where there's a will there's a way," Robertson said of his plight — and with a new car, his way is about to get a lot more bearable.
Watch Robertson's story below:
UPDATE: By Tuesday morning, the story of James Robertson had gone viral — and donations were flooding in.
The crowdfunding campaign had raised more than $140,000 by 9 a.m. Tuesday, and Evan Leedy, the 19-year-old behind the campaign, wrote that he'd met with Robertson and posted a picture on the GoFundMe page dedicated to getting Robertson a car.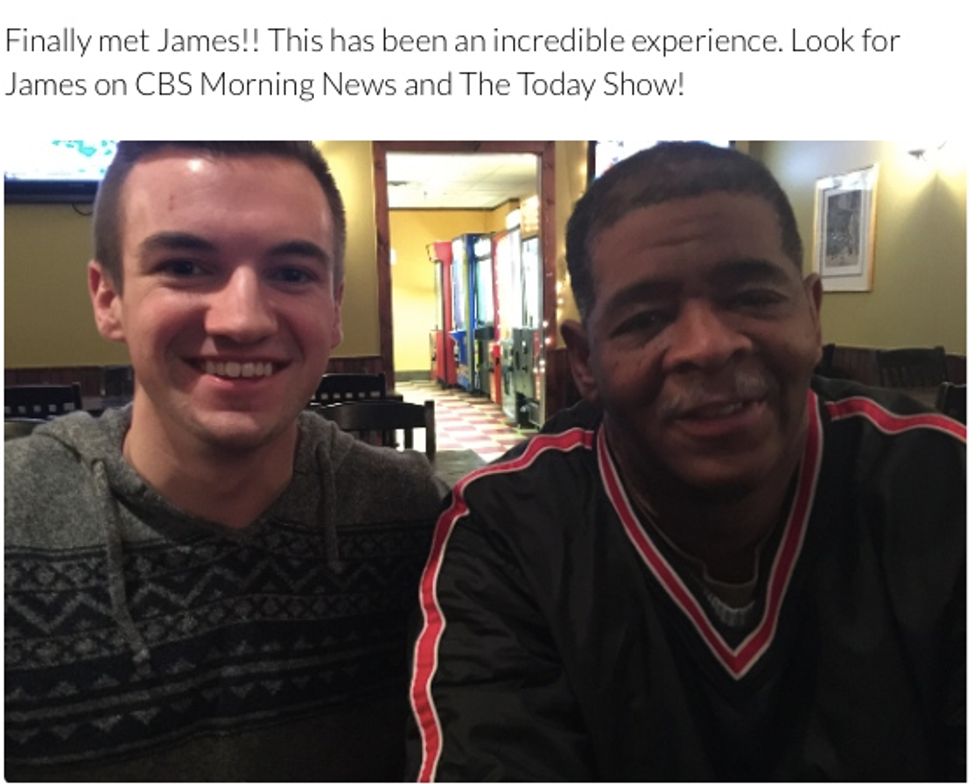 Evan Leedy and James Robertson. (Image source: screengrab via GoFundMe)
This story has been updated.
—
Follow Zach Noble (@thezachnoble) on Twitter