There's less than half a minute left in the Super Bowl, and you're down by four points.
You have the ball on the 1-yard line, and one of the best running backs in the NFL is on your squad.
So you...pass?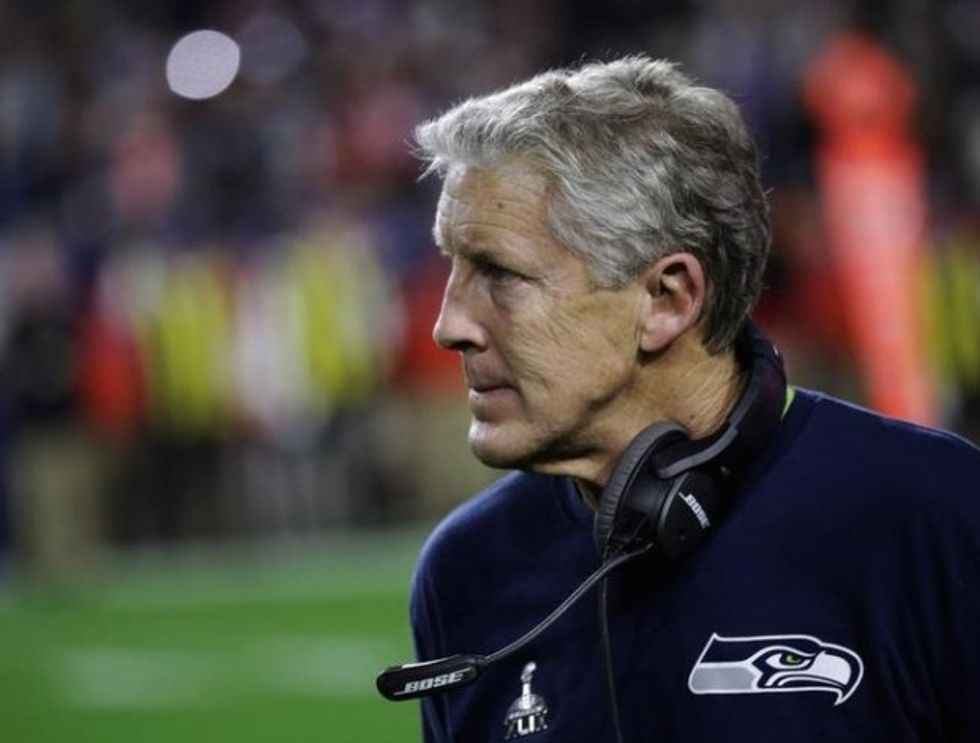 Seattle Seahawks head coach Pete Carroll watches from the sidelines during the second half of NFL Super Bowl XLIX football game against the New England Patriots Sunday, Feb. 1, 2015, in Glendale, Ariz. The Patriots won 28-24. (AP Photo/David Goldman)
Despite having Marshawn Lynch, he of "Beast Mode" rushing fame, on the roster, the Seattle Seahawks decided to run a passing play one yard away from Super Bowl victory — and it cost them the game when New England Patriots rookie Malcolm Butler snagged the interception.
On Twitter, many current and former NFL players attacked the Seahawks' decision, with free agent Donte Stallworth calling it "one of the worst play calls in [the] history of the Super Bowl."
Was that like.. Bottom of the 9th. Down by a run.. One man on. 1 out & u send the bunt signal in to the Babe? My bad.. To far huh :)

— Brian Dawkins (@BrianDawkins) February 2, 2015
One of the worst play calls in history of the Super Bowl. Give Marshawn Lynch the ball.

— Donté Stallworth (@DonteStallworth) February 2, 2015
Seahawks with the worst offensive call in #SuperBowl history. Why didnt you just run #BeastMode

— byron chamberlain (@bc_chamberlain) February 2, 2015
Did they have good reason to pass instead of run?
As Business Insider reported, the Seahawks' decision made a good bit of sense at the time as the Patriots were cramming the defensive line in anticipation of a run.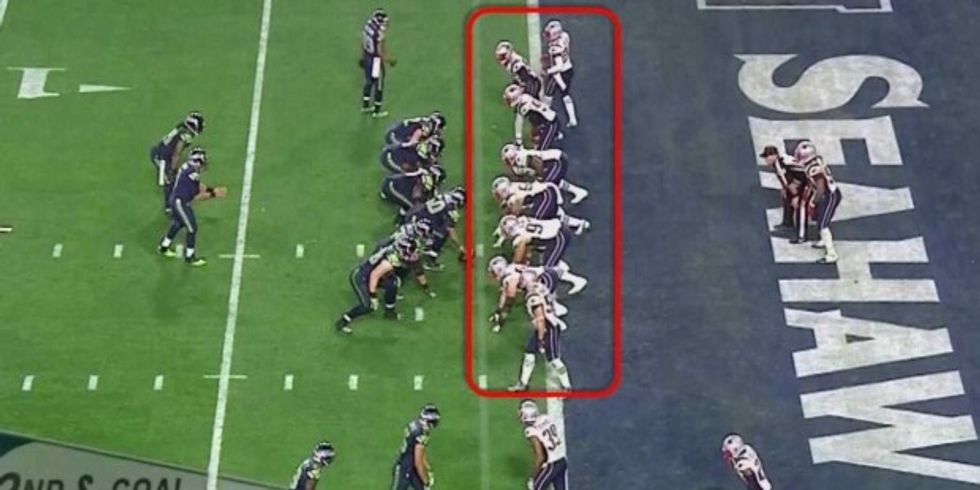 Image via NBC/Business Insider
Seahawks coach Pete Carroll explained the play call.
"We went to three receivers, they sent in their goal-line people," Carroll said after the game. "We had plenty of downs and we had a timeout and really we just didn't want to run against their goal-line group."
Carroll and his staff had no way of knowing a pass would get picked off — Carroll called Butler's snag "a miraculous play" — but in hindsight, a run could have been the safer option.
Carroll owned the call, telling his players, "That was my fault totally."
Watch Carroll discuss the game below:
This story has been updated.
—
Follow Zach Noble (@thezachnoble) on Twitter
[instory-firewire]