Argentine special prosecutor Alberto Nisman, who was found dead last month after warning that his investigation into the 1994 bombing of the Buenos Aires Jewish Center "might kill him," drafted a 26-page arrest warrant for Argentine President Cristina Fernandez de Kirchner and Foreign Minister Hector Timerman before his death, the New York Times reported on Tuesday.
Nisman spent over a decade investigating the gruesome 1994 attack that killed 85 people, and was found dead just a day before he was scheduled to reveal his findings. His papers reportedly accuse the Argentine president and foreign minister of protecting Iranian officials who may have been involved in order to bolster trade with the regime.
The lead investigator in Nisman's death said the documents were found in the trash.
Nisman's demise has prompted protests in Argentina, and some have questioned whether the gunshot wound to his head was truly self-inflicted.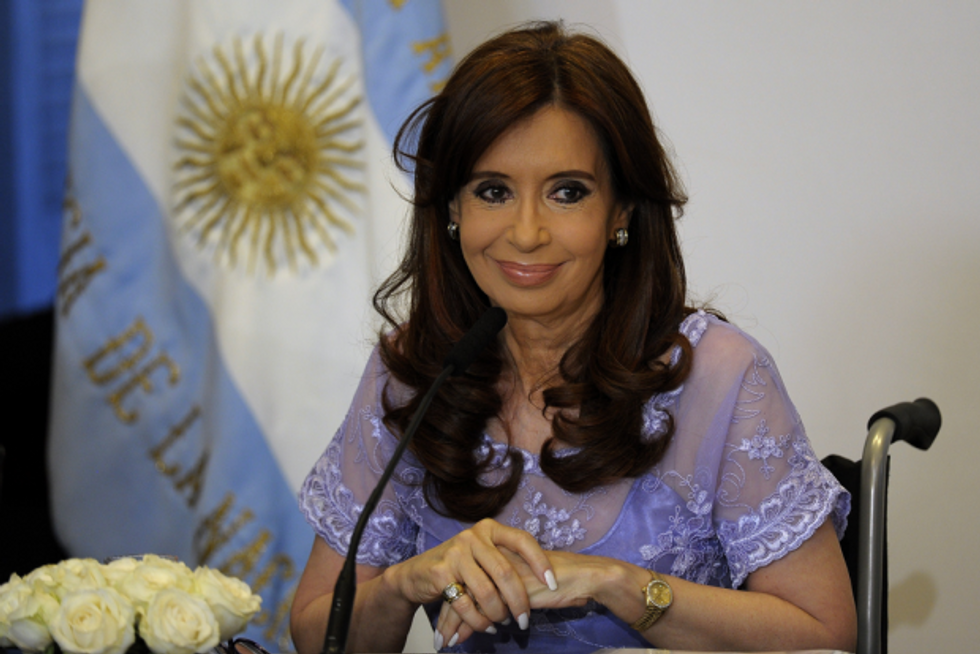 Argentine President Cristina Kirchner gestures during a ceremony with provincial governors, in Buenos Aires, on January 30, 2015. President Cristina Kirchner on Monday said that she will disband Argentina's intelligence service after a prosecutor was found dead just hours before he was to make explosive allegations against her. AFP PHOTO / ALEJANDRO PAGNI
The New York Times continues:
The new revelation that Mr. Nisman had drafted arrest warrants for the president and the foreign minister further illustrates the heightened tensions between him and the government before he was found dead on Jan. 18 at his apartment with a gunshot wound to his head. He had been scheduled the next day to provide details before Congress about his accusations against Mrs. Kirchner.

"It would have provoked a crisis without precedents in Argentina," said Sergio Berensztein, a political analyst, about the impact of the warrants if they had been issued. He acknowledged that previous legal cases had shaken Argentina's political establishment, but he emphasized that this case involved a request to arrest a sitting president.

"It would have been a scandal on a level previously unseen," Mr. Berensztein said.

Mrs. Kirchner, who is on a visit to China, issued a stream of updates on Twitter about strengthening ties between Buenos Aires and Beijing but did not comment immediately on the confirmation that Mr. Nisman had considered seeking her arrest. She and the foreign minister have previously pointed to statements by Interpol's former director that the Argentine government did not lobby it to lift the Iranian arrest warrants.
Read the complete article at The New York Times.