The Obama administration outraged members of Congress on Monday by proposing to scale back a new program aimed at letting veterans access health care outside the VA system.
Last August, Congress passed a VA reform bill that created the Veterans Choice Program, which was supposed to be a way to speed up access to health care given the breakdown within the VA itself. President Barack Obama quickly signed it into law.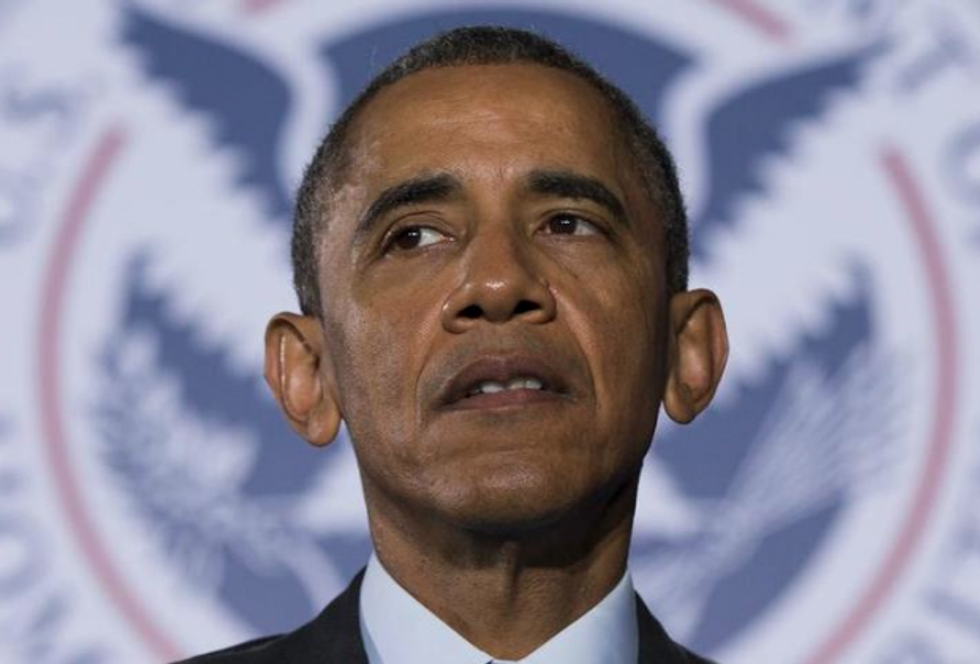 President Barack Obama pauses as he delivers remarks at the Department of Homeland Security on his FY2016 budget proposal, on Monday, Feb. 2, 2015, in Washington. Obama's budget plan calls for shifting of funds away from a new veterans program that became law last summer. (AP Photo/Evan Vucci)
But on Monday, Obama released a budget plan that said he would try to pare it back, and would offer legislation to do so. "In the coming months, the administration will submit legislation to reallocate a portion of Veterans Choice Program funding to support essential investments in VA system priorities in a fiscally-responsible, budget-neutral manner," the budget said.
VA Secretary Robert McDonald added that he would propose this chance in order to provide flexibility at the VA, in order to "serve veterans the way they want and deserve to be served."
Key members of the House and Senate reacted by saying the idea was already dead in Congress. House Veterans' Affairs Committee Chairman Jeff Miller (R-Fla.) called it a "non-starter, which I will not support."
"When a near-unanimous Congress worked with President Obama last year to create the choice program, we made a promise to veterans to give them more freedom in their health care decisions," he said. "I will not stand idly by while the president attempts to renege on that promise."
"It is unacceptable to me that the president would begin to dismantle the Veterans' Access, Choice and Accountability Act of 2014 that he just signed into law last August by taking the resources allocated to enact this legislation for use elsewhere," said Senate Veterans' Affairs Committee Chairman Johnny Isakson (R-Ga.).
A Monday story in Military.com said Obama's plan is to reallocate some of the $15 billion under the Veterans Choice Program, in part because not all of that money is needed. According to that story, a senior VA official said interest in the program "has not been as high as anticipated."
Concerned Veterans for America indicated that their members worry that Obama's plan would make it harder to escape a VA system that is still rife with health care delays for veterans.
"This budget action would have the effect of denying many veterans the choice to access private health care, thereby forcing them to stay in a VA health care system that has failed, for too long, to provide care in a timely manner — sometimes with deadly consequences," said CVA CEO Pete Hegseth.
"He is undermining the very reforms he signed into law before they are fully implemented, making it quite clear that he has no desire to truly reform the VA," Hegseth added.