Tesla might be getting some help as it looks to accelerate its presence into the mobile sphere, but that could all depend on whether one lesser-known force can break through the thick mold of the multibillion dollar enterprise known as Apple.
The Ukraine-based app developer Eleks has introduced a prototype app designed for the AppleWatch set to hit stores in April. The luxury electric car manufacturer Tesla, founded by billionaire entrepreneur Elon Musk, already has an iPhone app similar to the smart watch app developed by Eleks, but given the innovative nature of Musk and his car company, the adoption of Elek's app would likely come as no surprise to many.
"[F]or simplification of prototyping we used an unofficial mocked-up Tesla back-end A[pplication] P[rogram] I[nterface], which is a reverse-engineered J[ava]S[script] O[bject] N[otation] API of the real Tesla API," Eleks representative Markiyan Matsekh told Mashable.
"We skipped the authentication module and just used the API. So to run the app on a real Tesla we only need to add authentication and redirect it to the real backend," Matsekh said. But that would require some input from Tesla.
The app would allow drivers to control most of their car's functions directly from their wrist, including the ability to remotely lock the doors, honk the horn, control the lights, set the interior temperature and even monitor its mileage and remaining electric charge. The smart watch app would even let drivers know of their exact location along with which direction they're facing.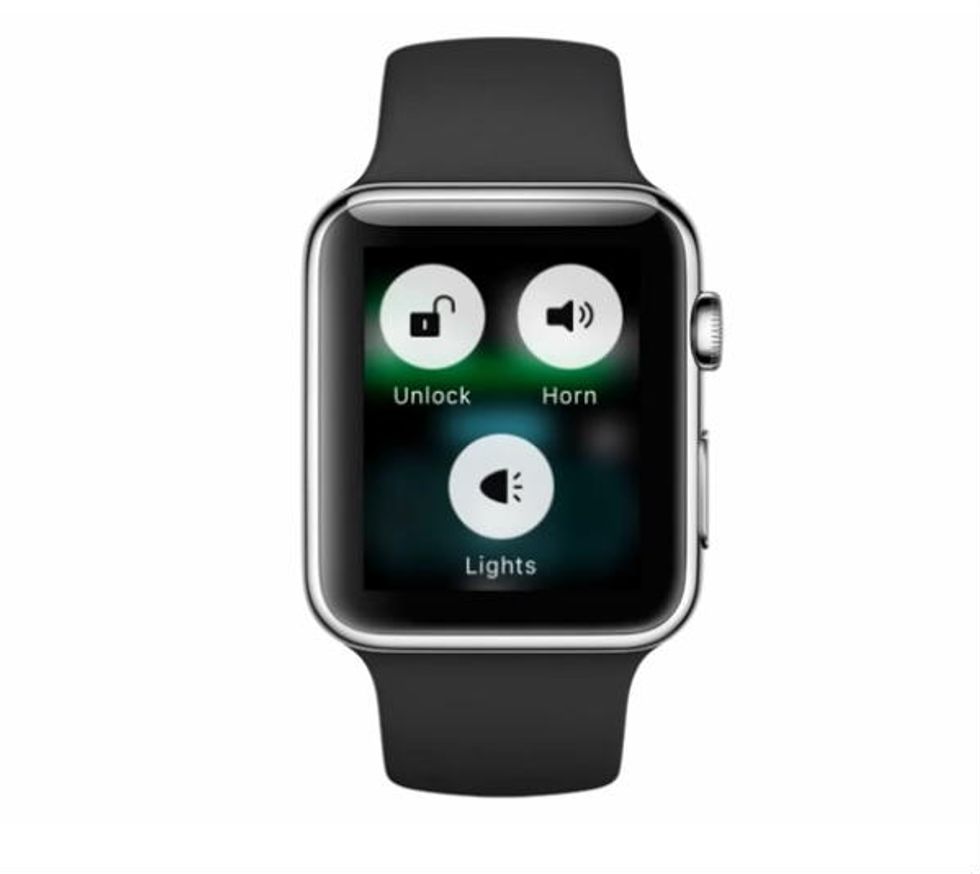 Image source: YouTube
While Eleks acknowledges on its website that the existing Tesla iPhone app could be a potential roadblock for the smart watch app, it makes a clear distinction between the advantages of the app for Apple Watch and the what it sees as the disadvantages of the app for AppleWatch.
"The app perfectly lines up with the concept of smart watches, lets the user access critical information about the car and allows managing it quickly without wasting time on taking out and unlocking the phone," Eleks states.
Further, Eleks says, "AppleWatch applications complement your main iOS apps and do not replace them. If you measure the time a user spends in the app in minutes, then interaction with the Apple Watch application can be measured in seconds."
Another challenge Eleks could face is Apple's own CarPlay, which connects users' cars to their iPhones. CarPlay makes it possible for consumers to get directions, make calls, send messages and listen to music simply by plugging their phone into their car's display.
Perhaps presenting an even more direct obstacle to Eleks is the likelihood that CarPlay will expand to AppleWatch upon its introduction in just two months. Further, as Apple notes on its website, CarPlay is available on select 2014 vehicle models while Eleks' version of CarPlay is designed specifically for Tesla models.
Take a sneak peak at Eleks' smart watch app, via the developers' YouTube channel:
(H/T: Mashable)
–
Follow Jon Street (@JonStreet) on Twitter