Federal Communications Commission Chairman Tom Wheeler confirmed Wednesday what many industry experts had already widely speculated: that he will recommend the strongest rules for the Internet that the agency has ever proposed.
The proposal to reclassify the Internet under Title II of the Communications Act of 1934 would allow the FCC to regulate the Internet it as a public utility like phone service, barring Internet service providers from prioritizing Internet speed for some sites over others, among other controls.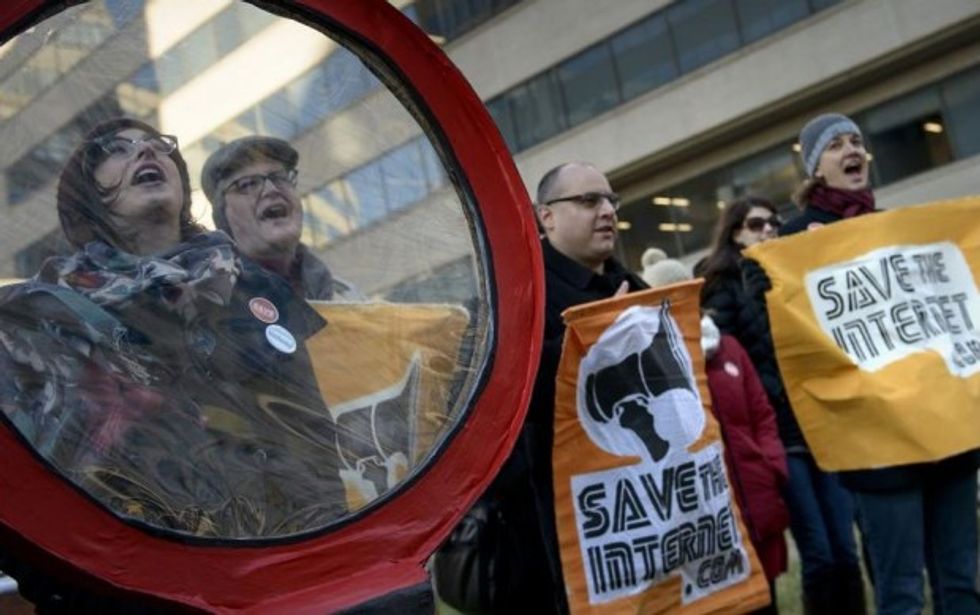 Activists chant as they gather outside the headquarters of the Federal Communication Commission, Dec. 11, 2014 in Washington. (AFP/Brendan Smialowski)
"Using this authority, I am submitting to my colleagues the strongest open Internet protections ever proposed by the FCC," Wheeler wrote in an op-ed published by WIRED. "These enforceable, bright-line rules will ban paid prioritization, and the blocking and throttling of lawful content and services.
"I propose to fully apply—for the first time ever—those bright-line rules to mobile broadband. My proposal assures the rights of Internet users to go where they want, when they want, and the rights of innovators to introduce new products without asking anyone's permission," Wheeler said.
The FCC calls "blocking" any attempt by Internet service providers to prevent consumer access to legal content while the "no throttling" rule would prohibit providers from affecting the flow of lawful Internet traffic. The "paid prioritization" rule would make it unlawful for service providers to show favoritism to legal content or traffic.
The concept of net neutrality is strongly opposed by those who say the government should not interfere with private enterprise. Wheeler said the commission has previously trusted commercial Internet providers to manage their own networks based on their perceived interest of the good of their business, but said those actions may not always be optimal for network users.
"I became concerned that this relatively new concept might, down the road, be interpreted to mean what is reasonable for commercial interests, not consumers," he wrote.
The five commissioners of the FCC will vote on whether to approve Wheeler's proposal on Feb. 26.
UPDATE: Title II of the Communications Act of 1934 is the rule by which the FCC regulates "public utilities," such as phone service. It is also the rule under which the FCC claims it has the authority to impose net neutrality rules. However, as one FCC senior official claimed to TheBlaze Wednesday, the specific Title II rules that classify a "public utility," such as rate approvals, are not among the rules the FCC is using to regulate the Internet. 
—
Follow Jon Street (@JonStreet) on Twitter