Rep. Matt Salmon (R-Ariz.) and eight other Republicans have proposed legislation that would require people to produce a photo ID whenever they use the federal food stamp program, so retailers can be sure food stamp benefits actually belong to the purchaser.
Republicans have broadly supported the use of photo IDs to reduce voter fraud, often to the sharp protest of Democrats. But Salmon says the same principle is needed to stop people from abusing the federal program.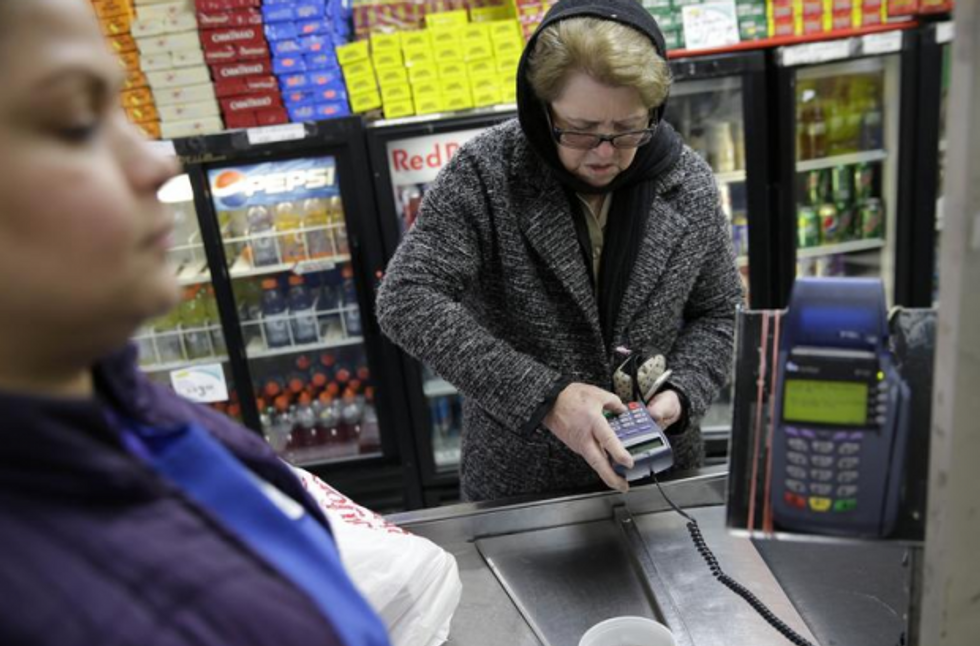 A woman pays for her groceries using a food stamp program in New Jersey. House Republicans are proposing that people show a photo ID when using these programs, to cut back on fraud. Image: AP Photo/Seth Wenig
The food stamp program is formally known as the Supplemental Nutrition Assistance Program, and SNAP benefits today are put onto electronic benefits transfer cards, or EBT cards. Salmon says requiring retailers to check for a photo ID would deter people from selling their EBT cards to others, one of many fraudulent practices that costs taxpayers $850 million a year.
"Investigating and preventing the illegal selling of SNAP cards and other violations of the SNAP program accounts for more than half of the resources the USDA Inspector General expends," Salmon said Thursday. "This has to change."
"This act seeks to protect those who truly need SNAP assistance, and ensures those who would defraud recipients and the U.S. taxpayer are unable," he added. "Only by protecting the integrity of this program from those seeking to game the system can we ensure it remains viable for the citizens who need it most."
If the bill comes up for a vote, it's expected to be widely opposed by Democrats, many of whom have said low-income people don't always have access to a photo ID for the purpose of voting.
Under Salmon's bill, states would have three years to require anyone authorized to use an EBT card to present a photo ID to cashiers when using that card.
The bill is cosponsored by Reps. Jim Bridenstine (R-Okla.), Ron DeSantis (R-Fla.), Trent Franks (R-Ariz.), Paul Gosar (R-Ariz.), Billy Long (R-Mo.), Cynthia Lummis (R-Wyo.), Ted Poe (R-Texas) and Dave Schweikert (R-Ariz.).
Read a copy of Salmon's bill here: