Audrey Mark was shopping at a North Carolina Target store Wednesday when she noticed something out of the ordinary take place — so she snapped a picture and posted it online.
"A kid came in looking for a clip-on tie for a job interview this afternoon," she wrote in a post shared on Target's Facebook page. "The store only had regular ties, so this awesome Target team member took the time to help the nervous teen put on his new tie, tuck in his shirt and then showed him how to give a proper handshake and tackle a few tough interview questions!"
"As the kid exited the store, a bunch of supportive Target team members cheered him on! THIS is true customer service - Right on the mark, Target!" Mark added.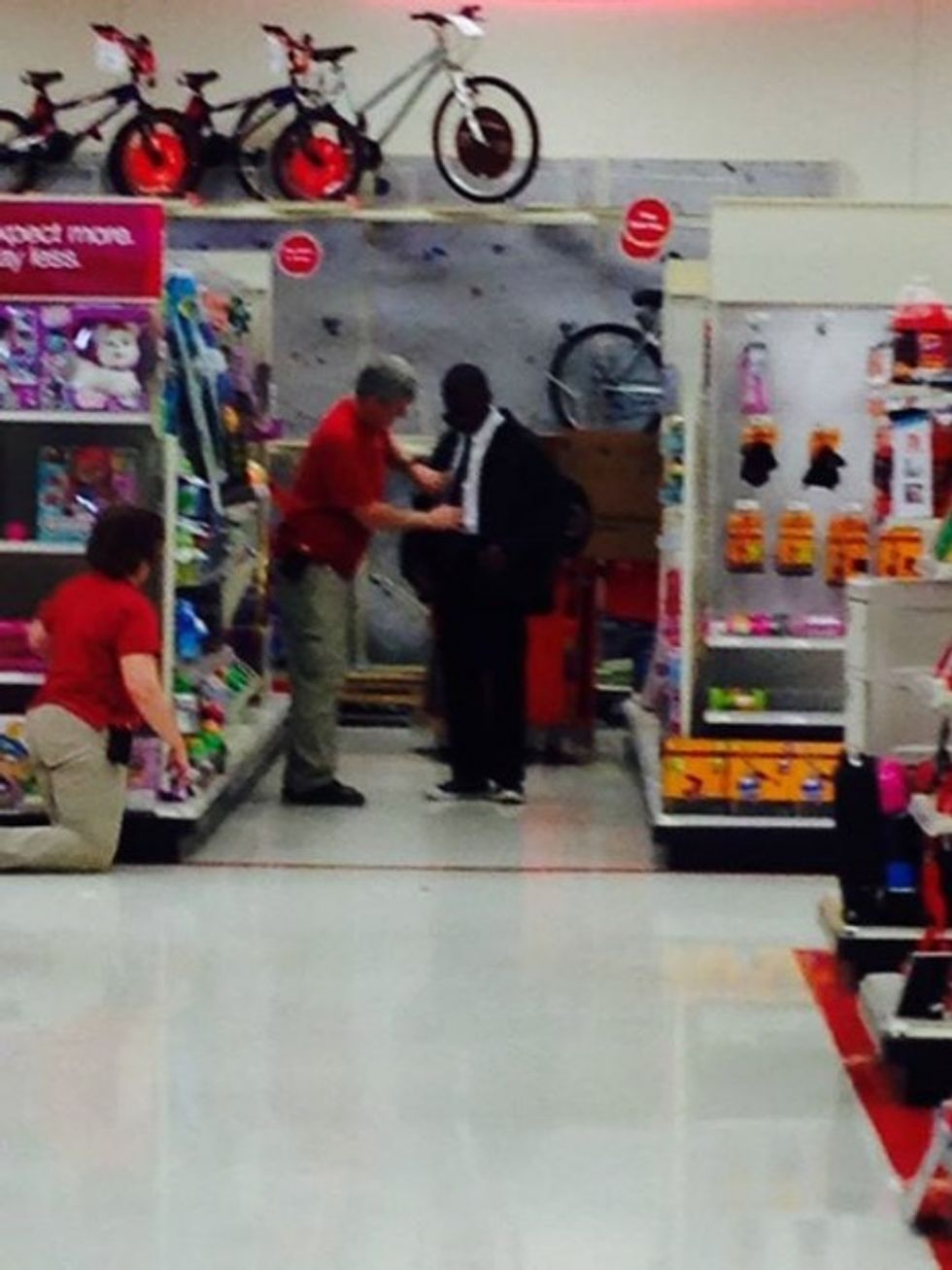 Image source: Facebook / Audrey Mark
Wake County Target employee Cathy Scott recounted the story to WTVD-TV, telling the station it started like any other day.
"I asked him if he needed help and he told me he needed clip on ties," she said. "We didn't have any."
Scott asked her co-worker, Dennis Roberts, if he knew how to tie a tie. He did, so she took the young man to him.
"We took the wrapping off it, and I tied it on my neck, and fit it over head adjusted it and tightened it...fixed all his collar buttons and he was set to go," Roberts told WTVD.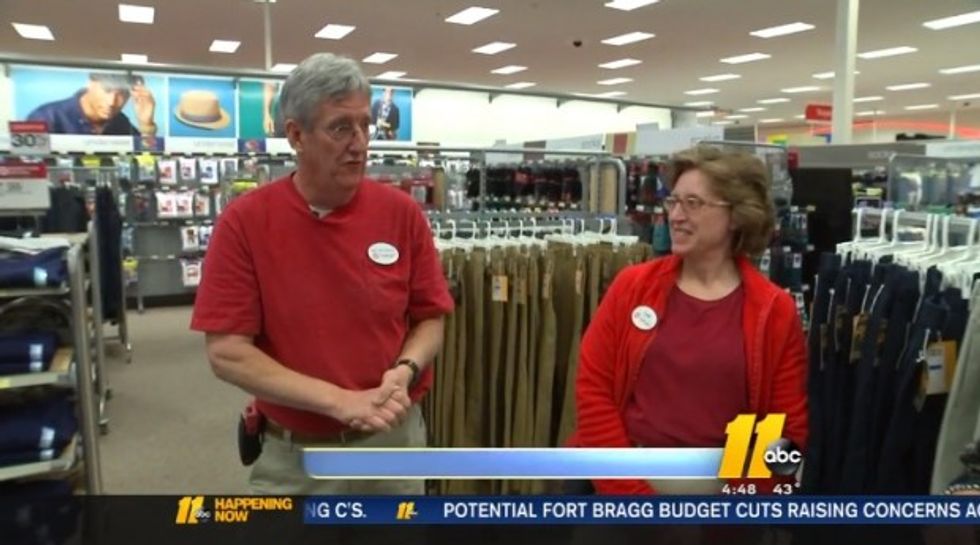 Target employees Dennis Roberts and Cathy Scott. (Image source: WTVD-TV)
The Target employees then helped the young man prepare for his job interview, providing useful tips.
"We said, 'Make sure you look him in the eye.' I'm saying make sure you give him a firm handshake, and she showed him... he tucked his shirt in," Roberts said.
"He was saying, 'Yes, mam' and he was just soaking it all in," added Scott.
Mark witnessed this take place and snapped the photo which has gone viral, amassing more than 40,000 likes on Facebook.
"It was a very quiet simple moment, but it was very profound honestly kindness ... from strangers ... in a Super Target," she told WTVD. "He leaves and all these Target employees are screaming 'Bye! Good luck! Tell us how it went.'"
"I got so emotional," she added. "I got teary."
Roberts said, "We were just here to help a young man get a job and forward his future."
According to WTVD, on Thursday the team went to the Chick-fil-A where the young man interviewed and asked the manager how things went. The manager said he was planning on making a decision by the week's end.
The team, unfortunately, never got the young man's name, but are hoping to hear back from him soon.
—
Follow Oliver Darcy (@oliverdarcy) on Twitter