European Union Council President Donald Tusk said the situation in Ukraine has only gotten worse since the United States pledged support to the embattled country during a visit by Vice President Joe Biden.
"Our last meeting took place in Warsaw almost one year ago. You were assuring us Europeans about United States support for Ukraine," Tusk said Friday in remarks to the European Counsel in Brussels.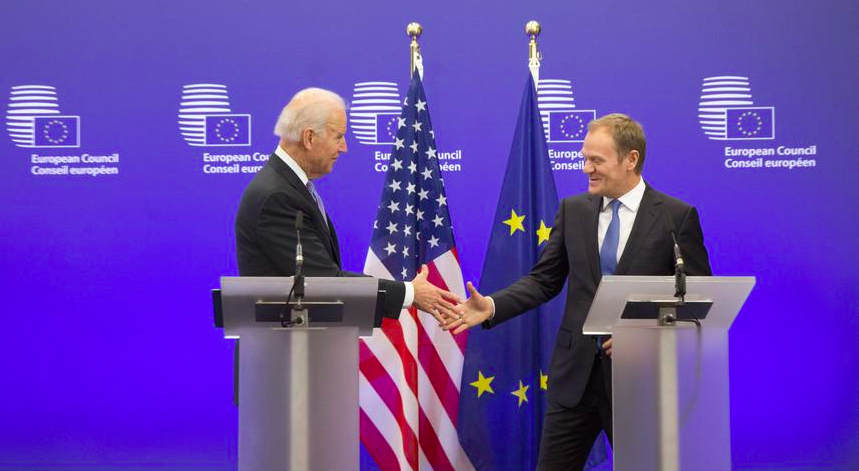 Vice President Joe Biden, left, reaches to shake hands with European Council President Donald Tusk at the EU Council building in Brussels on Friday, Feb. 6, 2015. Biden is in Brussels on a one-day trip to meet EU and Belgian leaders. (AP Photo/Virginia Mayo)
"The situation in Ukraine is getting worse every day," Tusk added. "We cannot accept any form of aggression, especially the aggression of one state against another. We cannot compromise on Ukraine's independence, sovereignty, and territorial integrity."
The Russian government under President Vladimir Putin continues to fund and equip separatists within Ukraine. Many in Congress are calling for the United States to step up its assistance to Ukraine by providing weapons. Thus far, the White House has said it will increase financial aid to Ukraine and push for new sanctions on Russia, but does not want to escalate the violence.
Biden, speaking in Brussels, had strong words for Putin, but made no additional commitments other than to say, "Ukraine needs our financial assistance."
"Ukraine is fighting for its very survival right now," Biden said. "President Putin continues to call for new peace plans as his troops roll through Ukrainian countryside. And he absolutely ignores every agreement that his country has signed in the past and he has signed recently."
Biden added: "This is a moment when the United States and Europe must stand together, stand firm. Russia cannot be allowed to redraw the map of Europe. That is exactly what they are doing."