Since NBC News anchor Brian Williams recanted his account of his helicopter getting hit with a rocket-propelled grenade during his coverage of the Iraq War, other statements by Williams are being placed under the microscope. Now at issue are some of Williams' startling claims from his noteworthy coverage of Hurricane Katrina.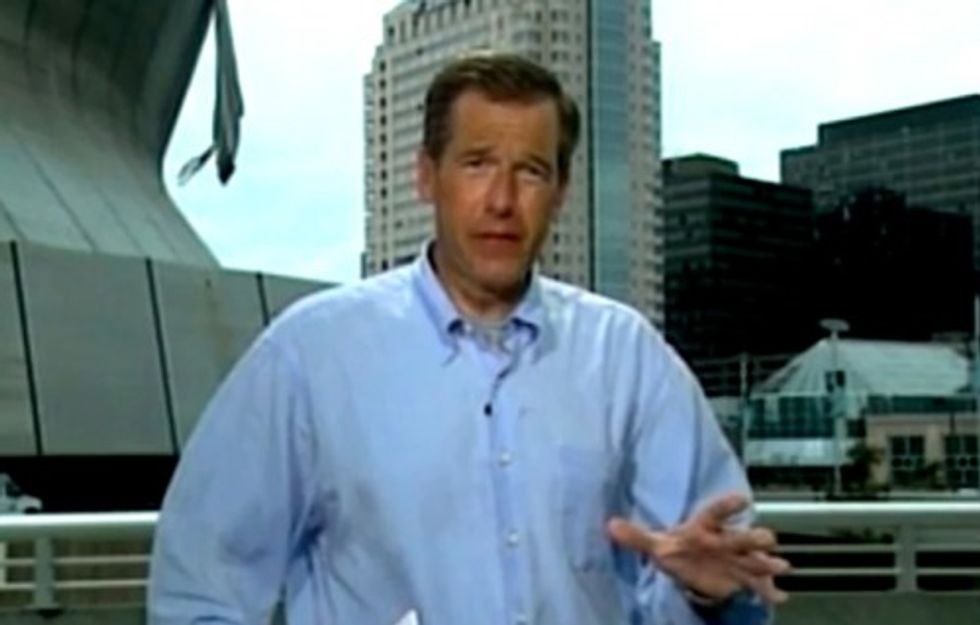 Image source: YouTube
Williams up-close accounts of the devastation, including a night spent inside the Superdome with others seeking shelter, got widespread kudos and helped win the network an Emmy. Former NBC News anchor Tom Brokaw — who allegedly called for Williams' "head on a platter" over the false Iraq War story — praised Williams last year for his Katrina reporting, saying he "took ownership, if you will, of the anchor chair" after having succeeded Brokaw.
But now at least two of Williams' Katrina statements are being questioned: that he saw a man "float by face down" from his hotel room in the French Quarter and that he caught dysentery after accidentally ingesting floodwaters, the New Orleans Advocate reported.
Since the French Quarter was said to have stayed relatively dry amid the devastating flooding elsewhere, some are questioning Williams' account from a 2006 interview: "When you look out of your hotel room window in the French Quarter and watch a man float by face down, when you see bodies that you last saw in Banda Aceh, Indonesia, and swore to yourself that you would never see in your country..."
Williams makes the statement at about the 1-minute mark in the below video:
Dr. Brobson Lutz, a former city health director who was working in an emergency medical trailer in the French Quarter during Katrina, told the Advocate that he and others "were never wet. It was never wet."
And during his interview with Brokaw last year, Williams claimed he fell ill with dysentery during Katrina: "My week, two weeks there was not helped by the fact that I accidentally ingested some of the floodwater. I became very sick with dysentery, our hotel was overrun with gangs, I was rescued in the stairwell of a five-star hotel in New Orleans by a young police officer. We are friends to this day..."
Williams' statement begins at about the 3:50 mark in the clip below:
But regarding Williams' dysentery claim, Lutz added that he "saw a lot of people with cuts and bruises and such, but I don't recall a single, solitary case of gastroenteritis during Katrina or in the whole month afterward."
An NBC spokesman didn't immediately respond Thursday to the Advocate's questions regarding Williams' Katrina statements.
In addition, a pair of video clips appear to show Williams recounting two versions of the story regarding a man who committed suicide during the hurricane.
In the the interview with Brokaw above (at about the 2:45 mark), Williams said he saw a man commit suicide; a second clip below has Williams saying he "heard the story of a man killing himself falling from the upper deck" of the New Orleans Superdome.
This story has been updated.
(H/T: Daily Mail, SooperMexican, GotNews.com)