The White House quietly released the names of the Muslim leaders who met privately with President Barack Obama earlier this week to discuss the Islamic State, anti-Muslim "discrimination" and even Obamacare.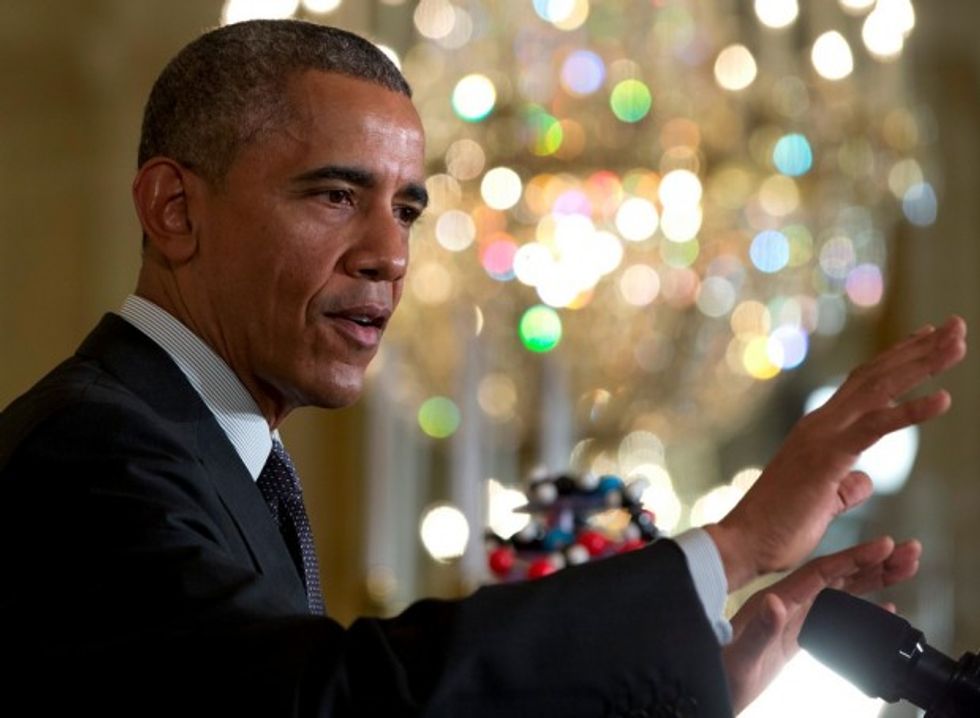 In a Friday, Jan. 30, 2015 file photo, President Barack Obama speaks in the East Room of the White House in Washington. (Image source: AP/Carolyn Kaster, File)
After initially declining to reveal who attended the meeting, the administration attached the list of 14 people who attended the Wednesday meeting:
• Bilqis "Qisi" Abdul-Qaadir, Director of Women's Basketball Operations, Indiana State University

• Arshia Wajid, Founder, American Muslim Health Professionals

• Dean Obeidallah, Comedian, Dean of Comedy

• Kameelah Rashad, Founder of Muslim Wellness Foundation and Muslim Chaplain of University of Pennsylvania

• Diego Arancibia, Board Member and Associate Director, Ta'leef Collective

• Farhan Latif, Chief Operating Officer and Director of Policy Impact, Institute of Policy and Understanding

• Sherman Jackson, Professor of Religion and American Studies and Ethnicity, University of Southern California

• Azhar Azeez, President, Islamic Society of North America

• Farhana Khera, President, Muslim Advocates

• Rahat Hussain, President, Universal Muslim Association of America

• Hoda Hawa, National Policy Advisor, Muslim Public Affairs Council

• Maya Berry, Executive Director, Arab American Institute

• Imam Mohamed Magid, ADAMS Center

• Haroon Mokhtarzada, CEO, Webs
Several outlets have noted that ISNA, represented at the meeting, was named an unindicted co-conspirator in the infamous Holy Land Foundation trial, one of the largest terrorism financing trials in U.S. history. ISNA has denied having ties to terrorist groups and disputed being named in the Holy Land Foundation trial.
Not represented at the meeting was the vocal Council on American-Islamic Relations, or CAIR, which was also named an unindicted co-conspirator in the trial and is accused of having ties to Hamas.
As previously reported by TheBlaze, the White House said Obama and Muslim leaders "discussed the need to continue countering ISIL and other groups that commit horrific acts of violence, purportedly in the name of Islam."
Also reportedly discussed were "the Affordable Care Act, issues of anti-Muslim violence and discrimination, the 21st Century Policing Task Force, and the upcoming White House Summit on Countering Violence Extremism."