A political storm was raging in Israel Sunday after the leader of the left-wing Zionist Camp said he had met Vice President Joe Biden and Secretary of State John Kerry Saturday on the sidelines of an international security conference in Germany shortly after the same top U.S. officials had reportedly decided to shun Israeli Prime Minister Benjamin Netanyahu when he addresses a joint session of Congress next month.
On Friday, Biden's office said he would be out of the country on the day Netanyahu delivers his address to Congress and thus would not attend the speech, while aides to Kerry and President Barack Obama said last month they would not meet with Netanyahu when he is Washington, noting the visit takes place shortly before the Israeli election. Biden's office did not say to which country he planned to travel in early March.
Zionist Camp party leader Isaac Herzog told Israel's Channel 10 News Saturday night, "It's a complete boycott [of Netanyahu by the Obama administration]. Even if that's not stated, that's the story."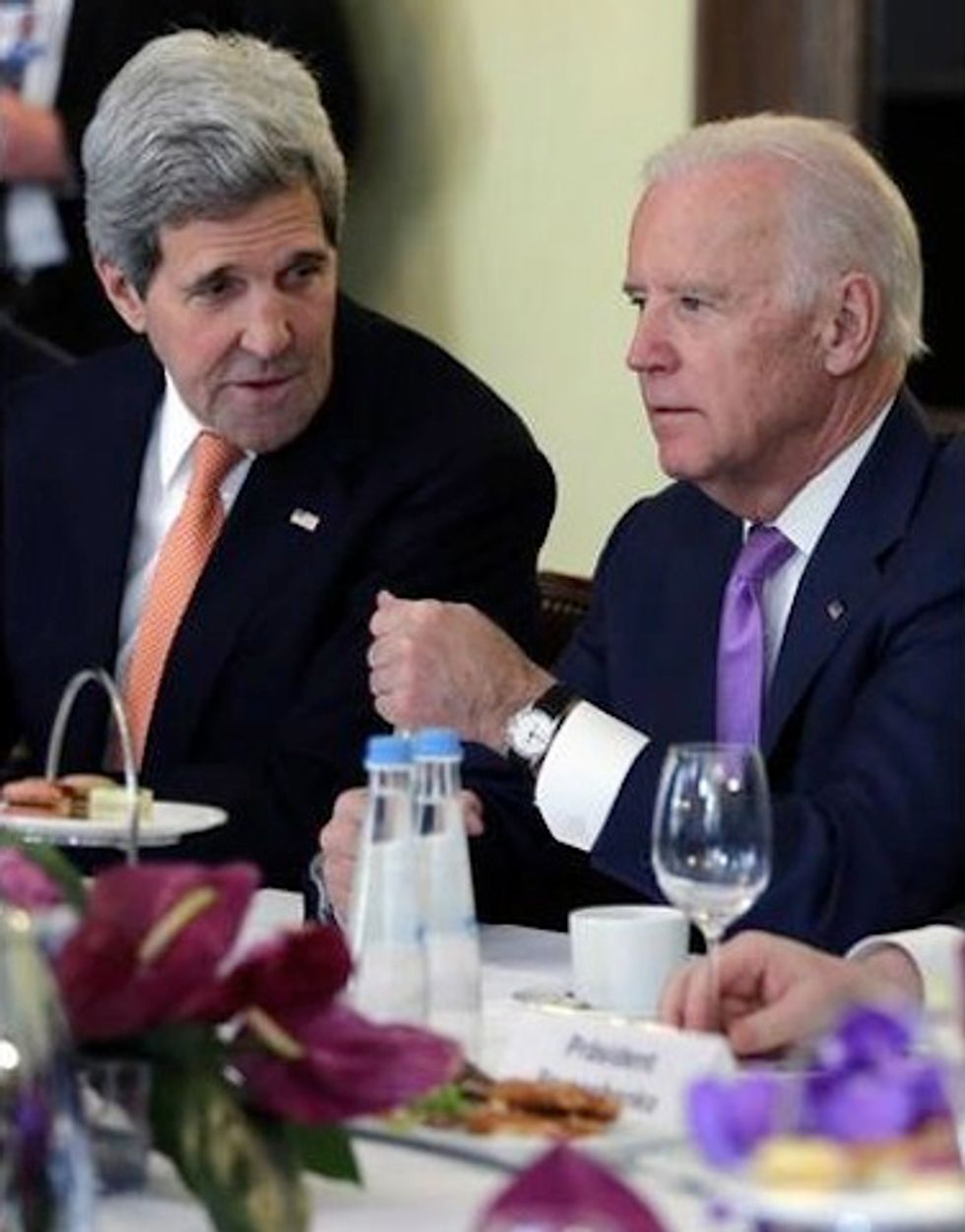 U.S. Secretary of State John Kerry, left, talks to U.S. Vice President Joe Biden prior to a meeting with Ukraine's President Petro Poroshenko during the Munich Security Conference in Munich, Germany, Saturday, Feb. 7, 2015. (AP Photo/Matthias Schrader)
The left-wing politician said Netanyahu "won't get to meet with a single American official on this visit — not from the National Security Agency, not from the White House, not from the State Department."
Herzog is Netanyahu's chief rival for prime minister when Israelis go to the polls March 17.
Officials in both Biden's and Kerry's offices denied any pre-planned meetings had occurred with Israeli officials in Germany.
A Biden aide told the Jerusalem Post that Herzog and Strategic Affairs Minister Yuval Steinitz [Likud] separately greeted Biden "in passing" in Germany, but that "no meetings, formal or informal, were held with either official."
State Department Spokeswoman Jen Psaki also denied any formal or pre-planned meeting had taken place. She said three Israeli officials including Herzog and Steinitz had "separately greeted Kerry in passing in hallways, a hotel lobby, and at the margins of widely attended dinners at the Munich Security Conference."
"Pleasantries were exchanged. No meetings, formal or informal, planned or unplanned, were held with any Israeli official," Psaki said in a statement posted on Twitter by AP diplomatic correspondent Matt Lee.
The Likud's Steinitz echoed the Biden aide's characterization of the encounter, telling Israel Radio that the meeting with Herzog was a brief impromptu talk.
Netanyahu's Likud party slammed Herzog Sunday for "recklessly crossing red lines" with his visit to Germany during the height of the domestic political campaign which it asserted was designed to make Netanyahu look bad.
Herzog "ran to Munich out of political and personal considerations in order to discredit the prime minister of Israel, while harming its national and security interests," Likud said in a statement, the Times of Israel reported.
"While the prime minister seeks to prevent a dangerous deal between the Western powers and Iran, the opposition leader chose to weaken Israel's standing in the political sphere," Netanyahu's party added.
Another top leader of the left-wing bloc, Member of Knesset Shelly Yacimovich, appeared to spin the meetings with the top U.S. officials to demonstrate that Herzog had the Obama administration's ear.
"[W]hen Herzog speaks, the world listens," she said.
"His meeting this evening with Vice President Biden in Munich, after Biden announced that he would not attend Bibi [Netanyahu's] speech to Congress, is proof that the only bridge to harmonious and proper communication in the international arena is Herzog as prime minister," Yacimovich said in a statement.
The Times of Israel reported that the Munich meetings with Biden and Kerry touched on security issues and the left-wing Zionist Camp's defense strategy.
The Obama administration has accused Netanyahu of violating diplomatic protocol in accepting an invitation from House Speaker John Boehner (R-Ohio), a visit it said had not been coordinated with the White House.
Netanyahu in his speech to Congress is expected to detail the dangers of a negotiated arrangement with Tehran that would allow it to maintain elements of its nuclear program, a deal the Obama administration has been pursuing.
On Sunday, Netanyahu said the deal with Iran that Kerry was negotiating this weekend was "bad" and that he would work to "foil" the "dangerous agreement."
"The [international] powers and Iran are racing forward with an agreement that will allow Iran to arm with nuclear weapons, something that will threaten the existence of the State of Israel," Netanyahu said at his weekly cabinet meeting.
"At the end of the week, Kerry and [Iranian Foreign Minister] Zarif announced their intention to complete the framework agreement by the end of March, and that is what gives rise to the urgency in our efforts to try and halt this bad and dangerous agreement," Netanyahu said. "We will continue to act and to lead the international efforts against the arming of Iran with nuclear weapons and we will act in every way to foil the bad and dangerous agreement that would cast a heavy cloud over the future of Israel."
As president of the Senate, Biden would normally sit beside Boehner during a joint session of Congress. However, with the announcement Friday that Biden would be traveling, Sen. Orrin Hatch (R-Utah) will take the vice president's seat during Netanyahu's address, the Hill reported.