DOUGLASVILLE, Ga. (TheBlaze/AP) — Police say they have identified the gunman who took his own life after killing his ex-wife, another adult and two children in a quiet, suburban neighborhood outside Atlanta.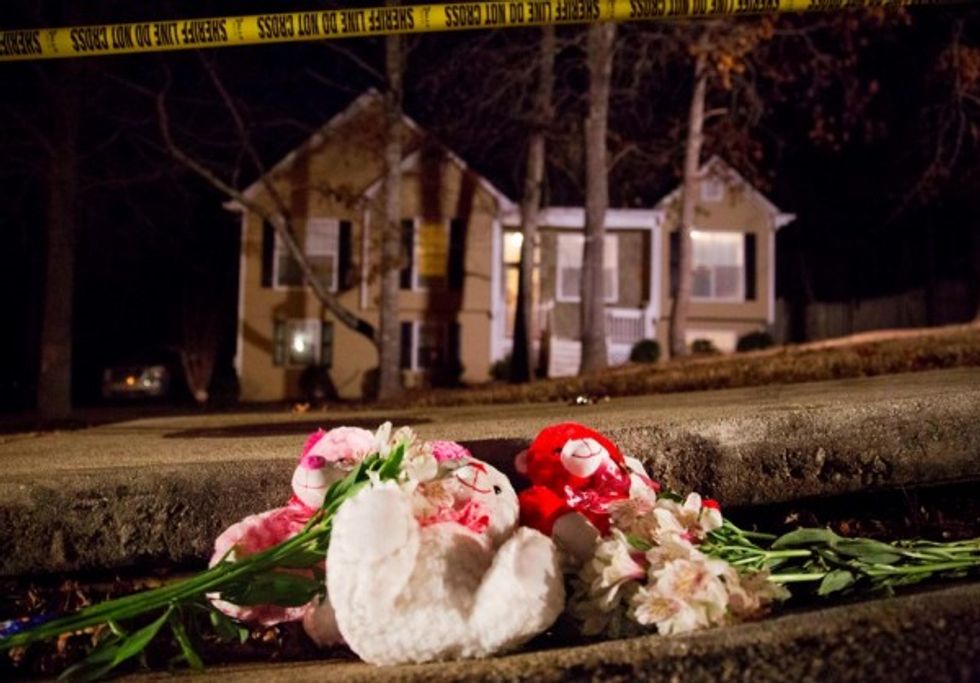 Flowers and teddy bears lay on the street outside the home of a shooting scene where authorities say five people are dead, including the gunman, in Douglasville, Ga. on Saturday, Feb. 7, 2015. Douglas County Sheriff's Lt. Glenn Daniel said the gunman shot six people before fatally shooting himself, and the two surviving victims are children, but children are also among the dead. (Image source: AP/David Goldman)
The Douglas County Sheriff's Office on Sunday said 33-year-old Cedric G. Prather died of a self-inflicted gunshot wound after shooting six people Saturday afternoon in Douglasville, about 20 miles west of Atlanta. A hometown for Prather was not given.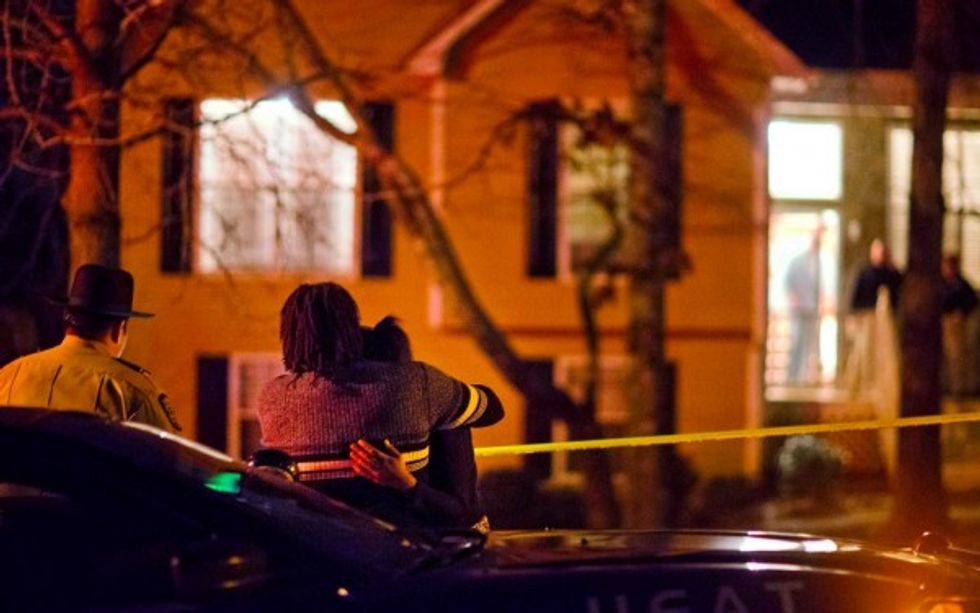 A couple embraces as they wait after requesting to speak with police officers outside the shooting scene. (Image source: AP/David Goldman)
The sheriff's office on Sunday identified the two adults who were killed as Latoya A. Andrews, Prather's ex-wife; and Joseph Terry Brown. Both were 33 years old.
In regard to the children who were shot, police told WSB-TV that a 7-year-old was dead at the scene and a 9-year-old died at a hospital; a 15-year-old and 8-year-old were in critical but stable condition.
Witnesses added to WSB that the gunman was inside the home when he shot his son who survived; then he went into the street and shot his 15-year-old daughter who survived and fatally shot his youngest daughter and another girl neighbors said they hadn't seen before. Witness added to WSB that the gunman then fatally shot himself.
The following report aired before the gunman was identified by name:
—
Follow Dave Urbanski (@DaveVUrbanski) on Twitter