It's one of the bases for modern democracy, but for centuries, a copy of the Magna Carta lay forgotten in a British county's archives — until now.
Thought to be one of the last copies sealed by the English royal chancery nearly 800 years ago, the parchment was discovered amid other documents for the British town of Sandwich, according to the Magna Carta Research Project.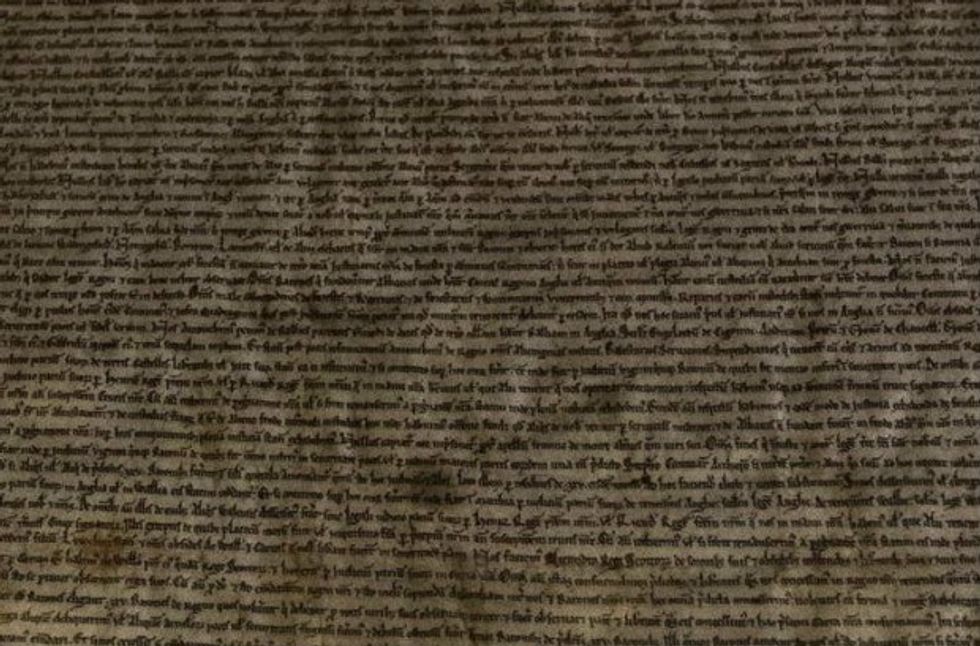 Lines of manuscript text are seen through a glass cabinet on the Salisbury Cathedral 1215 copy of the Magna Carta as it is displayed with the three other surviving original parchment engrossments of the Magna Carta to mark the 800th anniversary of the sealing of Magna Carta at Runnymede in 1215, in the Queen's Robing Room at the Houses of Parliament in London, Thursday, Feb. 5, 2015. (AP Photo/Matt Dunham)
The Magna Carta outlined such principles as the right to a fair trial, limited taxation and the idea that no one, not even the king of England, was above the law. Historians believe that about 250 copies of the document were issued by the king to ensure the ideas were disseminated and carried out; between 17 to 24 are thought to still exist today.
The most recent find was discovered by British archivist Mark Bateson, who was looking through a scrapbook in the Sandwich archives in search of another charter. The scrapbook is thought to have been compiled by British Museum official E. Salisbury near the end of the 1800s. Paul Graeme, the mayor of Sandwich Town Council, called Bateson's discovery "an immense privilege."
"Through the American Declaration of Independence, continuing in the Universal Declaration of Human Rights, Magna Carta still underpins individual liberties worldwide. To own such a document — and the Charter of the Forest — is an honor and a great responsibility," Graeme told the BBC.
The Charter of the Forest was considered a companion document to the Magna Carta because it amended British forest law to allow for common citizens to access the lush wilderness and its wildlife, which was previously reserved only for members of the monarchy and those to who received invitations from the monarch.
The found Magna Carta copy is ripped, with up to half of its text missing and the royal seal gone. But even in somewhat rough condition, it is still estimated to be worth up to $15.2 million. Oriel College at Oxford has the only other Magna Carta copy that was also found with the Charter of the Forest.
The discovery completes the collection of the seven known original 1300 Magna Carta copies. Officials in Sandwich say they do not plan to sell the document but to keep it as an artifact for tourists to observe.
(H/T: BBC)
—
Follow Jon Street (@JonStreet) on Twitter