President Barack Obama asked Germans to give the United States the "benefit of the doubt" when it comes to surveillance, and drew a contrast between Germany's history and America's legacy on civil liberties.
"Given Germany's history around this issue, I recognize the sensitivities," the president said during a joint news conference with German Chancellor Angela Merkel at the White House. "What I would ask is that the German people recognize that the United States has always been on the forefront of trying to promote civil liberties, that we have traditions of due process that we respect, that we have been a consistent partner of yours in the course of the last 70 years and certainly last 20 years in reinforcing the values we share."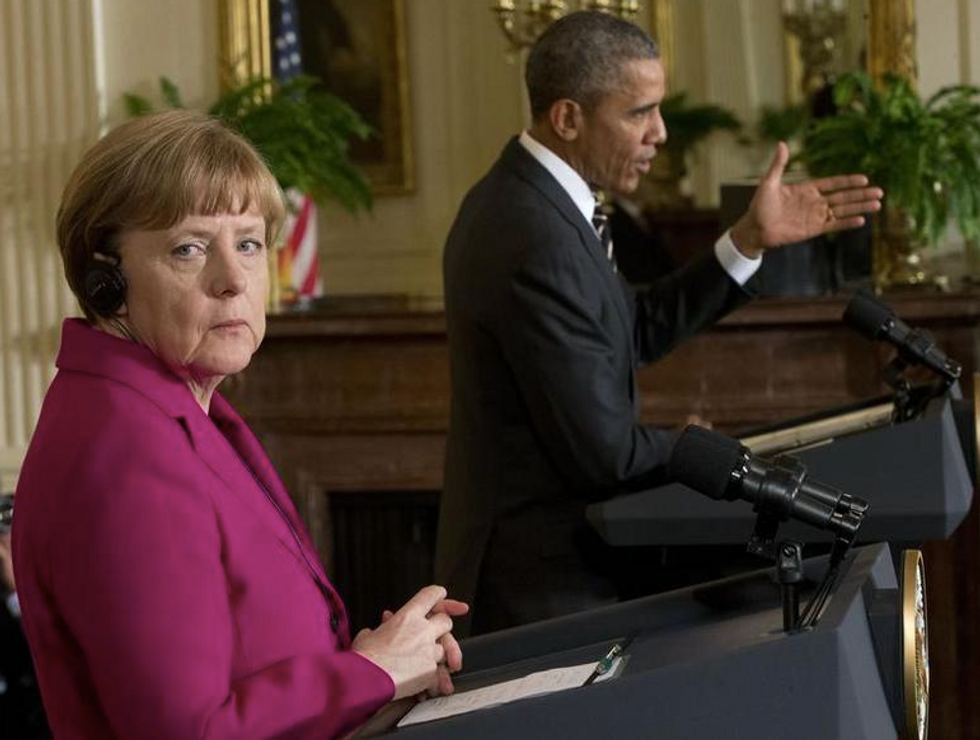 President Barack Obama and German Chancellor Angela Merkel participate in a joint news conference in the East Room of the White House in Washington, Monday, Feb. 9, 2015. The leaders were expected to discuss the ongoing conflict in Ukraine, and arming Ukrainian fighters to wage a more effective battle against Russian-backed separatists. (AP Photo/Pablo Martinez Monsivais)
Among the revelations from the Edward Snowden leaks was that the National Security Agency tapped Merkel's phone, which prompted outrage in Germany.
Obama said since the controversy, his administration has taken unprecedented action to "ensure our intelligence agencies treat non-U.S. citizens in ways that are consistent with due process and their privacy concerns."
"I would like the German people to give us the benefit of the doubt as opposed to assuming the worst, assuming we have been consistently your strong partners and we share a common set of values," Obama said.
Merkel gave a diplomatic response to the topic, making it clear that the United States and Germany are united in using intelligence to prevent a terrorist attack.
"On the NSA issue, there are still different assessments on individual issues there, but the shared dimension of the terrorist threat, we are more than aware of the fact that we need to work together very closely," Merkel said.
"I, as German chancellor, want to say that the institution of the United States of America has provided us and still continues to provide us important information," Merkel continued. "We don't want to do without this. There are other possibilities to continue to talk about the protection of privacy and data protection and so on, but this -- this was basically combating terrorism."