Russian President Vladimir Putin told an Egyptian newspaper that Russia and Egypt are "actively" discussing forgoing the U.S. dollar in future bilateral trade agreements to instead use their national currencies of rubles and Egyptian pounds.
Putin was beginning a two-day visit to Egypt Monday amid strained relations between the U.S. and Egypt and the U.S. and Russia.
In an interview with the Egyptian newspaper Al Ahram, Putin said the idea of excluding the U.S. dollar from trade agreements between the two countries was "really being actively discussed."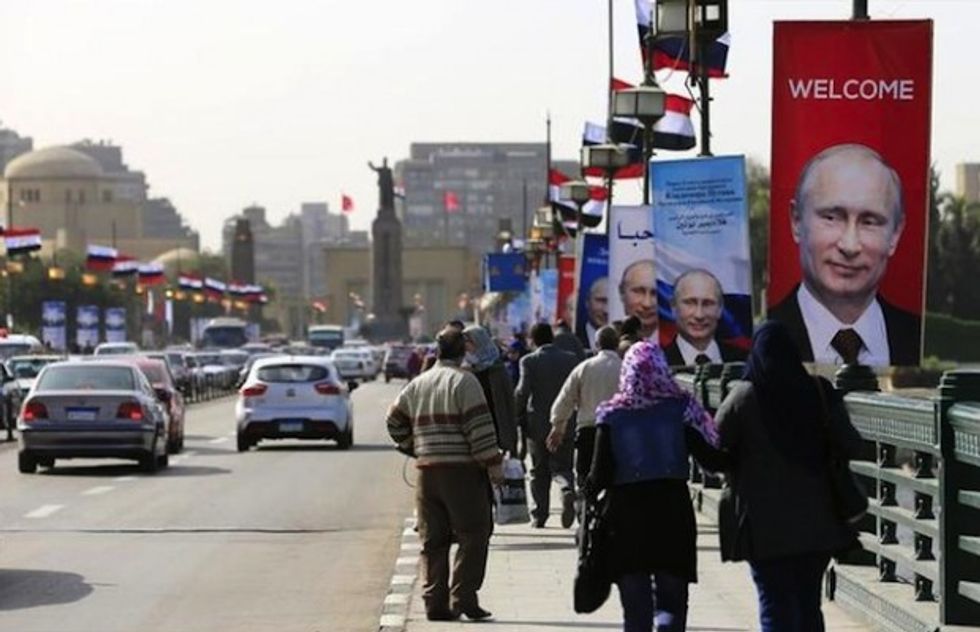 Posters of Russian President Vladimir Putin hang on light poles on Qasr El Nile Bridge in Cairo, Egypt, Monday, Feb. 9, 2015. (AP/Hassan Ammar)
"Evidently, settlement of accounts in national currencies will contribute to creating more favorable conditions for millions of Russian citizens who annually spend their holidays in your country," Putin told the Egyptian interviewer.
"[T]his measure will open up new prospects for trade and investment cooperation between our countries, reduce its dependence on the current trends in the world markets," Putin said. "Therefore, it is quite natural that the business circles of both States raised an issue of advisability of using national currencies for bilateral payments."
The International Business Times, quoting RIA Novosti, noted that Russia has been pushing to move away from the U.S. dollar in trade with other countries including China, India, Thailand and Turkey.
"I should note that we already use national currencies for trade with a number of the CIS States, and China. This practice proves its worth; we are ready to adopt it in our relations with Egypt as well," Putin added.
Besides the currency issue, Putin's visit to Cairo allows Russia and Egypt to convey a symbolic message to Washington.
Author Ben Judah, who wrote a book about Putin's Russia, told the Guardian newspaper: "He's making a show of highlighting how he's not isolated. … It's also a way of undermining the U.S., since Cairo is piece of America's imperium."
At the same time, Egypt can demonstrate it has other strong allies besides Washington. Supporters of President Abdel Fattah el-Sissi have criticized the Obama administration over a widely held perception in Egypt that the administration favors the Muslim Brotherhood.
Pro-government columnists last week expressed outrage over the State Department's hosting a Muslim Brotherhood delegation earlier this month and questioned the White House's commitment to fighting terrorism.
Observers noted that signs welcoming Putin in the streets of Cairo were written in English, as well as Russian and Arabic, emphasizing the address to which the visit is geared.