Atheist critics frequently cite the violence present in the Bible in voicing their opposition to the text, but Dr. John Dickson, an Australian historian and writer, believes that understanding scripture requires looking through a finely tuned and contextualized lens.
In a recent OnFaith op-ed, Dickson, an honorary fellow of the Department of Ancient History at Macquarie University in Sydney, offered up four elements for biblical critics to consider when examining the violence present in Old Testament books like Joshua.
To begin, he said that just because something is present in the Bible doesn't mean that it is being endorsed by God — a fact that he said believes some, like evolutionary biologist and religion critic Richard Dawkins, fail to realize.
"The incidents throughout the book of Judges, such as Jephthah's killing of his own daughter just to keep a promise or of the cutting up of a women into 12 bits … are in the book of Judges precisely to show us how low Israel had sunk," Dickson wrote. "They are not moral examples to us."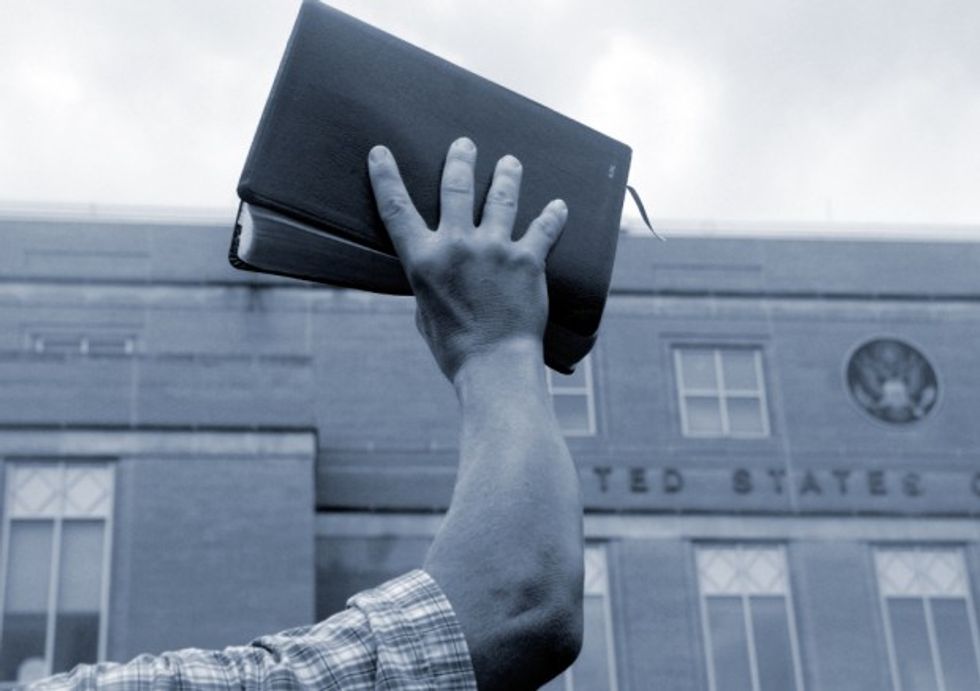 Photo credit: Shutterstock.com
Dickson also argued that a story cannot be separated from its explanation, citing the importance of context to understanding what is being spoken about in the book of Joshua. Rather than an ethnic cleansing against Canaan, the historian said that the conquest of the people group at the hands of the Jews had everything to do with the wickedness of the Canaanites.
"The first story of Joshua is about the salvation of a Canaanite prostitute named Rahab and her family. Why is this the opening story? Clearly, the narrator wants to emphasize that this war has nothing to do with ethnicity," Dickson wrote. "God's longing is to save the Canaanites, not judge them."
He continued, "Deuteronomy 9 makes two things clear: One, God will give success to Israel's conquest 'not because of your righteousness.' And two, God was ousting the Canaanites 'on account of the wickedness of these nations.' This is not ethnic cleansing or favoritism. It is God's holy and just judgment. Israel is merely the tool — an obstinate tool — in God's temporal judgment."
Making his third point, Dickson noted that Israel didn't continue pushing to expand its borders once it reached its goal, claiming that there is "no evidence Israel tried to expand into other places." If ethnic genocide were a goal, it would be curious then that the Israelis didn't forge on for more land and power, he essentially argued.
Photo credit: Shutterstock.com
Finally, Dickson said that the narrative must be read "through the lens of the New Testament."
"This is the most important response to the problem of Old Testament violence. Christians are forbidden to read Joshua as a justification for modern war, for Jesus said to love your enemies (Matthew 5:44) and turn the other cheek (Matthew 5:39)," he wrote. "That doesn't mean wars are never justified — they can be, on other grounds. My point here is that we cannot achieve God's kingdom ends through violence."
While he concluded in his piece that there are some things in the Old Testament that "appear inconsistent with the revelation of Jesus," he said that diving deeper and looking for an explanation can help. In the end, he believes both the Old and New Testaments show the same God.
As TheBlaze has reported in the past, faith experts who favor the Bible frequently caution critics that context is key when it comes to other related issues such as stoning and rape, which also appear in the Bible.
Read Dickson's post in its entirety here.
(H/T: OnFaith)
--
Front page image via Shutterstock.com