Russian President Vladimir Putin opened his two-day visit to Egypt by presenting President Abdel Fattah el-Sissi with the iconic Russian automatic weapon, a Kalashnikov rifle.
Putin's visit is widely viewed as an effort not only to make his mark on the Middle East but to send a message to the world, and particularly the U.S., that Russia is not isolated, so his every gesture is being scrutinized closely.
The Russian government-funded English-language network RT tweeted a photo of Putin presenting his gift:
Putin presents Egyptian president with Kalashnikov during visit to Cairo http://t.co/AAah6r97sW pic.twitter.com/lELsejOMFI

— RT (@RT_com) February 10, 2015
There was speculation that the rifle portended the signing of a large Russian arms deal with Egypt.
Here's how RT described the significance of Putin's visit:
Putin's visit gives a chance to both countries to send a message to US, demonstrating that they don't need to follow its guidelines in foreign policy. Cairo states that in can find support from players other than America to deal with its domestic troubles. For Moscow, it's yet another testament that Washington's narrative of Russia being internationally isolated is mere wishful thinking.
In an interview published Monday by the Egyptian newspaper Al Ahram, Putin said the two countries were "actively" discussing excluding the U.S. dollar from future bilateral trade agreements and instead use their national currencies of rubles and Egyptian pounds.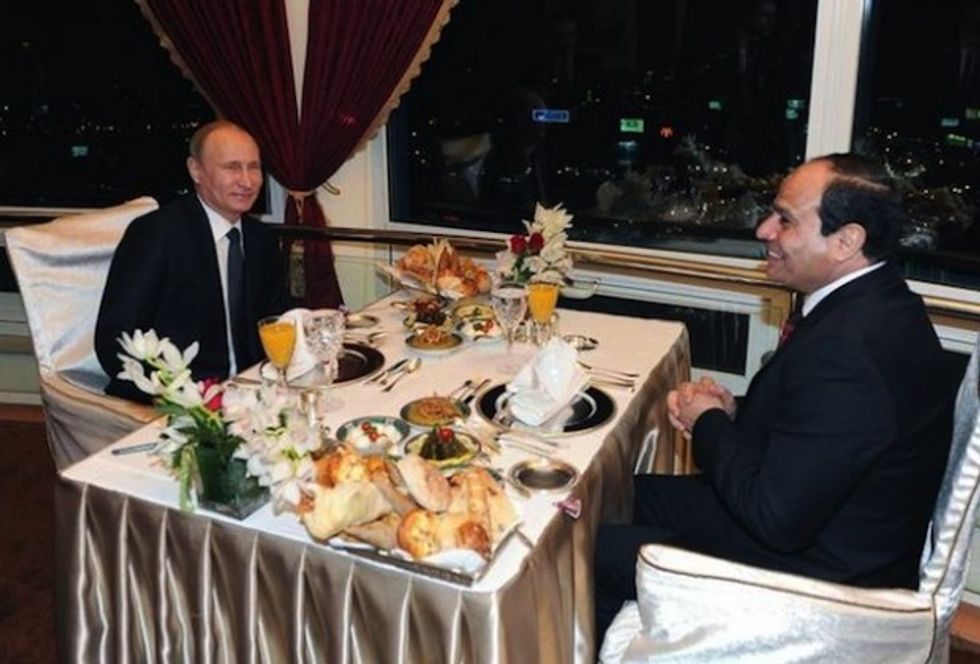 Egyptian President Abdel-Fattah el-Sissi and Russian President Vladimir Putin smile during their dinner in Cairo, Egypt, on Monday, Feb. 09, 2015. (AP/RIA Novosti, Mikhail Klementyev, Presidential Press Service)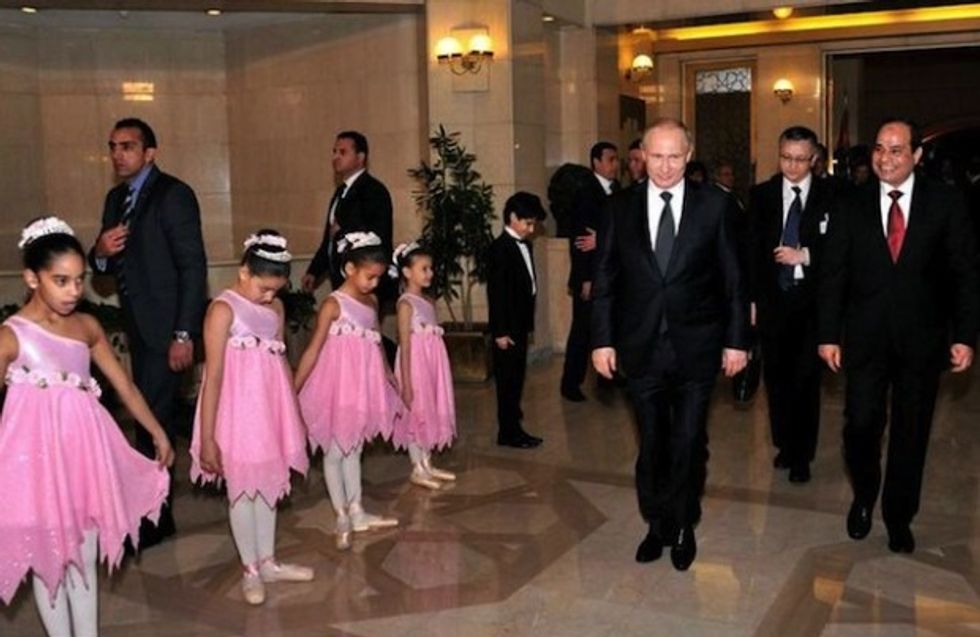 In this image released by the Egyptian Presidency, Egyptian President Abdel-Fattah el-Sissi walks with Russian President Vladimir Putin at the Cairo Opera House in Egypt, Monday, Feb. 9, 2015. (AP Photo/Egyptian Presidency)
The two leaders conveyed warmth and smiles in photos captured during their meetings, including a classic Egyptian mezze dinner overlooking a panoramic view of the capital and a visit to the Cairo Opera House where little ballerinas welcomed the leaders.
Hundreds of posters welcoming the Russian president plastered the city in advance of Putin's visit.
The two leaders are discussing trade, Middle East security and, according to RT, a Russian bid to construct a nuclear power plant in Egypt.