A few House Republicans have introduced legislation aimed at discouraging companies from hiring illegal immigrants that will be granted legal protection and the ability to work under President Barack Obama's executive action on immigration.
Rep. Steve King (R-Iowa) proposed the New Illegal Deduction Elimination Act, which would prevent companies from deducting the cost of hiring these immigrants for tax purposes.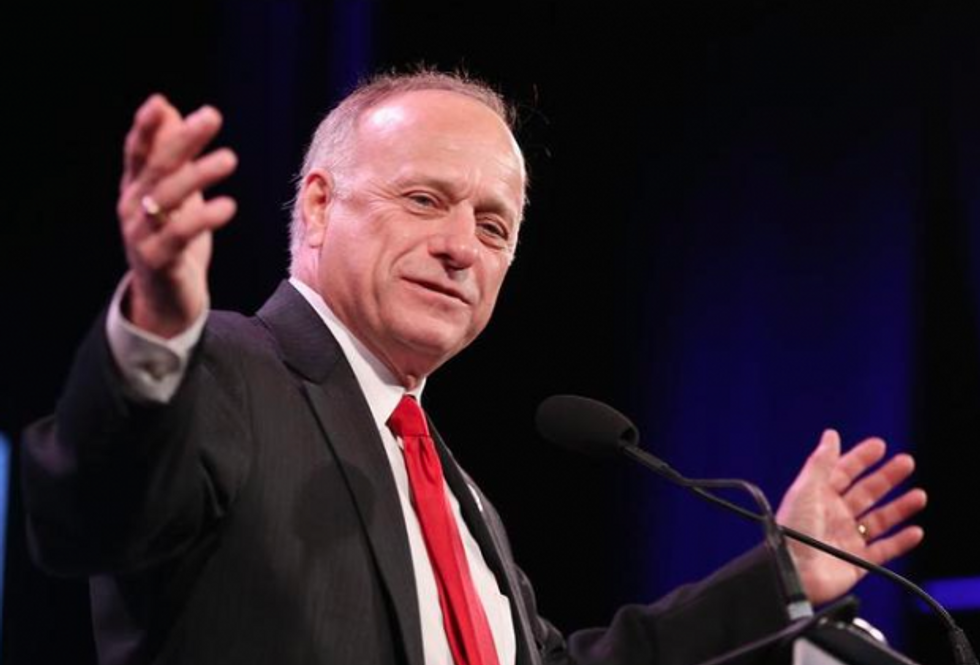 Rep. Steve King (R-Iowa) has a new plan aimed at increasing the cost of hiring illegal immigrants. Image: Scott Olson/Getty Images
The idea of the bill is to make it more expensive for companies to hire these workers. King outlined an example of a $10-per-hour worker, which would cost companies $16-per-hour if they weren't allowed to use the deductions they can use for their employees.
"I believe we must shut off the job magnets that encourage illegal immigrants to come to the United States," said King. "I have authored New IDEA, the Illegal Deduction Elimination Act, which would protect American jobs for American workers."
"This would dramatically reduce the cheap labor incentive of hiring illegal workers," he said.
King's bill would also require companies to use the E-Verify system to check the work status of people they're thinking of hiring. And, it would set up an information-sharing system between the IRS, the Social Security Administration and the Department of Homeland Security, for the purpose of making sure people trying to use fake identification documents are caught.
King's bill was introduced as the Obama administration is in the midst of implementing its November announcement, which could give legal protection to up to 5 million illegal immigrants and let them work in the country. Republicans are trying to defund Obama's action, but their defunding language is attached to a Department of Homeland Security funding bill that is stalled in the Senate.
King's bill could be an option for Republicans in the coming weeks and months if they find no way to blunt Obama's action. It's cosponsored by Reps. Lou Barletta (R-Pa.), Jeff Duncan (R-S.C.) and Walter Jones (R-N.C.).
Opponents of Obama's action have pointed out that the country has millions of legal residents who are looking for work, and that foreign workers aren't needed. This week, the Center for Immigration Studies released a report saying the U.S. has allowed in two immigrants for every net job created in the country over the last 15 years.