To a "completely in shock" Magdalene Tilsner, it was as if a bomb went off.
But her husband Ulrich seemed to take it almost in stride, telephoning his granddaughter he was supposed to be meeting and explaining, "I'm coming somewhat later. I have a tank in my garden."
Due to a drive chain malfunction, a tank owned by the British army veered wildly off course until it came rest courtesy of the Tilsner's fence in Paderborn, Germany, the Local reported.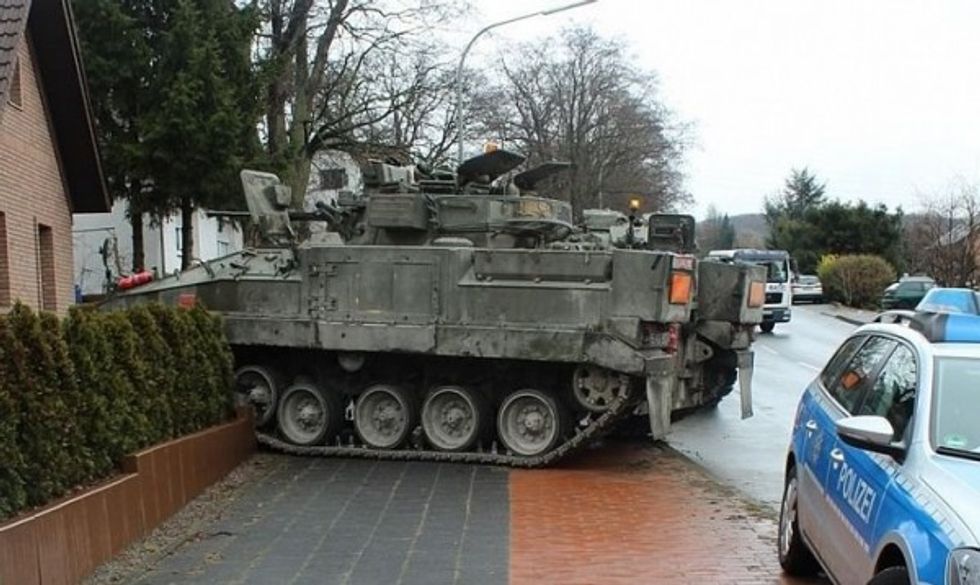 Image source: Police
At least what's left of it.
Stefanie Ney told the Neue Westfalische newspaper that after getting off the phone with her grandfather she made a beeline to their house where she saw the surreal scene for herself.
"There was a tank in the hedge and soldiers standing everywhere and our dog was barking like crazy," Ney told the newspaper. "My (grandma) was completely in shock."
While no one was injured in the misadventure, it took police and members of the British Army a few hours to remove the tank, which caused damage to the Tilsner's wall and some plants estimated at around 1,000 euros, or just over $1,100 U.S.
The tank is from a military driving school of the British Army's Paderborn Garrison in the vicinity of where the accident occurred, police told the Local. The town is about four and a half hours west of Berlin.
"People in Paderborn are not shocked when they see a tank," a police spokesperson told the paper.
—
Follow Dave Urbanski (@DaveVUrbanski) on Twitter