Long story short: Greece wants to welsh on the rest of Europe.
On Wednesday, the Eurogroup — the finance ministers of the nations that use the Euro — are gathering to discuss what to do with Greece, a nation that the rest of the E.U. bailed out years ago and which now, in the hands of a new leftist government, is demanding a renegotiation of the deal.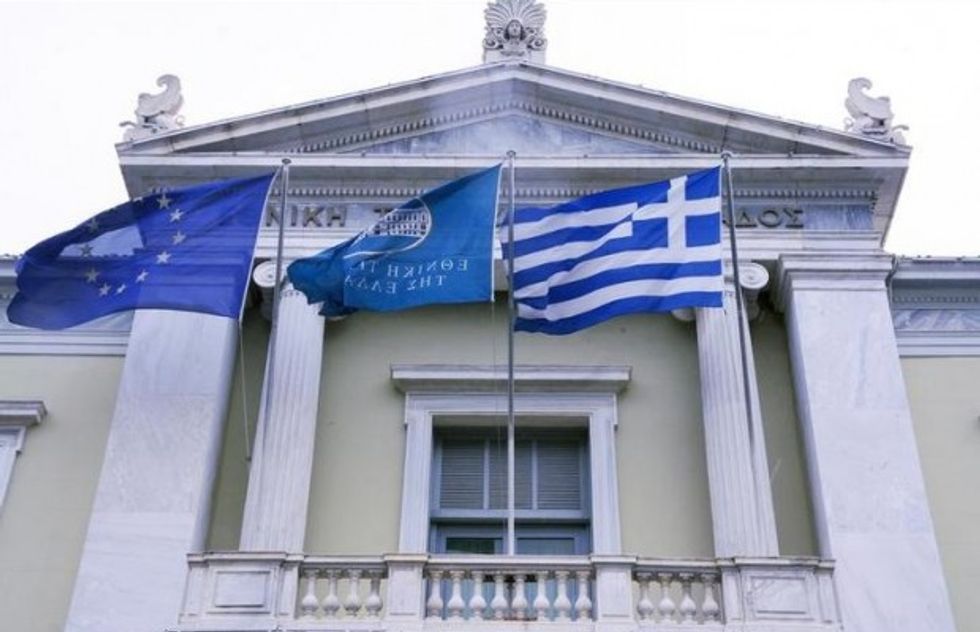 The Greek national bank and EU flags fly at the National Bank building on February 10, 2015 in Athens, Greece. The new Greek anti-austerity government is seeking a renegotiation of its 240 billion euro (270 billion dollar) bailout. Time is running out for both Athens and its international creditors to reach a deal with Greece's bailout agreement with the eurozone set to expire on February 28. (Milos Bicanski/Getty Images)
Since 2010, Greek government have been bound by a Memorandum of Understanding through which Greece got much-needed cash in exchange for strict austerity rules.
But after the left-wing party Syriza swept to power in Greece's January elections, the new leaders proclaimed an end to austerity and "five years of bailout barbarity."
The problem: the Greek leftists have to get their Troika creditors — the European Central Bank, the European Commission and the International Monetary Fund — on board.
They haven't been diplomatic.
In his first act after his election, Prime Minister Alexis Tsipras laid flowers at a memorial for Greeks killed by Nazis — a gesture many have interpreted as a "shot across the bow" at the austerity-demanding Germans that Greece depends on for cash infusions.
What do the Greeks want?
As Reuters reported, Greece is seeking breathing room to devise new ways to pay its 240-billion-Euro debt, relief from Troika inspectors and scrapping 30 percent of the reforms agreed to in 2010.
Greece is also hoping to cut the required annual government budget surplus in half, from 3 percent to 1.5 percent.
Will the Eurogroup meeting bring a new agreement between the lenders and the Greeks?
The Economist predicted that the Wednesday meeting will not go well, as spendthrift Greece has little sympathy from the rest of the EU.
One senior European official was quoted as saying "the Greeks are digging their own graves" by pushing a renegotiation.
Greek news outlets, on the other hand, were more optimistic about the prospects of a successful negotiation.
What happens if a deal falls apart?
Greece could ditch the Euro — and run out of cash as early as next month.
But Greece is defiant despite the danger.
"[T]he euro is fragile," said Greece's finance minister Yanis Varoufakis, implying that the EU needs Greece as much as Greece needs the EU's cash. "It is like a house of cards. If you pull away the Greek card, they all come down."
—
Follow Zach Noble (@thezachnoble) on Twitter