House Speaker John Boehner (R-Ohio) hinted on Thursday that the Department of Homeland Security may be headed for a partial shutdown, by saying Democrats should be blamed it if happens.
"If funding for homeland security lapses, Washington Democrats are going to bear the responsibility," Boehner told reporters.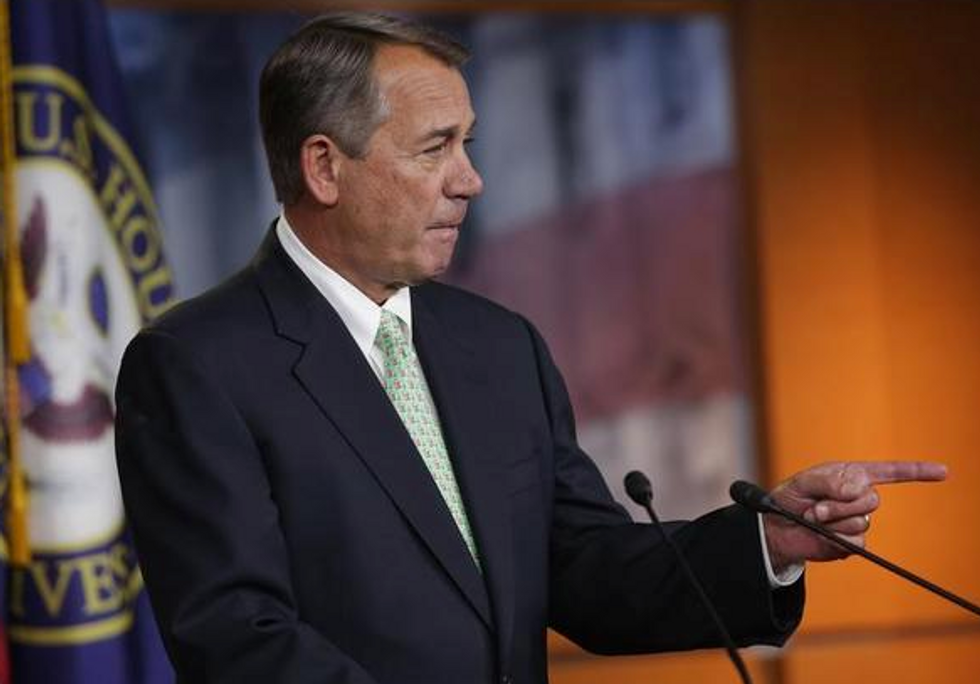 House Speaker John Boehner (R-Ohio) said Thursday that if the Department of Homeland Security shuts down, Washington Democrats should be blamed. Image: Chip Somodevilla/Getty Images
Republicans have said generally that they would work to avoid government shutdowns at all costs once after taking control of both the House and the Senate. But a DHS funding bill has been stuck in the Senate for the last two weeks, and Boehner's comment indicates there may be no way around the impasse.
The DHS bill includes language to defund President Barack Obama's executive action on immigration, which has prompted Senate Democrats to block GOP attempts to move the bill forward.
That has led to a seemingly endless back and forth between the two parties over who should be blamed if the bill stalls and DHS runs out of money on Feb. 27. Boehner and other Republicans have said Democrats are to blame, because they are clearly blocking the DHS bill from moving ahead.
The GOP says allowing the bill to move ahead would let the Senate amend it, and that a House-Senate conference could be used to find a final agreement on the bill.
But Democrats have said Republicans are actually the ones blocking DHS funding, by putting forward a bill that Democrats clearly oppose. House Minority Leader Nancy Pelosi (D-Calif.) tried to explain the Democrats' rationale earlier on Thursday.
Pelosi was asked why Democrats shouldn't be blamed for holding up the bill, and she essentially replied by saying Republicans have no right to try to defund Obama's immigration move because that move was legal.
"The president has the legal authority to do what he did," she said. "He has it by the law, and that has been recognized in court cases under other presidents."
Pelosi also argued that Democratic opposition should not be described as something that is putting DHS funding at risk in order to protect illegal immigrants.
"It's not a question of protecting illegal people in our country, it's a question of respecting the authority of the president of the United States," she said.
Pelosi added that the GOP has a "very poor" excuse for tying DHS funding to language defunding Obama's immigration plan.