A Philadelphia city councilwoman who recently honored the governor of Ramallah has backtracked after learning the senior Palestinian official offered praise and support for terrorists.
Councilwoman Maria Quinones-Sanchez gave Ramallah Gov. Leila Ghannam two honors from the city at a ceremony at a Philadelphia mosque on Jan. 29.
Sanchez had posted a photo from the ceremony on Facebook in which Ghannam raised the Liberty Bell-shaped trophy over her head and tweeted about it. She deleted her posts Wednesday upon discovering the governor's extensive and public statements praising terrorists.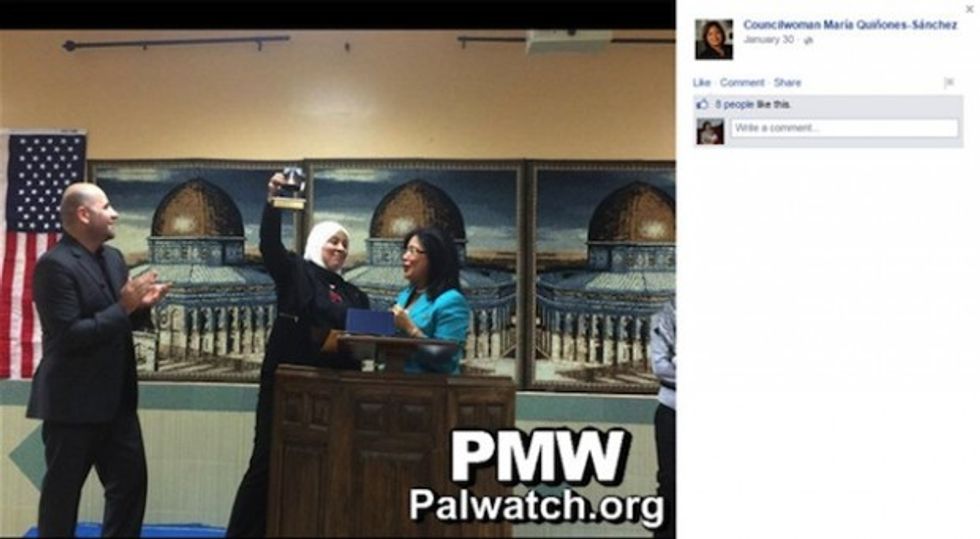 Ramallah Gov. Leila Ghannam accepted an award from Philadelphia Councilwoman Maria Quinones-Sanchez. Sanchez's Facebook post was later deleted. (Image source: Facebook via Palestinian Media Watch)
Palestinian Media Watch, an Israeli research group that tracks incitement in the Palestinian media and by Palestinian officials, documented multiple instances Wednesday in which Ghannam had glorified terrorists as Palestinian heroes.
The official Palestinian Authority newspaper Al-Hayat Al-Jadida reported Jan. 31 that Ghannam at the Philadelphia ceremony "made it clear that the land of Palestine was the cradle of love and peace, noting that Jesus was Palestinian, and that tolerance is one of the Palestinians' most prominent principles."
"Ghannam clarified that stealing is their [the Israelis'] conduct, as they have stolen the land, and are now trying to rob all that is Palestinian, without anything to stop their savagery, criminality and unrestrained terrorism," the Palestinian publication reported.
Sanchez's office told the Jewish Exponent, a Philadelphia publication, that it would "look into whether it is possible to withdraw" a city citation.
"I was invited to attend this event to meet the first woman elected governor in the Palestinian Authority, and whose work was described to me as humanitarian in nature and centered on furthering the rights of women and girls. My office honored her for these reasons," Sanchez said in a statement Wednesday. "I fully and unequivocally denounce the sentiments attributed to Governor Ghannam in this video, and have consistently condemned terrorist violence."
She added that she represents "a significant Muslim-American population, including many Palestinian refugee families" and strongly supports interfaith efforts and dialogue to promote peace.
Palestinian Media Watch found more than 25 cases in which Ghannam praised terrorists in speeches, laying wreaths on their graves, and visiting with their families.
"Laila Ghannam's 'actions for her nation' include ongoing promotion of terror by glorifying some of the most horrific Palestinian terrorist murderers, presenting them as heroes and role models, and promising to follow in their path," the Palestinian Media Watch report said.
At an event that aired on Palestinian television last year, Ghannam vowed to follow in the path of the leaders of terrorist groups including the founder of Hamas.
In an excerpt translated by Palestinian Media Watch, Ghannam said: "We promise and swear to these mighty ones: We are still [following] your path. ... The President and icon, Martyr Yasser Arafat, Dr. George Habash [founder of the Popular Front for the Liberation of Palestine, comrade Abu Ali Mustafa [head of the PFLP], Sheikh Ahmed Yassin [the founder of Hamas], Fathi Shaqaqi [the co-founder of Palestinian Islamic Jihad] … Abu Jihad [Khalil al-Wazir, co-founder of Fatah] and all the great leaders."
Among the many homes she visited, Ghannam paid a call to the home of Abdallah Barghouti, a Hamas operative who built explosive vests for suicide bombers is currently serving 67 life sentences for the murder of 67 Israelis.
Last year, Ghannam said of Issa Abd Rabbo, who abducted two Israeli students, tied them up and put bags over their heads, then shot them to death in 1984: "We are all looking forward to Issa's wedding with indescribable joy, [a wedding] that will be a new start for a fighter who left his unforgettable mark on the annals of the Palestinian national struggle."