After a tumultuous week, the question in Oregon is still whether four-term Gov. John Kitzhaber will resign from office.
Here are five points to know about the embattled Democratic governor and how he's handling the fallout.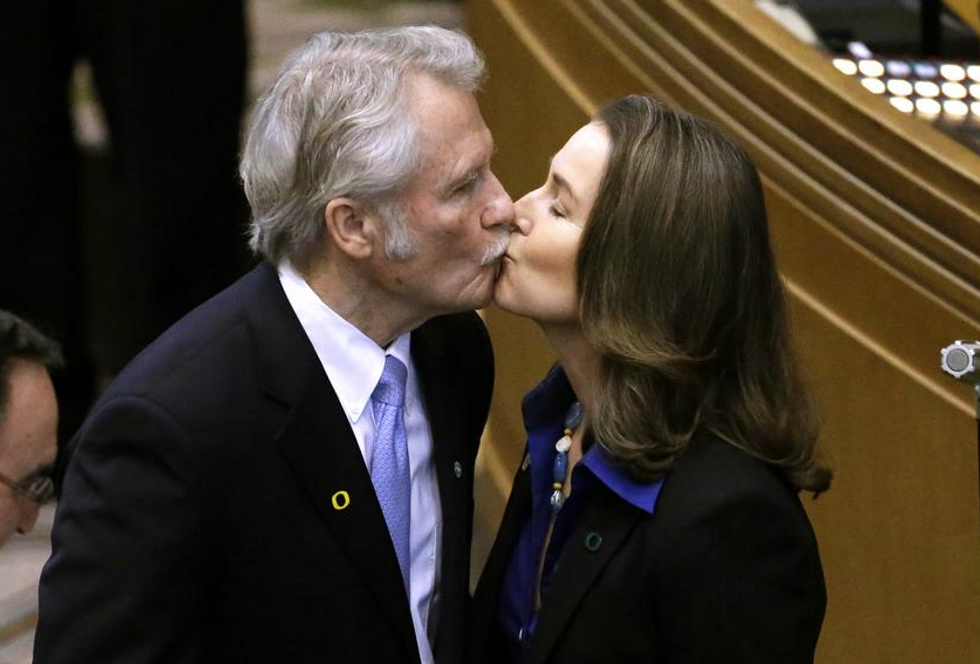 In this Jan. 12, 2015 file photo, Oregon Gov. John Kitzhaber kisses fiancee, Cylvia Hayes, after he is sworn in for an unprecedented fourth term as governor in Salem, Ore. (AP Photo/Don Ryan)
1. The Scandal
Kitzhaber is under criminal investigation regarding allegations that his fiancee, Cylvia Hayes, earned about $200,000 in consulting contracts tied to her work as an unpaid adviser with the governor's cabinet.
The state attorney general's office is investigating whether the governor misused his office to promote Hayes' consulting business. The Oregon Government Ethics Commission is also investigating the Hayes contracts.
2. Indecision
The governor planned to resign this week, but then decided against it, The Oregonian reported. The change of heart came after a meeting with one of his attorneys and Hayes.
Kitzhaber last spoke to reporters on Wednesday, saying he had "no intentions of resigning."
3. What the secretary of state had to say
Oregon Secretary of State Kate Brown issued a statement Thursday describing her odd interactions with Kitzhaber. Oregon does not have a lieutenant governor, so the secretary of state is second in line of succession to the governor.
Brown said the governor called her back to the state from a conference in Washington, D.C.
"He asked me to come back to Oregon as soon as possible to speak with him in person and alone," Brown said. "I got on a plane yesterday morning and arrived at 3:40 in the afternoon. I was escorted directly into a meeting with the governor. It was a brief meeting."
"He asked me why I came back early from Washington, D.C,, which I found strange," Brown continued. "I asked him what he wanted to talk about. The governor told me he was not resigning, after which, he began a discussion about transition."
She added, "This is clearly a bizarre and unprecedented situation."
4. Seeking email destruction
Oregon media outlets reported Thursday that Kitzhaber's executive assistant Jan Murdock sought to have emails from Kitzhaber's personal email accounts removed from state servers. In a Feb. 5 email obtained by the Williamette Week, Tracy Osburn, a field technician with the DAS Technology Support Center, wrote: "Governor's office wants anything that is in the email account [Kitzhaber's account] removed from archive."
5. Bleeding support
Two Republicans in the state legislature said they were seeking a recall petition if the governor does not resign. More surprising is that Kitzhaber has lost the support of Democratic party leaders.
Oregon Senate President Peter Courtney, House Speaker Tina Kotek and state Treasurer Ted Wheeler – all Democratic lawmakers – called for the governor to step down on Thursday.
"It's hard for him to govern so I'm worried about him," Courtney told reporters, according to USA Today.