President Barack Obama wants to minimize the amount of time schools spend on standardized testing of students, which happens to be one of the biggest complaints about the Common Core State Standards.
The White House issued a report Friday about Obama's vision to improve schools, outlining increased federal spending initiatives.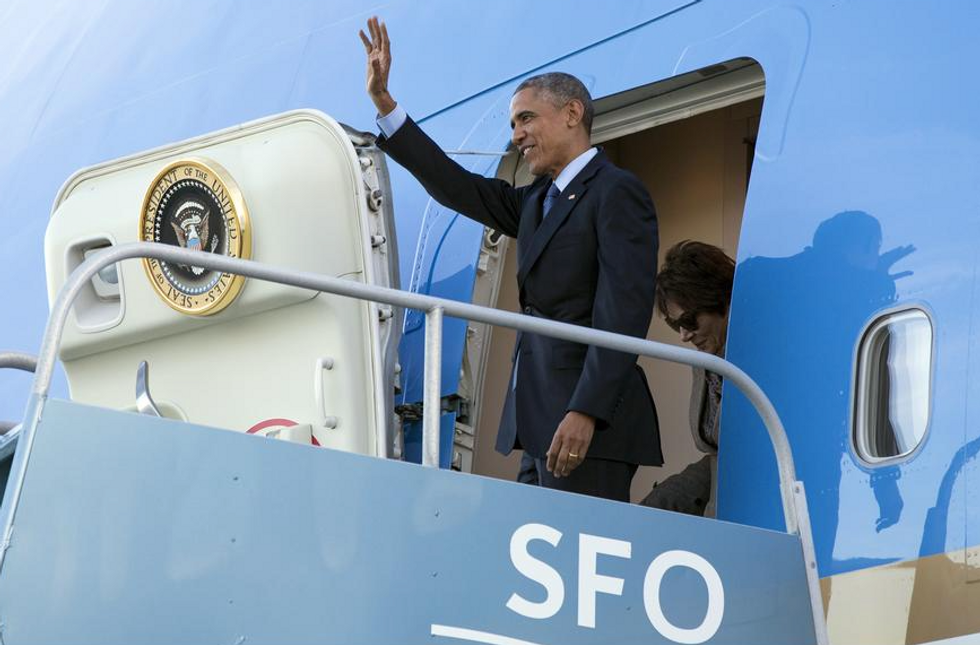 President Barack Obama waves as he steps off Air Force One after arriving at San Francisco International Airport, Thursday, Feb. 12, 2015, in San Francisco. (AP Photo/Evan Vucci)
"The president also believes that we should keep testing to a bare minimum in the same way that New York has limited the time spent on testing to 2 percent of classroom time," Cecilia Muñoz, director of the White House Domestic Policy Council, said during a conference call with reporters.
Muñoz made no mention of the controversial Common Core standards, nor did the report.
Regarding limiting testing, the White House report said: "This also means helping states and localities rigorously review their tests and eliminate those which are outdated, repetitive or unnecessary, while maintaining annual statewide tests to ensure that all students succeed, close achievement gaps, and do what works to improve schools with a focus on the lowest performing 5 percent of schools."
Common Core was established by the National Governors Association and Council of Chief State School Officers. The Obama administration favors Common Core, with the U.S. Department of Education tying federal grants to states that adopt the standards.
Parents and teachers have heavily criticized the emphasis on testing from Common Core, and the time schools spend preparing students for the standardized tests.
Muñoz focused on the need for changing the Bush-era No Child Left Behind law.
"Lawmakers, educators, students, teachers and parents all agree on the need to overhaul the No Child Left Behind law," she said.
The White House report also criticized the House Republican education budget, which it said would provide $7 billion less in federal money to schools than the president's proposed budget.