Less than a day after a ceasefire agreement was reached in and around Ukraine, the State Department said Russia is continuing to move military equipment to Ukraine's border, and seems prepared to resupply pro-Russia separatists.
State Department spokeswoman Jen Psaki said that while the ceasefire technically doesn't take effect until early Sunday morning, Russia's actions violate the spirit of the deal, and are raising worries about whether the agreement can be implemented.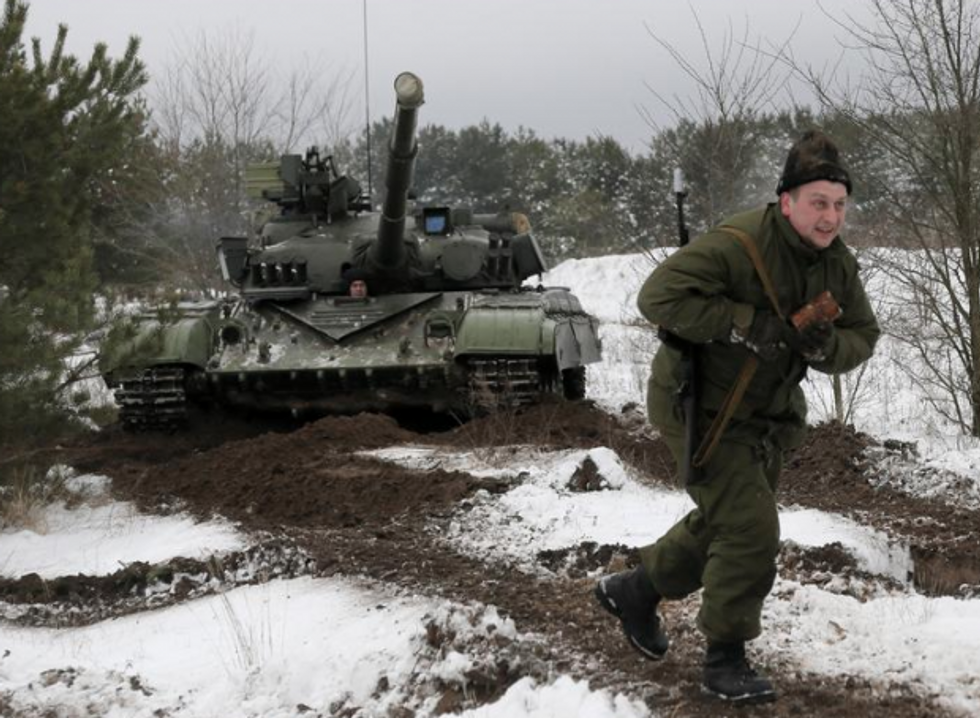 A newly mobilized Ukrainian soldier shows his skills during military drills at a base in Desna, 100km north from Kiev, Ukraine. Despite a ceasefire agreement, the State Department said Friday that Russia continues to move military equipment to the border. Image: AP Photo/Efrem Lukatsky
"We are very concerned about continued fighting along and beyond the line of contact, including in heavily populated civilian areas, and reports of additional resupplies of tanks and missile systems coming across the border from Russia in the past few days," she said.
"The Russian military has deployed a large amount of artillery and multiple rocket launcher systems," she added. "We're confident these are Russian military, not separatists, systems."
Psaki also said the U.S. has intelligence showing Russia's military has moved air defense systems to the region. "This is clearly not in the spirit of this week's agreements," she said.
Psaki was asked if the U.S. would make public the evidence it has showing that Russia continues to move aggressively against Ukraine. She said the U.S. has and will continue to make this evidence available when possible, but was not more specific.
Russia's alleged actions are threatening to undermine the agreement it reached Thursday with France, Germany and Ukraine, a deal that was finalized in Belarus.
The State Department praised the agreement as one that will allow a political dialogue to deal with issues like a special region for separatists, and other political and economic issues. But even as the deal was announced, the U.S. was saying its implementation would be measured by how participants act, not on what they say.
"We are going to judge disagreements by how the parties behave, not by the words on the paper," a senior official said Thursday. "So in particular, we have to have a complete and durable end to the fighting; we have to have withdrawal of weapons."
Psaki reiterated these ideas on Friday, and said the administration can only wait to see if the agreement's terms are followed over the weekend.
"There's no question… that actions, not words, are what will determine whether the agreement will produce what it's supposed to produce," she said. "It technically starts at midnight on Saturday night. We will clearly be watching in the coming days to see whether it's abided to."