The Palestinian Authority – which grants monthly salaries to terrorists - has called last week's deadly shooting of three Muslim students in Chapel Hill, N.C. "terrorism" and would like the U.S. government to include Palestinian investigators in the official probe.
The Palestinian foreign ministry Saturday described Tuesday's shooting as a "heinous crime" and "terrorism which targets civilians based on their religion."
"We consider it a serious indication of the growth of racism and religious extremism which is a direct threat to the lives of hundreds of thousands of American citizens who follow the Islamic faith," the ministry said according to Reuters.
It called for "a serious investigation and the involvement of Palestinian investigators to clarify the circumstances of these assassinations and premeditated murders" in Chapel Hill.
Deah Shaddy Barakat, 23, his wife Yusor Mohammad Abu-Salha, 21, and her sister Razan Mohammad Abu-Salha, 19 were shot dead Tuesday in their Chapel Hill apartment.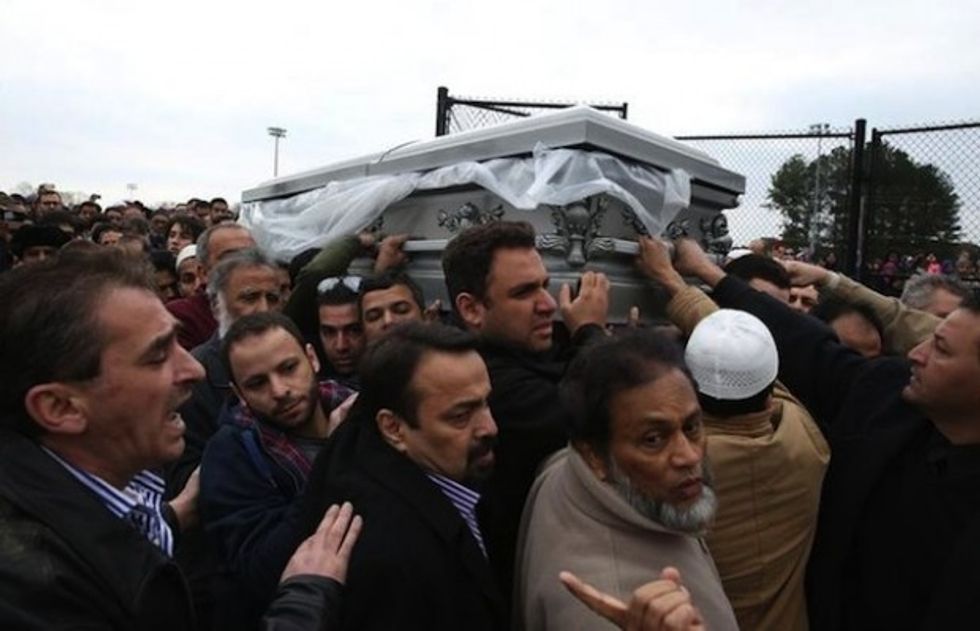 Men carry the casket of one of three students killed in Chapel Hill, N.C., at a funeral ceremony in Raleigh, N.C., on Thursday, February 12, 2015. (The Washington Post/Getty Images)
The official Palestinian news agency Wafa and Agence France-Presse reported that the sisters were Jordanian-Americans of Palestinian descent. AFP reported that Barakat's parents were immigrants from Syria of Palestinian origin.
Police have charged Craig Stephen Hicks, 46 – who has described himself as a "gun toting" atheist – with the killings.
While police said initial indications showed the shooting was motivated by a dispute over parking spots, they promised to "exhaust every lead" to determine if it was fueled by the victims' Muslim faith.
The Palestinian foreign ministry called Hicks "an American extremist and hateful racist."
While the Palestinian Authority and Muslim groups including the Council for American-Islamic Relations have insisted the shootings were motivated by the victims' Muslim faith, neighbors told local media that Hicks was confrontational with non-Muslim residents as well and had brandished his weapon on several occasions.
President Barack Obama on Friday suggested that religious bigotry may have played a role in the killings.
"No one in the United States of America should ever be targeted because of who they are, what they look like, or how they worship," Obama said.
The Palestinian Authority has been lambasted by U.S. lawmakers over its policy of paying a monthly salary to terrorists with "blood on their hands" who have killed scores of Israelis. Those convicted of the most heinous crimes receive the most generous government backing according to multiple reports.
In addition, senior Palestinian officials frequently glorify terrorists, calling them martyrs and heroes.
CBS affiliate WRAL reported that Hicks was banned by a local towing company after calling it so many times to tow away neighbors' cars over parking disputes.
Christopher Lafreniere of Barnes Towing said Thursday that in 2013 after an argument with a driver over a tow at the apartment complex, Hicks emerged from his apartment with a gun to say he had called the police.
A former roommate of Barakat, one of the slain students, told WRAL that Hicks was upset they were using a visitor's spot in addition to their assigned spot.
Resident Samantha Maness told the Raleigh News and Observer that he was so aggressive with neighbors that they organized a meeting to discuss how Hicks was making "everyone feel uncomfortable and unsafe."
—
UPDATE: Saudi Arabia also condemned the killing in North Carolina of three American Muslim college students as a "heinous terrorist" act, the Associated Press reported Sunday.
The statement carried by the official Saudi Press Agency also condemned as "terrorist" acts the Saturday anti-free speech shootings in Denmark.
—